GRIHA Council's 14th Annual GRIHA Summit to be held on 15th and 16th December to witness cross-sectoral deliberations and unified approach 'Towards Net Positive Habitats' in the presence of eminent dignitaries and industry experts
---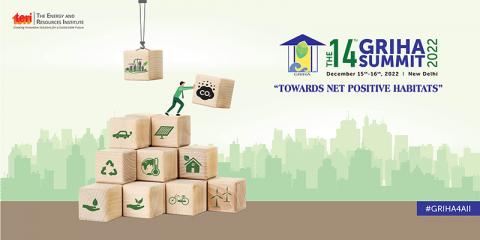 New Delhi, December 13, 2022: GRIHA Council is hosting its 14th Annual GRIHA Summit on the theme Towards Net Positive Habitats on 15th and 16th December 2022 at India Habitat Centre, New Delhi.
What does it mean for India's habitats to be net positive? What needs to be done to put the building sector and other allied sectors such as mobility, urban services, electricity services, waste management on a net-zero emissions pathway? What kind of policy interventions and regulatory frameworks will be needed? How can we ensure that the relevant institutions are fit for purpose? How do we ensure that people at large are contributing and furthering the achievement of these goals? These and other related issues will be the subject of discussions over the two-days of the 14th GRIHA Summit.
To this end, the theme of this year's Summit, Towards Net Positive Habitats, is aligned with India's vision of climate neutrality. The discussions and interactions will inspire conversations and actions to reduce emissions, build community resilience, increase financing mechanisms conserve biodiversity and ecosystems to ensure a sustainable future.
India's commitment at COP26 of a 5-point approach or panchamrit to achieve net zero emissions by 2070 is an ambitious step towards tackling climate change. Achieving climate neutrality requires an all-of-economy and society approach making it the responsibility of every industry to partner with the government towards meeting this ambitious target.
Building operations and construction industry have a significant role to play as it is one of the largest CO2 emitters globally. India is still in the process of building out its infrastructure. Most of the buildings and habitations that India will require are yet to be built.
In keeping with the commitments made at COP26 in Glasgow, GRIHA has stepped up its efforts. It launched the Decarbonizing Habitats Programme in June 2022, along with Net Zero Energy, Water and Waste Certifications.
The green buildings industry has grown over time. However, to achieve the nation's goals, the different industries cannot continue to perform in silos. Cross-sectoral partnerships will have to be considered for a holistic impact to address decarbonization, carbon sequestration, net positive waste-water-energy. Sessions to bring together different industries and stakeholders on a common platform have been curated to deliberate on the issues, current challenges, impacts and way ahead.
The GRIHA rated projects of the current year projects under different variants of GRIHA, SVA GRIHA, GRIHA EB, GRIHA LD, GRIHA AH and the winners of the GRIHA Exemplary Awards will be felicitated during the Summit. The 9th Volume of GRIHA's annual magazine "Shashwat – Let Nature Be" will also be launched during the Summit.
A series of events have hosted ahead of the Summit. A Nukkad Natak competition was organised to involve children, who are the future decision-makers and consumers of services, to spread awareness and instil environmental consciousness in them from a young age. The winners of this competition will be felicitated during the event and given an opportunity to perform in front of the dignitaries to further encourage them. Other events of a technical nature, which were in collaboration with USGKnauf and One Click LCA.
Over the years, GRIHA has developed long-standing associations with multiple stakeholders working towards the common goal of implementing sustainable and low carbon footprint buildings. This year two Memorandums of Understanding will be signed at the Summit, one with Life Insurance Corporation of India and the other with 2000-Watts-Smart-Cities Association to promote sustainable habitats. The event will conclude with a cultural performance.
The 14th GRIHA Summit aims to prioritize the society and nurture the environment by giving back more than what's been taken without compromising on the financial aspects.
The Inaugural will be held on 14th December 2022 from 1800 hours onwards at Taj Palace, Chanakyapuri, New Delhi. Shri Bhagwanth Khuba, Hon'ble Minister of State (New and Renewable Energy, Chemicals and Fertilizers) will grace the occasion to launch the event with his Inaugural address and Shri Hardeep Singh Puri, Hon'ble Minister of Housing & Urban Affairs and Petroleum & Natural Gas, Government of India will deliver the Valedictory address on 16th December 2022. Ms. Leena Nandan, IAS, Secretary, Ministry of Environment, Forest and Climate Change (MoEF&CC), Government of India will inaugurate the GRIHA Exhibition on 15th December 2022. She will also be delivering the Keynote address at the Opening Session.
The Summit will be attended by senior officials from departments of the central and state governments, policy makers, bilateral & multilateral cooperations, corporates, academia, industry experts and building practitioners. Some eminent dignitaries who will be attending the event are H.E. Mr. Freddy Svane, Ambassador, Royal Danish Embassy, New Delhi, India, H.E. Dr. Ralf Heckner, Ambassador, Embassy of Switzerland in New Delhi, Mr. Sonam Wangchuk, Founding Director, Himalayan Institute of Alternatives, Ladakh (HIAL), Mr. Sharman Joshi, renowned Indian Film Actor, Shri Subhash Chandra, IFS, Chief Executive Officer (CEO), National CAMPA, Ministry of Environment, Forest and Climate Change & Director General of Forests & Special Secretary, Mr. Abhay Bakre, Director General, Bureau of Energy Efficiency, Ministry of Power, Govt. of India, Dr. Shailesh Kr. Agrawal, Executive Director, Building Materials & Technology Promotion Council (BMTPC), Ministry of Housing & Urban Affairs, Government of India, Dr. Vibha Dhawan, President, GRIHA Council and Director General, The Energy and Resources Institute (TERI), Mr. Sanjay Seth, Vice President & Chief Executive Officer, GRIHA Council and Senior Director, Sustainable Habitat Programme, The Energy and Resources Institute (TERI) and many more.
About GRIHA Council
GRIHA (Green Rating for Integrated Habitat Assessment), an indigenous green building rating system is the national green building rating system of India. Established in the year 2007 with the combined efforts of the Ministry of New and Renewable Energy (MNRE), Government of India and TERI to develop a rating system that suits Indian climate and construction practices.
India, in its INDC document submitted at COP21 in Paris has highlighted GRIHA as an indigenous green building rating system developed in India. The United Nations Framework Convention on Climate Change (UNFCCC) in their third biennial update report on India has acknowledged the work done by GRIHA in the field of carbon mitigation in the building sector. GRIHA, the national green building rating system of India, received accolades in the spheres such as energy efficiency, site planning, and conservation and efficient utilization of resources.
GRIHA Council is working in complete alignment with the targets set by India in the COP26 for achieving net zero carbon emissions by 2070. In this regard GRIHA Council has launched the decarbonization programme to meet carbon mitigation targets in the built environment.