First International E-Certificate Course on Mainstreaming Urban Climate Action Launched by Key Institutions
---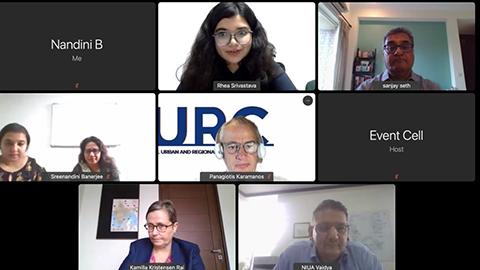 New Delhi, September 29, 2021: The Energy and Resources Institute (TERI) in collaboration with the Delegation of European Union to India (EUD India), the European Union funded International Urban and Regional Cooperation (IURC) Asia Australasia programme and National Institute of Urban Affairs (NIUA) launched an e-certificate course on Mainstreaming Urban Climate Action at a virtual event today.
The e-certificate course - open to policy makers/analysts, city officials, youth and early career researchers engaged in the urban space across the world – offers an opportunity to build technical capacities in addressing city-level climate action. It allows them to understand and apply climate change knowledge in decision-making, urban policymaking, and governance processes. The e-course is open-source and is available on the National Urban Learning Platform (NULP) of the Ministry of Housing and Urban Affairs (MoHUA), implemented by NIUA.
Congratulating the team on the launch of the course, H.E. Ugo Astuto, Ambassador of the European Union to India said, "Climate change and biodiversity loss are existential threats for mankind. We all need to come together to address these challenges. Cities also have to play their part and become green, digital and resilient. This e-certificate course will equip Indian cities with knowledge and resources to find sustainable solutions suitable to the local context". Clear action and more ambition are needed internationally if we are to arrive in Glasgow for the critically important COP26 with global commitments that keep the 1.5°C limit on global temperature rise within sight. Both the EU and India have ambitious renewable energy targets for the next decade and are working closely together in the area of energy efficiency, renewables, sustainable finance, climate mitigation and adaptation.
The keynote address at the launch event of the e-certificate course was delivered by Mr. Hitesh Vaidya, Director, NIUA. In his address, he stated, "NULP is a watershed initiative for capacity building in urban development in India, one that will pioneer training and upskilling into a new era. I am pleased to share that the first international course on NULP is on Environment and Climate Change, a course that will address one of the top five urban learning needs as reported by officials & administrators from our pioneer cities. I congratulate TERI and the international partners, EUD and IURC, on taking the initiative and sharing their work on this domain with the rest of the urban ecosystem. I look forward to many more timely courses from this collaboration."
Mr. Sanjay Seth, Senior Director, Sustainable Habitat Programme, TERI, also deliberated on the value created from the partnership between TERI, IURC, EUD and NIUA. He added, "Partnerships like these are instrumental in facilitating the exchange of global knowledge and enhancing capacities of urban practitioners towards achieving the common goal of climate resilience".
Underscoring the global character of the e-course and how it is tailored for the long-term benefits of urban resilience practitioners, Mr. Panagiotis Karamanos, IURC Urban Development Expert, India, stated "During COVID times, it is important to develop new climate initiatives for cities across the globe. This user friendly e-course effectively addresses this need by engaging key partners in creating a framework for effective action".
The course is accessible on https://bit.ly/3u9Eblr
About TERI
The Energy and Resources Institute (TERI) is an independent, multi-dimensional organization, with capabilities in research, policy, consultancy, and implementation. It has pioneered conversations and action in the energy, environment, climate change, and sustainability space for over four decades. The institute's research and research-based solutions have had a transformative impact on industry and communities. Headquartered in New Delhi, it has regional centers and campuses in Gurugram, Bengaluru, Guwahati, Mumbai, Panaji, and Nainital, supported by a multi-disciplinary team of scientists, sociologists, economists and engineers, and state-of-the-art infrastructure.
About the EU and EU-India Ties
The EU, which consists of 27 countries, has the world's second largest economy and its third largest population, after China and India. Though richly diverse, the countries that make up the EU (its 'Member States') are all committed to the same basic values: peace, democracy, the rule of law and respect for human rights. By creating a frontier-free single market and a single currency (the euro) which has been adopted by 19 Member States, the EU has given a significant boost to trade and employment. It is also at the forefront of global policies on sustainability.
EU-India relations: For over 55 years, the EU and India have worked together to reduce poverty, prevent disasters, expand trade, secure global public goods, enhance security around the world and promote joint research in energy, health, agriculture and many other fields of mutual interest. More information at: http://eeas.europa.eu/delegations/india
About IURC
Funded by the European Union, the International Urban and Regional Cooperation (IURC) programme aims to promote multi-city cooperation on sustainable urban development and to build partnerships between EU and non-EU cities. Participating local governments will be enabled to implement pilot projects engaging research, civil society and business partners. The IURC contributes to the objectives of the UN New Urban Agenda, the Agenda 2030 (SDGs), the Urban Agenda for the EU and the European Commission's priorities for a "Stronger Europe in the World" with the European Green Deal and the NextGenerationEU (post COVID-19 recovery plan) at the centre. The programme is implemented in the geographical area of Asia and Australasia in nine countries, namely Australia, India, Indonesia, Japan, the Republic of Korea, Malaysia, New Zealand, Thailand and Vietnam.
https://www.iurc.eu/australasia/
About NIUA
The National Institute of Urban Affairs (NIUA) is India's leading national think tank on urban planning and development. Established in 1976, NIUA was tasked to bridge the gap between research and practice on issues related to urbanization, and suggest ways and mechanisms to address urban challenges in the country. Since then, it has worked closely with the Ministry of Housing and Urban Affairs, alongside other government and civil sectors, to provide cross disciplinary expertise and technical assistance for city and state-level projects, as well as develop toolkits and customised training programmes. Its work today addresses 5 major thematic concerns: Urbanization & Economic Growth, Urban Governance & Finance, Urban Infrastructure & Built Environment, Environment, Climate Change & Resilience, and Social Development. The National Urban Learning Platform is one of the flagship initiatives under the National Urban Digital Mission, anchored by the Centre for Digital Governance at NIUA.