Energy data shows India on track to keep climate commitments, but air and waste management fare poorly
---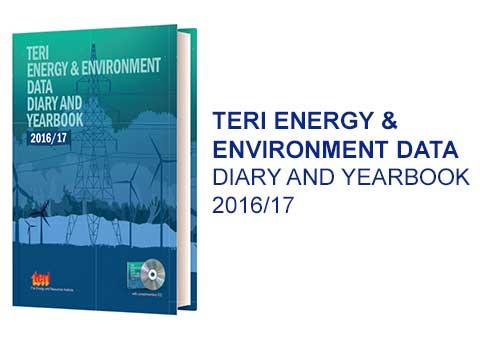 TERI releases its yearly data directory TEDDY

New Delhi, 3 April, 2018: Renewable energy in India gained momentum in 2016/17. Nearly 24 GW of renewable energy capacity was installed between 2012 and 2016. Of this, 15.3 GW (63 per cent) was added over the past two years. Most importantly, in 2016/17, the growth in electricity generated from renewable energy was 24.26 per cent, much higher than the 5.34 per cent growth rate in electricity generated from thermal power. Further, India's solar power capacity as on 31 August 2017 rose 81 per cent over the 6.7 GW capacity in 2016.
The data, among other important indicators, was revealed in the 'TERI Energy Data Directory and Yearbook (TEDDY)' 2018 launched today in Delhi by The Energy and Resources Institute (TERI), a leading think tank dedicated to conducting research for sustainable development in India and the Global South. The yearbook is a state-of-the-art compilation of energy and environment data from various government sources, policy documents and other secondary data, which throws light on India's progress towards the transition to renewable energy and energy efficiency. The TEDDY launch was graced by the presence of the Chief Guest, Mr. Anand Kumar, Secretary, Ministry of New and Renewable Energy (MNRE), Government of India.
The yearbook shows that India's total energy intensity (at 2011-12 prices) decreased from 0.2732 Mega Joules per rupee in 2011-12 to 0.2401 Mega Joules per rupee in 2016-17, despite a 52.96 per cent increase in per capita energy consumption over the past 10 years.
However, air pollution and waste management are still areas of concern. Data from 2015 shows that almost all states experienced high concentrations of PM10, exceeding CPCB standards. In 2016 too, 68.4 per cent of air quality monitoring sites exceeded the annual ambient concentration level of PM2.5, which is even more minute and harmful than PM10. With regards to solid waste management, the per capita waste generation in the country ranges from 200-600 grams per day. Of this, door to door collection of solid waste is as low as 48.9 per cent in some states. In all, around 75 to 80 per cent of municipal waste is collected, of which only 22 to 28 per cent is treated.
TEDDY details India's commercial energy balances that provide comprehensive information on energy flows within different sectors of the economy. At the launch event, a panel discussion around 'Has India Reached the Inflection Point for Renewable Energy and Energy Efficiency?' saw thought leaders from the energy industry, such as Mr. Arunabha Ghosh (Chief Executive Officer, CEEW), and Mr. Chintan Shah (Director, IREDA), discuss how affordable renewables could alter the carbon makeup of many utilities.
Speaking on the occasion, Mr. Anand Kumar, Secretary, Ministry of New and Renewable Energy, Government of India, said, "It is a privilege to be associated with the launch of thirty second edition of TEDDY. Such publications are of utmost importance to policy makers, researchers, scholars and various stakeholders for taking decisions. Also, now is the time to begin online updation of the data. The request to the ministry for association with TERI on data management will be put forward with broad parameters already being discussed. With respect to future of renewable energy sector, it seems bright and we hope to achieve the ambitious target of installing renewable energy capacities before 2022 by looking beyond conventional renewables and bringing in more diversity and innovative options in terms of fuel mix, to India."
Dr. Ajay Mathur, Director General, TERI, said, "As India and other emerging countries stead towards development, it is important to ensure that these choices embrace sustainability while maintaining the development narrative. At TERI, it has been our constant endeavour to help policy makers and industry experts with research data that can help them in charting policies to lead India to the path of sustainable development. TEDDY serves as a ready reckoner for energy and environment related information and statistics sourced from government bodies, policy documents, and other secondary sources."
Globally, the energy sector is witnessing a seismic shift toward renewable power. There are concerted efforts in the country to work towards a new energy order with renewable energy as its backbone. There are considerable opportunities, as a large portion of energy infrastructure that is envisioned is yet to be built. Several key markets have reached an inflection point where renewables will become the cheapest form of new power generation by 2020, making it even more affordable than coal.
The 2018 chapter of TEDDY discusses energy supply on coal and lignite, petroleum and natural gas, power, and renewable energy. It also provides an overview of the government policies that have implications on the energy and environment sectors. Another important aspect which the yearbook covers is an updated commercial energy flow in India which predicts the flow of net available energy, and its consumption by demand sectors in the future.
About TERI
The Energy and Resources Institute (TERI) is a leading think tank dedicated to conducting research for sustainable development of India and the Global South. Established in 1974, TERI has become the pre-eminent institution for research, discussion and thought leadership on environmental governance and sustainable development.
TERI is ranked globally as one of the five most impactful think tanks by the International Center for Climate Governance. The Institute is committed to the application of thought that drives action in the direction of tackling climate change.
For further information, contact:

TERI - Aastha Manocha: aastha.manocha@teri.res.in
Edelman - Sneha Dev: Sneha.dev@edelman.com
---