Electric vehicles most practical vehicle technology to address air pollution in Indian cities: Ajay Mathur
---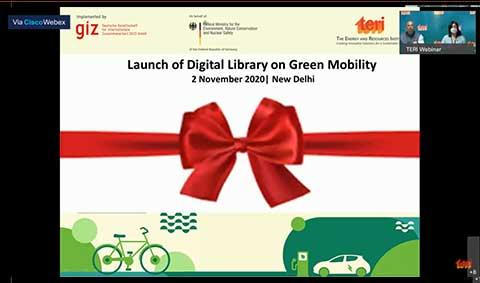 Dr Mathur, Director General, TERI was speaking at the e-launch of Digital Library on Green Mobility towards decarbonising the transport sector in India. The online portal will be useful for diverse set of stakeholders in the entire EV ecosystem.
New Delhi, 4 November 2020: The Energy and Resources Institute (TERI) has developed the Digital Library on Green Mobility (DLGM) under the India component of Nationally Determined Contributions (NDC)-Transport Initiative for Asia (TIA) programme. The NDC-TIA is a regional initiative coordinated by Deutsche Gesellschaft für Internationale Zusammenarbeit (GIZ) GmbH and supported by the German Federal Ministry for the Environment, Nature Conservation and Nuclear Safety (BMU) under the International Climate Initiative (IKI).
Speaking at the launch of DLGM, Dr Ajay Mathur, DG, TERI said, "Electric vehicles are by far the most practical vehicle technology intervention to address rising air pollution in Indian cities. The lack of cohesion between the key actors is limiting the faster adoption of EVs. With rising renewables in India's power mix, the impact of EVs will soon be the best pathway for addressing India's transport NDCs."
He added that DGLM is a single-window platform with a large repository of information in electric mobility and low carbon transport. "The online portal will benefit the diverse stakeholders in the entire EV ecosystem to gain knowledge from a single window platform," said Dr Mathur.
Mr M. Vijay Kumar, Joint Adviser, Transport, NITI Aayog highlighted key goals of India's NDCs to reduce GHG emission intensity of its GDP by 33-35% by 2030, from its level in 2005, as well as several initiatives taken by the Government of India to promote green mobility. "Digital initiatives like DLGM are much needed for good governance, knowledge sharing, awareness and ease of doing business," said Mr Kumar at the online event.
In his inaugural address, Winfried Damm, Head of Indo-German Energy Programme, GIZ, said, "Lifetime and ownership costs of EVs are coming down fast coupled with increase in number of EVs, especially in developed nations. However, there are still some obstacles for public, academia, entrepreneurs, etc and the online library will become the vehicle to promote green mobility in India."
The Digital Library will cater to a diverse set of stakeholders such as government ministries, departments and agencies, civil society organizations, academia, citizens, research community, industry, businesses houses, consultants, and others. The DLGM also seeks to capture such learnings and best practices that would go a long way in achieving decarbonised economic growth.
The DLGM comprises a set of searchable databases such as government policies, regulations, reports, research articles, journals, training materials, e-mobility-related market databases, opinions, latest news, case studies and linkages to various stakeholder organisations, accessible through different devices such as PCs, mobile phones, and tablets. One of the key components of DLGM is allowing the stakeholders to share relevant resources which can be uploaded on the website: http://greenmobility-library.org
About TERI
The Energy and Resources Institute (TERI) is an independent, multi-dimensional organisation, with capabilities in research, policy, consultancy and implementation. It has pioneered conversations and action in the energy, environment, climate change, and sustainability space for over four decades.
The institute's research and research-based solutions have had a transformative impact on industry and communities. Headquartered in New Delhi, it has regional centres and campuses in Gurugram, Bengaluru, Guwahati, Mumbai, Panaji, and Nainital, supported by a multi-disciplinary team of scientists, sociologists, economists and engineers, and state-of-the-art infrastructure.
For further information, contact:
TERI – Dhawal Trivedi: dhawal.trivedi@teri.res.in
Edelman – Rakhi Aurora: rakhi.aurora@edelman.com