Dr Ajay Mathur honoured for his contribution to the field of energy efficiency
---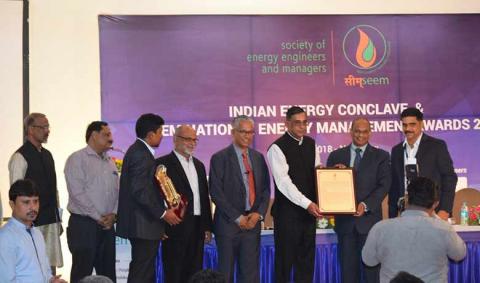 New Delhi, 28 May, 2018: The Society of Energy Engineers & Managers (SEEM) gave its first Visionary Leadership Award to Dr Ajay Mathur, Director General, The Energy and Resources Institute (TERI), for his contributions as well as his rich experience in the field of energy conservation and management. Mr Saurabh Kumar, Managing Director, Energy Efficiency Services Limited (EESL), who was the chief guest at the SEEM National Energy Management Awards (SNEMA) 2017 ceremony, presented Dr Mathur with the award at The Institution of Engineers hall in New Delhi on Friday.
The honour comes in recognition of Dr Mathur's instrumental role in bringing energy efficiency into homes, offices, and factories, through initiatives such as the star labelling programme for appliances, the Energy Conservation Building Code, and the Perform, Achieve and Trade programme for energy-intensive industries, while working with the Bureau of Energy Efficiency (BEE), Union Ministry of Power. The award further acknowledges Dr Mathur's contributions to the field of climate change and sustainable development in India and abroad. He had played a significant role in building a consensus for reaching a global agreement on climate change at COP21 Paris in 2015. Dr Mathur also co-chairs the Energy Transitions Commission (ETC), a group that aims to accelerate change towards low-carbon energy systems that enable robust economic development while limiting the rise in global temperatures.
Speaking on the occasion, Dr Ajay Mathur, Director General, TERI, said, "There is a tremendous potential to drive economic growth, create jobs, conserve natural resources and reduce pollution through energy efficiency in India. I am proud to have contributed to this effort over the last few decades, and am grateful to, and humbled by this recognition from SEEM."
Further, in recognition of TERI's excellence, the TERI Southern Regional Centre (SRC), Bengaluru was awarded the best performing energy audit firm and Dr G Rudra Narasimha Rao, Senior Fellow & Director, Industrial Energy Efficiency, TERI-SRC, Bengaluru, was felicitated as best performing energy auditor.
Dr Rao has an experience of over 23 years in the field and has designed, supervised, ana-lysed, and managed numerous energy and environmental projects and programmes, notably related to developing markets and the rational use of renewable energy sources. He also heads the list of accredited energy auditors published by the BEE. TERI's Bengaluru Centre promotes industrial energy efficiency through research, consultancy, training, and information dissemination. Over the years, the Centre has built a reputation not only in energy efficiency services, but also in renewable energy and environmental studies.
SNEMA recognises and supports the best efforts made by various sectors to improve energy efficiency, thereby supporting India's journey towards climate change mitigation and sustainable development. The awards focus on systematic actions towards sustainable energy performance, ensuring that assessment does not become skewed based on production levels. This year, the society introduced a new category - SEEM Visionary Leadership Award - to honour visionary leaders with immense contributions to the field of energy conservation.
About TERI
The Energy and Resources Institute (TERI) is a leading think tank dedicated to conducting research for sustainable development of India and the Global South. Established in 1974, TERI has become the pre-eminent institution for research, discussion and thought leadership on environmental governance and sustainable development.
TERI is ranked globally as one of the five most impactful think tanks by the International Center for Climate Governance. The Institute is committed to the application of thought that drives action in the direction of tackling climate change.
For further information, contact:
TERI - Aastha Manocha: aastha.manocha@teri.res.in
Edelman - Sneha Dev: Sneha.dev@edelman.com