Danish Minister Mr Flemming Møller Mortensen calls for greater cooperation on the green agenda on his visit to TERI Gram
---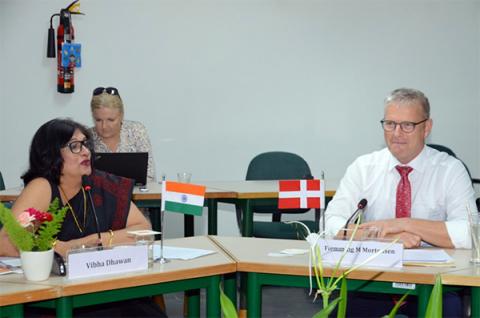 New Delhi, August 13, 2022: Underscoring the need to further strengthen collaboration between India and Denmark on the green agenda, Mr Flemming Møller Mortensen, Danish Minister for Development Cooperation and Nordic Cooperation, during his visit to The Energy and Resources Institute (TERI) campus at Gwal Pahari on Friday, said knowledge and expertise sharing is key to attaining the 2030 Sustainable Development Goals.
Drawing upon the long bilateral partnership between the two countries, Mr Mortensen said, "India and Denmark have entered into the green strategic partnership on action plans to deliver on the 2030 agenda for Sustainable Development Goals and also the Paris Agreement. When institutions of knowledge and scientific institutions can share and collaborate across projects, we can do what the honourable Prime Minister Modi has said, add another 'S' as in 'Smart' to the five S's – Scale, Skill, Speed, Scope and Sustainability."
Noting the enduring partnership between the two countries as well as TERI and the Royal Danish Embassy, Dr Vibha Dhawan, Director General, TERI, in her welcome address said, "The green strategic partnerships between India and Denmark have played an instrumental role in developing the momentum in implementing India's vision towards sustainable urban development."
The work done under the India-Denmark Green Strategic Partnership, where TERI in its capacity as an implementing and knowledge partner developed India's first Urban Living Lab in Panaji, Goa, under Project Urban Living Lab (PULL) was discussed by the minister. "It serves as a sandbox to test new approaches and solutions for sustainable cities," said Dr Dhawan.
The Danish delegation led by the minister toured TERI's multiple sustainability centres and laboratories on the campus, including the state-of-the-art TERI-Deakin Nanobiotechnology Research Centre, Mahindra-TERI Centre of Excellence, TADOX, and Fermentation Research Technology Centre. They also held discussions with TERI researchers on the work done in the areas of agriculture, water management, sustainable development, urban cooling, and climate change that will aid in meeting the decarbonisation goals. "TERI's work in fields of energy, water, agriculture, and climate change is highly relevant to our Green Strategic Partnership between India and Denmark. I look forward to following TERI's work and our joint efforts in the future," the minister said.
About Royal Danish Embassy (RDE)
The Danish Embassy in New Delhi is responsible for India, Sri Lanka, Nepal, Bhutan and the Maldives. Their primary task is to strengthen relations between Denmark and the five countries and they are responsible for the areas of trade, investments and political matters. Assisting Danish citizens in India, Sri Lanka, Nepal, Bhutan and the Maldives is likewise their responsibility.
About The Energy and Resources Institute (TERI)
The Energy and Resources Institute (TERI) is an independent, multi-dimensional research organization with capabilities in policy research, technology development, and implementation. Headquartered in New Delhi, TERI has regional centres and campuses in Gurugram, Bengaluru, Guwahati, Mumbai, Panaji, and Nainital, supported by a multi-disciplinary team of scientists, sociologists, economists, engineers, administrative professionals, and state-of-the-art infrastructure.
For more details, contact:
P Anima: animap@teri.res.in
Sumit Bansal: sumitbansal@teri.res.in