Correlating simulators-based training in the armed forces with its positive environmental impacts is a novel approach, notes Maj Gen CS Mann, VSM, ADG, Army Design Bureau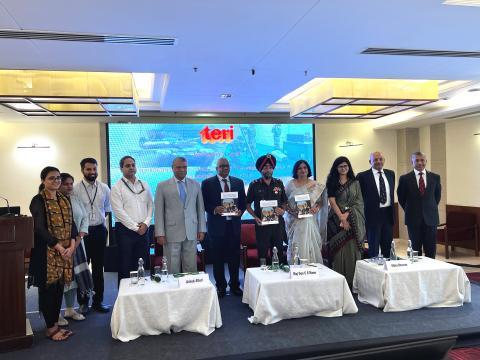 New Delhi, June 5, 2023: Cutting-edge simulator technology promises to slash India's military GHG emissions while enhancing training efficiency, notes TERI's newly launched report titled 'Supporting Armed Forces Efforts Towards Sustainability: Application of Simulators in Military Training' at the event- "Accelerating Sustainable Training in the Armed Forces: A Simulator-Based Approach". With shrinking swathes of land available for on-field training, simulators have presented themselves as not only a cost-effective option but one that largely retains training efficacy of army personnel while also providing significant GHG emission reduction due to defence operations.
Stressing the aptness of the report being released on the World Environment Day and its comprehensive insights on the environmental and economic benefits of simulator-based training, Major General C S Mann, VSM, Additional Director General, Army Design Bureau in his Keynote Address underscored, "How the defence sector will be able to contribute to environmental conservation through the use of simulators is an innovative approach. We appreciate TERI through the release of this report in terms of bringing out this correlation between simulator-based training and the ways in which it can help mitigate the sector's GHG emissions."
Highlighting the success that simulators have seen in the defence sector globally due to their cost effectiveness and recently also due to their sustainability benefits, Dr Vibha Dhawan, Director General TERI noted, "By using simulators, we can minimize consumption of ammunition and fuel, therefore create a more sustainable future where armed forces can also be a key player," at the report launch.
Due to the high cost of ammunition of certain sophisticated weapon systems, there are restrictions imposed on their live firing for training. Nonetheless, it is imperative to train personnel on such systems for proficiency and familiarization. Simulators (such as the Anti-Aircraft Air Defence Simulator, or "3ADS") address this gap, while also eliminating the release of toxic gases within the atmosphere. Building on this Mr Ashok Atluri, Managing Director, Zen Technologies said, "This study by TERI proves that simulators are cheaper, faster, much more sustainable, and a better way to train armed forces making their usage all the more sensible."
While the current level of emissions from the defence sector may be low, given the preparedness required for future encounters, GHG emissions from defence operations globally are expected to reach 25% by 2050. Speaking at the launch Mr Souvik Bhattacharjya, Associate Director, TERI, stated, "Given that global emissions for the defence sector will rise considerably over the next couple of years, we believe that the increased adoption of simulated training will help the military assist India in achieving its climate commitments." He emphasized that Zen Technologies commitment to accelerating sustainable practices in defence training aligns perfectly with TERI's vision of a greener and more secure future. Harnessing the power of simulator-based training can significantly reduce carbon emissions while maintaining the highest standards of training efficiency in the armed forces.
Beyond assessing the relationship between simulator-based training, its efficacy in training army personnel and the reduction of the defence sector's carbon footprint, the in-depth study conducted by TERI also aims to help the armed forces contribute to India's national and international climate goals.
The report launch was followed by an expert-led panel discussion on 'Forging a Pathway towards Sustainable Defence Training' that discussed the sustainability impact defence sector can have as India walks the talk on its environmental goals and emission reduction.
Access the report here: https://www.teriin.org/project/accelerating-sustainable-training-armed-forces
About TERI
The Energy and Resources Institute (TERI), based in India, is an independent, multi-dimensional research organization with capabilities in policy research, technology development, and implementation. An innovator and agent of change in the energy, environment, climate change and sustainability space, TERI has pioneered conversations and action in these areas for nearly five decades. Headquartered in New Delhi, it has centres in six Indian cities, and is supported by a multi-disciplinary team of scientists, sociologists, economists, engineers, administrative professionals, and state-of-the-art infrastructure.
For more information, contact:
TERI:
Sumit Bansal: sumit.bansal@teri.res.in
Shreyas Joshi: shreyas.joshi@teri.res.in
Concept PR:
Raju Reddy: raju.m@conceptpr.com