Climate negotiations at COP27 should keep people at the centre: TERI policy brief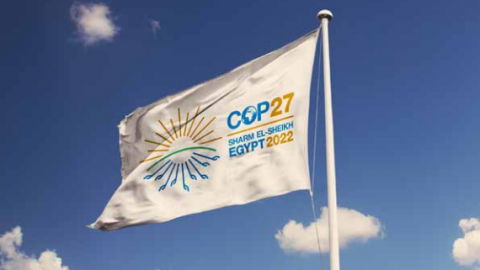 New Delhi, November 04, 2022: The imperative need for the upcoming global climate change negotiations of COP27 in Sharm el-Sheikh to address issues of climate finance, loss and damage, Global Goal on Adaptation and Global Stocktake through a people-centric perspective rooted in the concepts of equity and justice was underscored by a policy brief launched by The Energy and Resources Institute (TERI) in New Delhi on Friday.
With the 27th session of the Conference of Parties opening in Egypt on Sunday, the TERI policy brief 'Road to Sharm el-Sheikh: Towards Equity and Climate Justice' emphasized the need to redefine vulnerability by keeping people, rather than countries, at the centre. The particular vulnerability of the Global South as it steers towards development while simultaneously taking measures to curb global warming and addressing climate change impacts are stressed upon in the knowledge document which is part of the 'COP Compass' component of the Act4Earth initiative launched at the World Sustainable Development Summit 2022.
Observing that there is considerable anticipation on the outcomes from Sharm el-Sheikh, Mr RR Rashmi, Distinguished Fellow at TERI, and long-time climate negotiator said, "It is significant that the global emissions are showing no signs of abating even as natural disasters across the world, particularly in vulnerable regions of Asia have risen in intensity and scope. TERI's policy brief analyses the global climate issues that are likely to agitate the international community under these circumstances."
The policy brief primarily focussed on five aspects – of climate finance, loss and damage, Global Goal on Adaptation, Global Stocktake and people-centric imperatives from the Global South. It asserted that the principles of equity and 'common but differentiated responsibilities and respective capabilities' along with the principle of 'polluters pay' is key to inclusive, rules-based, ambitious, substantive outcomes and commensurate outcomes at COP27 and beyond.
The knowledge document highlighted that an important outcome of COP27 and COP28 could be that the global community commits to securing basic universal enablers of adaptation at all scales. "Metrics could include basic enablers – such as universal access to climate information – along with input indicators of climate finance, output indicators of policies and frameworks, as well as related to implementation and impact indicators such as reduced vulnerabilities," it emphasized.
With TERI's analysis indicating that issues relating to climate finance, global adaptation goal and loss and damage will receive a great deal of attention in the discussions in Egypt, Mr Rashmi observed, "The idea of a financing facility for covering loss and damage needs support of all. At the same time, the Global Goal on Adaptation, including the goal of doubling the adaptation finance, should be advanced. Global Stocktake, scheduled in 2023, needs to ensure that climate ambition is raised on the basis of equity and the countries having higher responsibility for cumulative CO2 concentration vacate the global carbon space by becoming net zero before 2030."
Pointing out that the need of the hour is a paradigm shift in the climate regime, Dr Shailly Kedia, Senior Fellow and Associate Director, TERI, said, "The world has witnessed the severe impacts of even a 1.1 degrees Celsius rise and people across the globe have suffered. This highlights the need for ethical considerations and a larger focus on adaptation and loss and damage. This knowledge document, which has been compiled based on research and stakeholder consultations, argues that there is a need to re-define vulnerability and move away from a 'country-centric' approach to a 'people-centric' approach in climate negotiations and in implementation mechanisms."
The policy brief mooted for the inclusion of loss and damage finance as a dedicated agenda item under COP negotiations. "More organizations, bodies, networks and experts should come from the developing nations, as well as those who are particularly vulnerable to the impacts of climate change," it noted. Underscoring the need for better transparency on the delivery and use of climate finance, the knowledge document observed that "Climate finance needs to benefit vulnerable people, communities, and sectors and not just countries." It also suggested that climate finance should be the heart and soul of Global Stocktake.
Sharm el-Sheikh, noted the policy brief, is part of a much longer road. "Inclusive climate transitions need to be at the heart of policymaking, so that in the realms of adaptation, mitigation, loss and damage and cross-cutting measures, there are sufficient safety nets ensuring no one is left behind," it emphasized.
To access the policy brief, click here.
About TERI
The Energy and Resources Institute (TERI), based in India, is an independent, multi- dimensional research organization with capabilities in policy research, technology development, and implementation. An innovator and agent of change in the energy, environment, climate change and sustainability space, TERI has pioneered conversations and action in these areas for nearly five decades. Headquartered in New Delhi, it has centres in six Indian cities, and is supported by a multi-disciplinary team of scientists, sociologists, economists, engineers, administrative professional and state-of-the-art infrastructure.