Budget's focus on Green India is welcome
---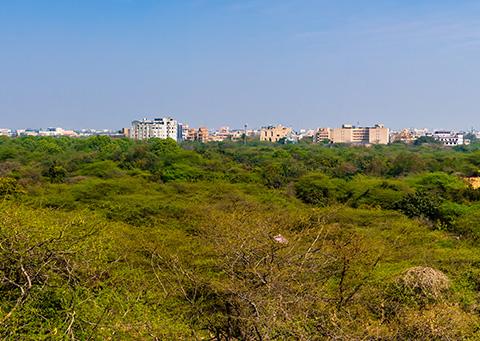 Announcements towards renewable energy, air pollution, water and solid waste management reaffirm government's vision of sustainable development.
New Delhi, July 5: The Energy and Resources Institute (TERI) welcomed the green initiatives of the Union Budget 2019. Referring to the announcements made towards renewable energy, air pollution, water, and solid waste management, Mr Ajay Shankar, Distinguished Fellow, TERI, said, "The Union Budget presented demonstrates the government's vision of putting India on the path to sustainable development and takes forward the government's commitment to cleaner environment as was highlighted in the interim budget."
TERI highlighted the following environmental issues that are important in light of the announcements in this budget
Air Pollution
Air pollution has become a serious concern in a large number of cities and the government launched the National Clean Air Programme (NCAP) to deal with it. It is good to note that "control of pollution" has appeared as a head in the budget. A good beginning has been made. Further efforts and adequate funds are needed to crystallise and implement mitigation measures.
E-mobility
The electric mobility sector has been given a booster in terms of tax benefits. This will accelerate the deployment and usage of electric vehicles in India, resulting in cleaner air and greater usage of renewable energy.
Water
The 'Har Ghar Jal' scheme to provide water to every house and increasing the allocation for drinking water substantially are laudable measures. Further enhancement in allocation for water resource management is needed while water efficiency needs to have a separate programme. More needs to be done towards water use efficiency and other sustainable practices in agriculture.
Solid Waste Management
It is heartening to note that not only has the government decided to continue with Swachchh Bharat Mission but the budget has proposed to expand its scope, particularly in rural areas where it envisaged that there would be proper solid waste treatment in every village. However, the budget could do more in promoting decentralised solid waste management in urban areas.
Renewable Energy
Among the big ticket ideas of the budget is the scheme to promote mega investment in sunrise and advanced technology areas and among the industries prioritised are solar photovoltaic cells, lithium storage batteries, and solar electric charging infrastructure. These are likely to give a huge boost to renewable energy. The next thing is to focus on storage, in which the lithium batteries will play an important role. It is also important for development of electric vehicles industry in India which the budget has also tried to promote. The idea of "Annadata to Urjadata" to help farmers use their land to generate energy is also commendable.
About TERI
The Energy and Resources Institute (TERI) is an independent, multi-dimensional organisation, with capabilities in research, policy, consultancy and implementation. It has pioneered conversations and action in the energy, environment, climate change, and sustainability space for over four decades.
The institute's research and research-based solutions have had a transformative impact on industry and communities. Headquartered in New Delhi, it has regional centres and campuses in Gurugram, Bengaluru, Guwahati, Mumbai, Panaji, and Nainital, supported by a multidisciplinary team of scientists, sociologists, economists and engineers, and state-of-the-art infrastructure.
For further information, contact:
TERI – Aastha Manocha: aastha.manocha@teri.res.in
Edelman – Rakhi Aurora: rakhi.aurora@edelman.com