BSES Discoms and TERI sign landmark agreements
---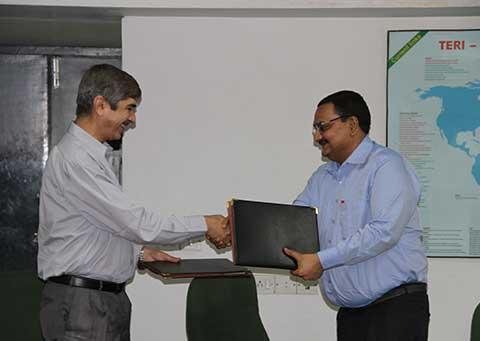 BSES and TERI partner to educate 90,000 students and promote Demand Side Management to reduce power demand
BRPL
- Educate and sensitize students in Govt schools on energy conservation and Environment
- Employ innovative teaching material like especially created learning material books
BYPL
- Work towards areas of energy efficiency and environment protection
- Create framework for 'Green Division', as a model division based on energy efficiency, Digitization
- Demand Response and Solar to help BYPL save 50-60 MW in East and Central Delhi
New Delhi, 19 April 2018: BSES discoms have signed separate agreements with TERI to deal with different aspects of energy conservation and Demand Side Management (DSM). While the agreement with BSES Rajdhani Power Limited (BRPL) will see the launch of an innovative educational program for government school children, the strategic partnership with BSES Yamuna Power Limited (BYPL) will jointly explore collaboration opportunities for capacity building programs, Distributed Energy Resources and implementation of Manual and Auto-Demand Response programmes.
BRPL - School Programme
Aimed at young minds and titled, 'Energy Wise Energy Rise', the programme will educate, train and reach out to around 90,000 students in government schools. A three-year Memorandum of Understanding (MoU) has been signed between the two organisations to this effect.
It will provide students with a unique platform that will help them to make sustainable choices, learn new concepts and share experiences on energy efficiency, alternative/sustainable energy and newer ways to mitigate environmental hazards. The goal is for students to "learn by doing". This unique programme is designed to translate 'thought' into 'action' through engaging visual instructions and hands-on applications and learning.
It aims to goad children into creative thinking and develop competence in environment conservation, through various innovative educational and outreach components, such as especially created and customised knowledge and activity books, and learning material, brainstorming sessions and practical experience.
BYPL - Demand Side Management
As a part of the partnership, the two organizations have signed a two-year MoU to conduct cutting-edge research on Demand Side Management, Smart Grid technologies, Solar Rooftop PV, Energy Storage Systems, Electric Vehicles and Energy Efficiency. It will also develop framework for a 'Green Division' as a model division considering parameters like energy efficiency, DSM and Digitization.
These studies will solve technical issues relating to loading of feeders, static and dynamic voltage regulation, energy efficiency, environment issues, power quality and protection that may arise with higher penetration of solar rooftop systems in distribution grids.
This collaboration will help all the stakeholders, including BYPL, TERI and consumers. The outcome of these studies will help BYPL to further promote implementation of rooftop solar PV and achievement of RPO targets, besides helping the discom in identification of areas for implementing Energy storage. It will also help in improving the quality and reliability of power supply. BYPL is expecting savings of around 50-60 MW from Demand Response and roof top solar installations.
"TERI is working in the area of energy, environment and sustainable development for several decades, and we believe this collaboration with BSES will act as a bridge to disseminate our research outcomes & knowledge base to the masses, and benefit the society at large," remarked Girish Sethi, Senior Director, TERI.
Commenting about the partnerships, a BSES spokesperson said, "BSES is committed to be a green corporate citizen. These agreements with TERI will help us to leverage their expertise in environment and sustainable development initiatives and enable us to connect with our consumers in a more meaningful way. They will also enable us to deal with the upcoming market challenges as also provides us insights to capitalize on opportunities".
BRPL & BYPL are premier power distribution companies and Joint Ventures between Reliance Infrastructure Limited and GoNCT.
About TERI
The Energy and Resources Institute (TERI) is a leading think tank dedicated to conducting research for sustainable development of India and the Global South. Established in 1974, TERI has become the pre-eminent institution for research, discussion and thought leadership on environmental governance and sustainable development.
TERI is ranked globally as one of the five most impactful think tanks by the International Center for Climate Governance. The Institute is committed to the application of thought that drives action in the direction of tackling climate change.
For further information, contact:
TERI - Pallavi Singh: pallavi.singh@teri.res.in
Edelman - Sneha Dev: Sneha.dev@edelman.com
---