Both the youth and science are telling us very clearly that we should do more, that we should move faster, that we are running out of time: Frans Timmermans
---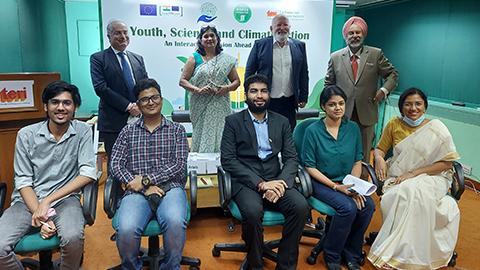 H.E. Mr. Frans Timmermans, Executive Vice-President, European Commission interacts with the youth at the TERI event on 'Youth, Science and Climate action' organised by TERI
New Delhi, October 20, 2021: "Our children and grandchildren will bear the brunt of the climate crisis and hence we owe it to them to raise our ambition, and to act now," said Mr. Frans Timmermans, Executive Vice-President for the European Green Deal, European Commission in his keynote address at an in-person session on 'Youth, Science and Climate Action' organised by The Energy and Resources Institute (TERI) in collaboration with the European Union Delegation.
Emphasizing that "youth are the real climate leaders of today", he reiterated that, "it is young people all over the world who ensure that us politicians keep the climate crisis high on our agenda. They are urging us to follow the science and heed the warnings of the Intergovernmental Panel on Climate Change. They are the reason we have the European Green Deal". He also emphasized the need for the youth to be part of the discussions and of the solutions.
The European Union is an important actor for driving climate ambition at the global level. The EU aims to be climate-neutral by 2050 – an economy with net-zero greenhouse gas emissions and reduce its emissions by 55% by 2030. This objective is at the heart of the European Green Deal and in line with the EU's commitment to global climate action under the Paris Agreement.
Climate change and biodiversity loss is on the top of the political agenda of both the European Union and India. Both the EU and India are strong defenders of the Paris Agreement and are important players in addressing Climate Change. While there is already a strong convergence and cooperation in these areas, it is essential that there is increased dialogue between EU and India, not just through official diplomatic channels but also involving the youth.
In this light, the session saw the youth participate and interact with the experts on the aspects of science and policy as the global community aims to come together for global level climate negotiations to drive climate action at COP26 in Glasgow this November. Inaugurating the session and welcoming the distinguished guests, Dr. Vibha Dhawan, Director General, TERI said, "For a meaningful change in the society, we need to invest our time and resources in reaching out and seeking youth representation at all important global platforms hosting environment and sustainable development dialogues and deliberations".
This was followed by brief statements from TERI Researchers Mr. Saurabh Bhardwaj, Lead Climate Modeller and Fellow, Earth Science and Climate Change Division and Dr. Shailly Kedia, Associate Director, Sustainable Development and Outreach Division, TERI. Highlighting the five chief climate change impacts in India, Mr. Bhardwaj said, "the way ahead in combating climate change should be in the form of enhanced engagement of state, non-state and sub-national actors aligning the policies with adaptation needs".
"For assessing climate actions, a principle-based approach rooted actions in equity, climate justice and common but differentiated responsibilities and respective capabilities is needed well before the 2023 global stocktake", underscored Dr. Kedia at the session, listing the five key messages from the COP26 Charter of Actions, a knowledge document prepared by TERI ahead of COP26.
The Special Youth Session that followed H.E. Mr. Frans Timmermans's keynote address saw Mr Ashraf Nehal; Mr Mayank Sethi; Ms Pooja Sehbag; Mr Yash Khandelwal; and Ms Drishya Pathak interact with H.E. Mr Timmermans.
Moderating the Special Youth Session Mr. Manjeev Puri, Former Ambassador and Distinguished Fellow, TERI emphasised, "India and the European Union are natural partners in development and have an abidable interest in climate action and sustainability".
Dr. Livleen Kahlon, Associate Director, Environmental Education and Awareness, TERI proposed the Vote of Thanks and acknowledged initiatives such as the Youth Climate Conclave and COP26 Charter of Actions that have contributed towards building momentum for COP26. With a quest to further facilitate engagement, education and empowerment of Indian youth on the issue of Climate Change, in 2019, the Delegation of the European Union to India with GIZ and implementation support from TERI launched ab annual initiative titled the Youth Climate Conclave.
About TERI
The Energy and Resources Institute (TERI) is an independent, multi-dimensional research organization, with capabilities in policy research, technology development, and implementation. It has pioneered conversations and action in the energy, environment, climate change, and sustainability space for over four decades. Headquartered in New Delhi, TERI has regional centres and campuses in Gurugram, Bengaluru, Guwahati, Mumbai, Panaji, and Nainital, supported by a multi-disciplinary team of scientists, sociologists, economists, engineers, administrative professional and state-of-the-art infrastructure.
About the EU and EU-India Ties
The EU, which consists of 27 countries, has the world's second largest economy and its third largest population, after China and India. Though richly diverse, the countries that make up the EU (its 'Member States') are all committed to the same basic values: peace, democracy, the rule of law and respect for human rights. By creating a frontier-free single market and a single currency (the euro) which has been adopted by 19 Member States, the EU has given a significant boost to trade and employment. It is also at the forefront of global policies on sustainability.
EU-India relations: For over 55 years, the EU and India have worked together to reduce poverty, prevent disasters, expand trade, secure global public goods, enhance security around the world and promote joint research in energy, health, agriculture and many other fields of mutual interest. More information at: http://eeas.europa.eu/delegations/india EU-TERI: There is a strong cooperation between the EU and TERI on areas such as resource efficiency, climate change, sustainable development and youth engagement. EVP Timmerman's addressed the valedictory session of TERI's World Sustainable Development Summit in February this year.
Contact Details
Sumit Bansal- sumit.bansal@teri.res.in
Shreyas Joshi- shreyas.joshi@teri.res.in