Around 200 farmers enrolled in Paani Bachao, Paise Kamao scheme, 10 felicitated in Bambiwal village
---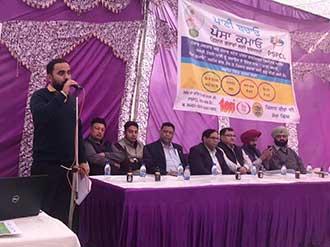 Around 200 farmers enrolled in Paani Bachao, Paise Kamao scheme, 10 felicitated in Bambiwal village
Jalandhar, December 4 2018: A total of 205 farmers have so far enrolled under the Paani Bachao, Paise Kamao pilot initiative of the Direct Benefit Transfer for Electricity (DBTE) to agriculture scheme. Some of these farmers have started receiving money directly into their bank accounts at the rate of Rs.4 per kilowatt hour (kWh) of electricity saved.
The Department of Power, Government of Punjab is implementing this scheme, under which farmers would be given a fixed electricity allocation (in kWh) for two months' billing cycle. Any consumption measured from individual meters lower than the fixed allocation would be reimbursed at Rs.4 per kWh. Farmers will not be charged for any excess consumption above the fixed allocation and no bills will be issued to any of them.
Under the scheme, the farmers will be informed through SMSes about their savings bimonthly and electricity consumption fortnightly. The amount will be transferred directly to their bank account. The power supply to the feeders under the pilot project would be given in day time schedule only and continue to be supplied as per the prevailing practices. If 80% farmers on the feeder opt for the scheme, the supply hours to that particular feeder could be increased by two hours.
An Implementation Assistance Consultant (IAC), comprising The Energy and Resources Institute (TERI), IT Power India (ITPI), and Punjab Agriculture University (PAU), has been providing support in implementing the scheme in Dhanoya, Nawajipur and Bambiwal-1 pilot feeders in Hoshiarpur and Jalandhar districts on a pilot basis.
In order to sensitise farmers in the villages under Bambiwal-I feeder, namely Bambiwal, Kukar Pind, Sofi Pind, Aladinpur, and Khusropur villages, the Punjab State Power Corporation Limited (PSPCL) today organised a camp at Government Primary School, Bambiwal village, Jalandhar Cantt - II, from 3pm to 5pm. Among the farmers from this feeder who enrolled in this scheme, 10 were felicitated at the camp.
On the occasion, Er Chetan Kumar, Additional Superintendent Engineer, PSPCL, Jalandhar, said, "Save water and it will save you later... I would like to thank TERI and the team for active participation in the DBTE initiative."
"DBTE to agriculture is a progressive initiative of the Punjab government being undertaken at a pilot scale. As a part of this, we regularly organise farmers' camps in villages that provide opportunity to the farmers to interact with the experts. Such camps help farmers learn progressive farming and crop diversification techniques, micro-irrigation technologies, and other best practices for water and electricity conservation. Such camps also encourage peer-to-peer learnings among farmers," said Mr Amit Kumar, Senior Fellow and Senior Director, TERI.
The pilot project aims to address and provide solutions towards the interlinked challenges of declining groundwater, increasing electricity consumption, and rising fiscal burden of power subsidy in the state. The scheme will be refined for wider implementation across Punjab, based on the learnings from this pilot.
Subsidised power to extract groundwater has stimulated agricultural growth and rural economy in Punjab. However, delivering this subsidy through unmetered power supply has resulted in inefficient use of electricity and groundwater, leading to depletion of the latter. A strong need was felt to develop and implement a strategy to address electricity-groundwater-agriculture cross-sectoral issues while meeting the agricultural requirements.
About TERI
The Energy and Resources Institute (TERI) is a leading think tank dedicated to conducting research for sustainable development of India and the Global South. Established in 1974, TERI has become the pre-eminent institution for research, discussion and thought leadership on environmental governance and sustainable development.
The Institute is committed to the application of thought that drives action in the direction of tackling climate change.
For further details, please contact:
TERI - Aastha Manocha: 8447049011 | aastha.manocha@teri.res.in
Edelman - Sneha Dev: 9958000706 | Sneha.Dev@edelman.com