10th edition of GRIHA Summit will be co-hosted by University of New South Wales (UNSW), Australia & GRIHA Council
---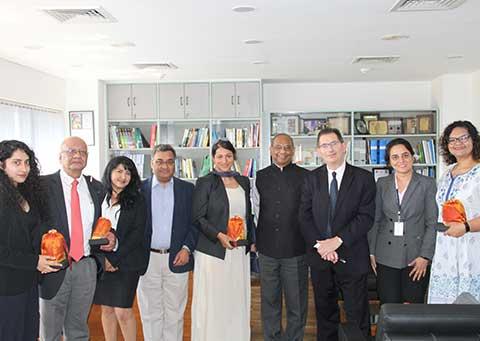 Prof. Ian Jacobs, Vice Chancellor & President, UNSW & Dr. Ajay Mathur, President, GRIHA Council announced that the 10th edition of the GRIHA Summit will be co-hosted by UNSW & GRIHA Council in December, 2018 at New Delhi, India.
New Delhi, 23 March 2018: The 10th edition of GRIHA Council's annual flagship event 'The GRIHA Summit' will be co-hosted by University of New South Wales (UNSW), Australia & GRIHA Council in December, 2018.
In the past, the GRIHA Summit has played host to various technical sessions on sustainable building policies, tools & techniques and exhibitions showcasing sustainable building materials, construction practices and technologies. GRIHA has been recognized as an effective tool to evaluate the environmental performance of a building holistically over its entire lifecycle based on quantitative and qualitative criteria. It seeks to minimise resource consumption, waste generation and overall ecological/environmental impact of buildings and habitats.
Speaking on the occasion, Prof. Ian Jacobs, President and Vice Chancellor, UNSW said, "Our partnership with TERI represents our commitment to jointly develop tangible applications of research that our teams work in several areas such as, clean energy and sustainable housing, including photo-voltaics, waste water treatment and intelligent transport systems.
UNSW is delighted to bring its partnership with TERI to life, through the co-creation of the GRIHA Summit 2018, which celebrates its 10th Anniversary this year. This demonstrates UNSW's commitment to a robust India Strategy that aligns with the developmental aspirations of the Indian government. We look forward to exploring several areas of collaboration with TERI."
Sharing his thoughts on the newly forged partnership, Dr. Ajay Mathur, President, GRIHA Council and Director General, TERI said, "I welcome the offer of UNSW to co-create the 10th GRIHA Summit together with the GRIHA Council. I am equally excited on the renewed partnership between TERI and UNSW in the collaborative efforts of knowledge transfer and identification of specific areas for research and development across various thematics concerning the Built Environment".
Over the years, the GRIHA Summit has witnessed enthusiastic participation from government, industry, building practitioners, developers, academia and all other relevant stakeholders. The Summit sees the launch of new initiatives by the GRIHA Council in response to the feedback received during the interactions with stakeholders in the preceding Summits.
The upcoming 10th GRIHA Summit is poised to mark the contribution of the GRIHA Council towards advancing the Sustainable Development agenda globally.
About GRIHA Council
Green Rating for Integrated Habitat Assessment (GRIHA) Council is an independent, not- for -profit society jointly setup by The Energy and Resources Institute (TERI) and the Ministry of New and Renewable Energy (MNRE), Government of India to promote and administer green buildings in India. GRIHA has been acknowledged as a tool to evaluate reduction in emission intensity through habitats, as part of mitigation strategy for combating climate change in India's Nationally Determined Contributions (NDCs) submitted to UNFCCC.
For further information, contact:
GRIHA Council:
Santhosh Ramkumar: santhosh.ramkumar@grihaindia.org
Pallavi Singh: pallavi.singh@teri.res.in
---