Webinar on 'Namma Auto Project: Learning & Reflections'
Ms Palak Thakur, Ms Sugandha Pal
Online
---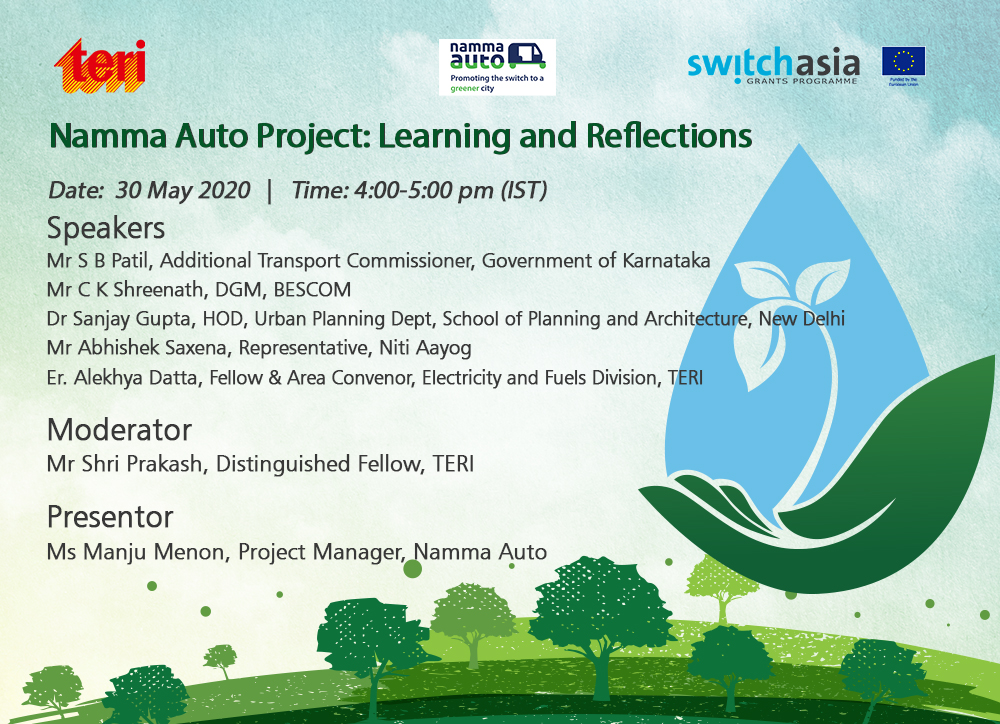 As a closure activity of the project 'Switching to a sustainable auto-rickshaws system' TERI is organising a webinar on "Namma Auto Project: Learning & Reflections". The webinar will also be part of the discussion series on 'Survival and Revival of Auto-rickshaws ecosystem: Policy, Financing and Awareness for sustainable mobility' to promote the mandate of electric auto-rickshaws in Indian cities. This webinar aims to disseminate the learnings from Namma Auto project and further deliberate on the ways this project can be replicated and scaled.
---
On 30th May 2020, 04:00 PM - 05:00 PM IST
---
---
Presentor
Ms Manju Menon, Project Manager Namma Auto
Moderator
Mr Shri Prakash, Distinguish Fellow, TERI
Panellists
Mr S B Patil, Additional Transport Commissioner, Transport Department, GoK
Mr C K Shreenath, DGM, BESCOM
Dr Sanjay Gupta, HOD, Urban Planning Dept and Professor, Transport Planning Dept, School of Planning and Architecture (SPA), New Delhi
Mr Abhishek Saxena, Representative Niti Aayog
Er. Alekhya Datta, Fellow & Area Convenor, Electricity and Fuels Division, TERI
---
Background
The Project "Switching to a sustainable auto-rickshaws system" is an endeavour to reduce CO2 emissions and air pollution (caused primarily by PM 10 and NOx) from the auto-rickshaws sector by accelerating the transition of older ICE based auto-rickshaws to clean technology versions. Additionally, the project also looks at promoting sustainable lifestyles and reducing poverty. The Project (Commonly referred to as the Namma Auto Project) aims to improve the income of thousands of auto-rickshaw drivers and the comfort of lakhs of residents of Bangalore and Chennai. The project implementation is through a consortium of ACRA, ENVIU Foundation, Women Health and Development (WHAD) and The Energy and Resources Institute (TERI). The consortium received four-year grant support from European Union under Switch Asia Programme for implementing a project that aims at Switching to a sustainable urban transport system in the cities of Bangalore (Karnataka) and Chennai (Tamil Nadu).
Under this intervention, a pilot service of electric autos feeder (for first and last-mile connectivity) was launched in Chennai in collaboration with Chennai Metro Rail Ltd (CMRL) from January 2019. In Bengaluru, the project has launched a ride-booking application that is focussed on offering first and last-mile service of auto rickshaws to regular metro users (presently in a station), through pre-fixed fares and routes. Since 2016, the project has collaborated with over 30,000 auto-drivers, trained over 5000 drivers under a code of conduct, and has mobilised several of them into a state-level cooperative society in Bengaluru.