Webinar on Improving DISCOM viability through behind-the-meter energy efficiency and renewable energy interventions
Mr Narayankumar Sreekumar
Online
The webinar aims to learn from existing experience with behind-the-meter interventions including energy efficiency and demand side management measures by Discoms. The aim is to create deeper insights for designing effective regulatory and policy initiatives.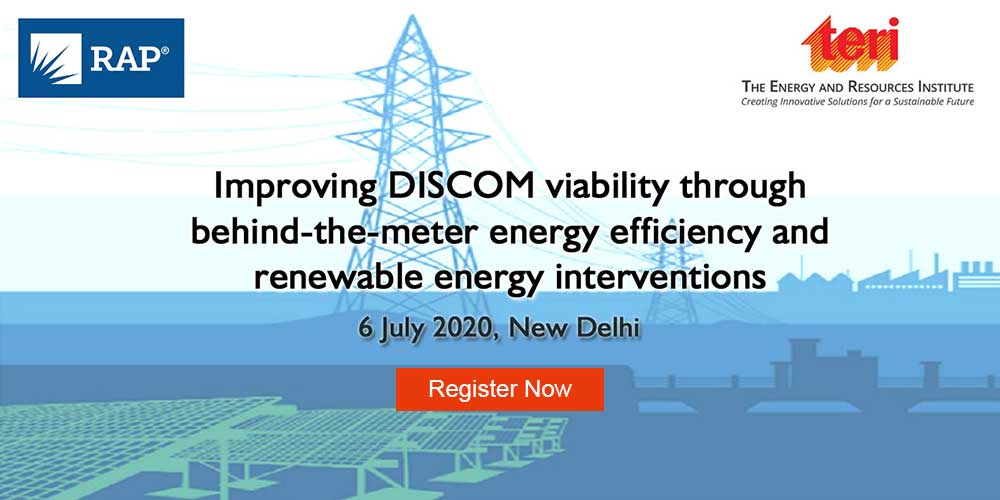 Background
The Indian power sector is experiencing unprecedented changes, visible in several ways:
Through the proposed amendments to the Electricity Act.
Financial challenges faced by the electricity distribution companies (DISCOMs) due to reduced revenue realization on account of the COVID-19 economic impact.
Power pricing corrections in the renewable and conventional power sources.
The recent launch of the real-time-market and the coal/gas markets.
Recent opportunities through end-use efficiency measures and flexibility of the load to respond to power availability.
While supply-side solutions emerge, options through end-use efficiency improvements are important. These efficiency improvements are considered the first-fuel in matured power markets before introducing other decarbonisation measures.
With the technological advances, energy efficiency, demand-response, rooftop photovoltaic, battery and thermal energy storage are offering specific system value in the form of:
Reducing the societal costs.
Stabilizing the grid stability through ancillary services.
Valuing energy markets instead of capacity lock-ins.
Evaluating inputs to long-range planning.
Such opportunities have been tried in matured power systems in North America, the European Union, and India, with certain demonstrations carried out. Departing from the conventional notion of the end-use efficiency and the DISCOMs acting as adversaries, it is important to create business structures that bring the end-use investment opportunities within the regulated and emerging electricity markets. These structures should meet the financing goals for DISCOMs, as well as the end-users, while creating the grid of the future.
Through this curated webinar session, The Energy and Resources Institute (TERI) and Regulatory Assistance Project (RAP) are coming together to learn from existing global and local experience with behind-the-meter interventions. Our aim is to create deeper insights for designing effective regulatory and policy initiatives that enable greater utilisation of demand-side resources in India, corroborating not only deeper decarbonisation of the power sector, but also enhancing and consolidating financial viability of the DISCOMs.
About the organizers
TERI: The Energy and Resources Institute (TERI), established in 1974, is a premier think-tank dedicated to research on sustainable development in India and the world over. Its key focus is on promoting clean energy, water and pollution management, sustainable agriculture and climate resilience.
The Regulatory Assistance Project (RAP)© is an independent, non-partisan, non-governmental organization dedicated to accelerating the transition to a clean, reliable, and efficient energy future.
On 6th July 2020, 05:00 PM - 06:30 PM IST
Speakers
Dr Ajay Mathur
Ajay Mathur is Director General of TERI – The Energy & Resources Institute, and a member of the Prime Minister's Council on Climate Change.
He was Director General of the Bureau of Energy Efficiency in the Government of India from 2006 till February, 2016, and responsible for bringing energy efficiency into our homes, offices, and factories, through initiatives such as the star labelling programme for appliances, the Energy Conservation Building Code, and the Perform, Achieve and Trade programme for energy-intensive industries.
Dr Mathur was earlier with TERI from 1986 to 2000, and then headed the Climate Change Team of World Bank in Washington DC. He was President of Suzlon Energy Limited, also headed the interim Secretariat of the Green Climate Fund.
He has been a key Indian climate-change negotiator, and was also the Indian spokesperson at the 2015 climate negotiations at Paris. He is a global leader on technological approaches to address climate change; and is co-chair of the Energy Transitions Commission, a global group of industrial, financial and think-tank leaders focusing on strategies for companies and countries to move towards climate-friendly energy futures.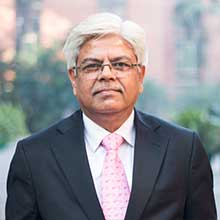 Mr A K Saxena
Mr A K Saxena heads the Electricity and Fuels Division in TERI. Hehas over 38 years of experience in the power sector in India post retirement from Government service in 2016. He has worked with the Central Electricity Authority (CEA), Ministry of Power (MoP) and Central Electricity Regulatory Commission (CERC). He possesses rich technical, policy and regulatory experience.
At TERI, his responsibilities include managing the work on energy transitions in the power sector to foster adoption of low carbon pathways in India, power sector policy,reforms and regulations, demand side management action plans, smart grid, etc., which involves a strong interaction with power utilities in the country as well as leading organisations/institutes in other countries. At CERC, Mr Saxena headed the Engineering Division and worked on review/framing of regulations for determination of tariff for Inter State Generating stations and Inter-State Transmission Systems, transmission charges, Indian Electricity Grid Code, Open Access, Connectivity, Ancillary Services, etc.He was a member / convenor / Chair of Task Forces set up by the Commission.
At CEA, he worked in grid management and load dispatch and communication domains.
At MoP, he handled work related to operation monitoring at the national level, short-term fuel management for power plants, transmission, crisis and disaster management plan, etc.
Mr Saxena holds a Master's degree in Electrical Engineering and MBA. He is a Fellow of Institution of Engineers (India). He is widely travelled.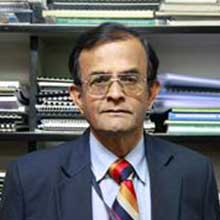 Mr K Ramanathan
Mr K Ramanathan holds a Master's degree in Engineering (WRD- Electrical) from the Indian Institute of Technology in Roorkee, India and has over 45 years of experience in the power sector. He is now working with TERI in Delhi as a Distinguished Fellow. Prior to that, he was Member (Power Systems) in the Central Electricity Authority (CEA).
In the CEA, Mr Ramanathan has been responsible for the planning and operation of transmission and distribution systems, establishment of load dispatch centers, techno-economic appraisal of power projects, preparation of National Power Plan of India, etc.
At TERI, Mr Ramanathan is working in the area of regulatory studies and governance. He has functioned as sector expert and advisor in a large number of research and consultancy projects funded by national and international agencies on power sector reforms, promotion of renewable energy and associated regulatory issues, energy efficiency, power system planning and operation, demand forecasting, development of smart grids, etc. He has also been actively involved in various capacity building exercises in India and abroad.
He is a Member of the State Advisory Committee of the Delhi Electricity Regulatory Commission (DERC).
Mr Ramanathan has presented/ published a number of papers in different journals and national/ international seminars and co-authored three books; one on Electricity Privatization Experience in the State of Orissa, one on Hydropower Development in India (an ADB publication), and one on DSM Action Plan for Tamil Nadu.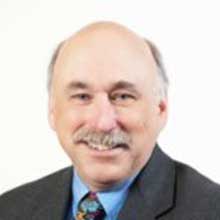 Mr Richard Sedano
RAP president  brings decades of industry and regulatory experience in developing creative, context-specific energy policies, and he continues to advise governments on the "power sector of the future" and energy efficiency policy. Mr Sedano works collaboratively with our regional leadership to advance power sector reform and environmental policy, cost-effective paths to a low-carbon energy sector, and practical solutions to the challenges of integrating renewable energy sources into the grid and scaling up energy efficiency resources.
Most recently, Mr Sedano was director of RAP's U.S. program, where he advised state utility commissions and other decision-makers, often working with them in workshop settings, on energy efficiency, demand response, renewable energy, pricing, grid modernization, transmission, and wholesale electric market issues.
Prior to joining RAP in 2001, Mr Sedano served as commissioner for nine years and held various engineering staff positions with the Vermont Department of Public Service (VDPS). VDPS represents utility consumers in all regulatory matters and acts as the state's energy office and consumer advocate. He also worked as an engineer in power generation for Philadelphia Electric Company.
In November 2009, Mr Sedano was awarded the National Association of Regulatory Utility Commissioners' Mary Kilmarx Award. In September 2011, the National Association of State Energy Officials (NASEO) presented him with an award for his service. Mr Sedano served as chair of NASEO from 1998-2000. He is a member of the board of directors of the Northeast Energy Efficiency Partnerships and an advisor to the Rocky Mountain Institute's e-Lab—an assembly of thought leaders and decision makers focused on collaborative innovation to address critical barriers to the economic deployment of distributed resources in the U.S. electricity sector.
Mr Sedano attended Stuyvesant High School in New York City and received his bachelor's in engineering from Brown University and his master's degree in engineering management from Drexel University.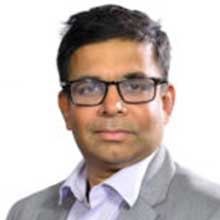 Dr Mahesh Patankar
Mahesh Patankar provides analytical and research support to RAP's India team on wholesale market design, innovation in tariff design, and integration of electric vehicles and renewables into the grid. He also advises the team on strategic engagements with stakeholders in Indian states, including governments, utilities, regulators, think tanks, and civil society.
Before assuming the additional role of senior advisor, Dr. Patankar developed and nurtured a niche advisory service providing cutting-edge solutions on policy, financing, and implementation in the electricity, transportation, and smart built environments. He advises the World Bank Group on water conservation in agriculture, urban, and industrial settings through leading a multi-stakeholder platform that includes the public and private sectors and civil society.
He has worked for state regulators in India as a staff consultant and for the International Institute of Energy Conservation think tank, the Asian Institute of Technology, and companies in India's energy and environment domains. He has extensive international work experience, primarily providing energy and environmental solutions to energy economies in Southeast Asia and the southern Pacific islands and intermittently in Africa and the Mideast.
Dr. Patankar holds an undergraduate degree in chemical engineering (1991) from Shivaji University, a master's in financial management (1997) from the University of Mumbai, and a doctorate (2006) from the Indian Institute of Technology Bombay, where he focused on transitions to alternative public transportation strategies linking policies and implementation. He is fluent in English, Hindi, and Marathi and likes to test his skills at Thai.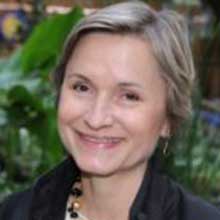 Ms Ann McCabe
Ann McCabe provides strategic leadership and vision while managing all aspects of RAP's U.S. work.
Ms. McCabe has more than 25 years of energy and environmental policy and regulatory experience in the public, private and nonprofit sectors. As a commissioner at the Illinois Commerce Commission from 2012 to early 2017, she focused on grid modernization, regional transmission and nuclear issues. She was board president for the Organization of PJM States Inc. and the MidAmerica Regulatory Conference and chaired the Nuclear Issues Subcommittee of the National Association of Regulatory Utility Commissioners.
After leaving the Illinois commission, she returned to consulting, including more than two years as the interim executive director of The Climate Registry of 30 states and provinces. She also raised funds for the MidAmerica Regulatory Conference annual conference and advised the PJM Clean Energy Advocates and other clients, primarily on state outreach.
Her environmental regulatory experience includes 10 years as a regulatory issue manager at BP and Amoco, consulting on state regulatory issues and covering energy and environmental legislation in the state of Illinois' office in Washington, D.C. Ms. McCabe has taught energy and environmental labs at The University of Chicago Harris School of Public Policy and has been a longtime mentor of students and alumni. She has a master's degree in public policy from the Harris School and a bachelor's in political science from Williams College.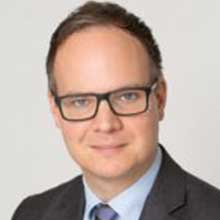 Dr. Jan Rosenow
As the director of European programmes, Dr. Jan Rosenow leads RAP's initiatives in Europe on power market design and Efficiency First. He is responsible for all aspects of leadership, management, and financial viability of RAP's work in Europe.
Dr. Rosenow serves on the Executive Committee of the International Energy Agency's demand-side management program and sits on the board of the European Council for an Energy Efficient Economy. He has also advised the International Energy Agency, the European Commission, the European Parliament, the U.S. Agency for International Development, the German Corporation for International Cooperation (GIZ), government departments in a number of countries, and the UK's Office of Gas and Electricity Markets, as well as serving as an expert witness on several occasions to the British Parliament. He was the lead author of the International Energy Agency's global assessment of market-based instruments for energy efficiency.
Dr. Rosenow also has a strong track record in energy research. He is an honorary research associate at Oxford University's renowned Environmental Change Institute. He has authored more than 70 publications in the form of peer-reviewed papers, technical reports, and conference papers. He has also served as an expert witness to the House of Commons.
Prior to his engagement with RAP, he worked closely with the European Commission's Directorate-General for Energy through his policy work for the global consultancy Ricardo. Dr. Rosenow earned several post-graduate qualifications, including a master's degree in environmental policy and regulation from the London School of Economics and a doctorate from Oxford University.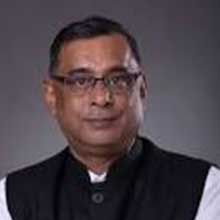 Mr Saurabh Kumar
Mr Saurabh Kumar is an Indian Revenue Service officer of 1992 batch. He is an Electrical Engineer from Indian Institute of Technology (IIT) Kanpur and Masters in Public Policy from National Graduate Institute of Policy Studies, Tokyo, Japan.
Mr Saurabh Kumar briefly joined the Telecom sector in 1989. In 1992, he got selected in the Indian Revenue Service as Assistant Commissioner of Income Tax. From 1992 until 2002, Mr Saurabh Kumar worked as Deputy Commissioner in various sensitive intelligence assignments. In the year 1996-97, he was appointed as first officer of the tax department in India to levy tax on national political parties. He also worked in the enforcement wing of the Revenue Department and conducted search and seizure operations against tax evaders. As part of this job, he conducted one of the biggest anti-tax evasion search operation covering 30 cities and over 15 premises on a large industrial group of India which remains one of the most successful operations in the Department.
In 2002, Mr Saurabh Kumar joined the Union Ministry of Power, Government of India as Deputy Secretary in charge of the Budget and Finance wing with the task of appraising large power projects for government investments. He was part of the government structure that was responsible for taking investment decisions in large power projects. The yearly investment budget handled during 2002-2005 was to the tune of USD 4 billion.
Mr Saurabh Kumar has worked in various capacities in Income Tax Department, Ministry of Power, and Bureau of Energy Efficiency (BEE). On the completion of the GRIPS Young Leaders Program in 2006, Mr Saurabh Kumar was appointed as Secretary of the Bureau of Energy Efficiency (BEE) during 2007-2010, the nodal central body for promoting energy efficiency in India & also the core agency for the implementation of the National Mission on Enhanced Energy Efficiency under the Ministry of Power. One of the key projects implemented under his leadership is one of the world's largest CDM (Clean Development Mechanism) based efficient lighting project.
Mr Saurabh Kumar has also been in charge of several bilateral projects on energy efficiency with Japan, Germany, France, etc. He proceeded on a UN Deputation to Bangkok for 2 years and was handling environmental issues in Asia – Pacific region. He has worked for design and implementation of programmes for promoting energy efficiency in India, preparing policies for enhancing the off-take of energy efficiency and has actively handled the international climate change negotiations as a part of the national negotiation team.
Mr Saurabh Kumar has been appointed as the Managing Director, Energy Efficiency Services Limited by the Ministry of Power and he took over as the Managing Director of EESL on 6th of May 2013.
Mr Saurabh Kumar has developed a project on Unnat Jyoti by Affordable Appliances and LED's for All (UJALA), Agricultural Demand Side Management Programme (AgDSM), Municipal Energy Efficient Pump Sets (MEEP) and Street Lighting National Programme (SLNP). This programme is doing well all over the India. Under the National Street Lighting Programme, all the conventional street lights are being replaced with energy efficient LED street lights across India. This programme has been officially launched by the Hon'ble Prime Minister on 5th January 2015. Under the directions of PMO and Ministry of Power, Mr Saurabh Kumar has been successfully implementing both these programs as well as several Demand Side Measures including municipal functions, agriculture, public building, lighting etc. with his team.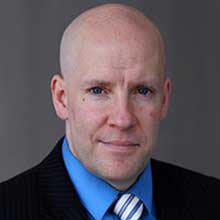 Mr Richard Rossow
Richard Rossow is a senior adviser and holds the Wadhwani Chair in U.S.-India Policy Studies at CSIS. In this role he helps frame and shape policies to promote greater business and economic engagement between the two countries. He joined CSIS in 2014, having spent the last 16 years working in a variety of capacities to strengthen the partnership between the United States and India. Prior to CSIS, he served as director for South Asia at McLarty Associates, leading the firm's work for clients in India and the neighboring region. From 2008 to 2012, Mr. Rossow was with New York Life Insurance company, most recently as head of International Governmental Affairs, where he developed strategic plans for the company's public policy and global mergers and acquisitions work. From 1998 to 2008, Mr. Rossow served as deputy director of the U.S.-India Business Council (USIBC), the world's leading advocacy group on behalf of strengthening economic ties between the United States and India. While at USIBC, he managed the Council's policy groups in the energy, information technology, insurance, media and entertainment, and telecommunications sectors. Mr. Rossow received his B.A. from Grand Valley State University in Michigan.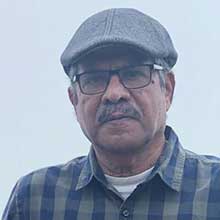 Mr. Padu S. Padmanaban
Mr. Padu S. Padmanaban is the former Program Director of the South Asia Regional Initiative for Energy (SARI/E) and Senior Energy Advisor for USAID/India's bilateral program. He has served with the World Bank, Washington DC as an Energy Efficiency Specialist and is a visiting fellow with the King Abdullah Petroleum Studies and Research Center (KAPSARC), Riyadh, Saudi Arabia. He has over four decades of experience in the design of national and regional energy efficiency programs, power sector reforms, regional energy integration, energy-water nexus, clean energy and energy access projects including the planning and establishment of national and regional centers of excellence in energy efficiency. He is a trustee of Alttech Foundation, a Bangalore based NGO devoted to advancing water-energy sustainability and also is the founder member of the Alliance for Energy Efficient Economy (AEEE), India.
Mr. Padmanaban is the recipient of several international and national awards in energy management and efficiency. These include: The Regional Energy Manager of the Year 2019 Award by the United States Association of Energy Engineers; the World Clean Energy Award, 2007 by the Swiss based Transatlantic 21 in global recognition of his achievements in advancing energy efficiency and renewable energy. Recipient of the Hall of Fame Award by the Indian Green Building Council in 2013, the All India Power award in 2010, the Energy Professional Development award, 2008 by the Association of Energy Engineers, India.
Mr. Padmanaban taught at the School for Advanced International Studies (SAIS), Johns Hopkins University, Washington DC. He has a B.E. in Mechanical Engg from the University of Madras (1973), a PG certificate in Fuel Efficiency (1974-76) from NPC, India and Diplomas in Energy Management from UCTI-IRI, Rome (1981) and ILO, Turino (1983), Italy.