Webinar on 'How to Develop Winning Research Proposals on Mycorrhiza'
Ms Reeta Sharma
Online
---
As part of Mycorrhiza Network programme TERI is conducting a webinar on the topic 'How to Develop Winning Research Proposals on Mycorrhiza'. The webinar is scheduled for Thursday, 6 February 2020 at 1600 Hrs
---
---
On 6th February 2020, 4:00 PM - 5:00 PM
Aim
Educate and impart knowledge amongst the participants on the given topic.
Topics/Speakers:
Mycorrhizal research funding in India and other countries
Dr Alok Adholeya, Programme Director, Sustainable Agriculture, TERI, New Delhi
Developing a technical/research proposal
(a) Characteristics of a research proposal (funding agency, formats, requirements etc.);
(b) Components of a research proposal (research design, project plan, deliverables, expected impact)
Dr Ankit Sharma, Associate Fellow and Area Convenor, Centre for Mycorrhizal Research, TERI
Potential Contribution of Mycorrhiza Network in preparing effective proposals
T.P. Sankar, Knowledge Resource Centre, TERI
Moderator
Ms Reeta Sharma, Associate Fellow, Knowledge Resource Centre, TERI, New Delhi
Participants
Researchers and budding scientists who are engaged in the field of mycorrhiza research; technologists and middle-level scientists; Agriculturists (who are involved in organic farming); Agricultural Technology Information Centre, ICAR; Students and Faculty from State Agricultural Universities; Farmer-Entrepreneurs and Extension workers; Development agencies (non-governmental organizations, community-based organizations); Other stakeholders who are interested to participate, please click here for registration.
Speakers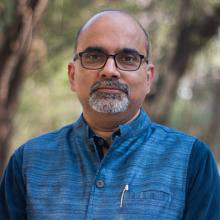 Dr Alok Adholeya Programme Director, Sustainable Agriculture, TERI, New Delhi
Dr Alok Adholeya leads the team on mycorrhizal research, micropropagation technology, Nanobiotechnlogy and plant tissue culture and molecular biology. Dr Adholeya's career has been largely devoted to finding and developing ways to harness the power of microbes, particularly mycorrhizae, to increase the productivity of crop plants and to restore degraded and industrial overburden lands.
Dr Adholeya has chaired numerous advisory committees on agriculture and bioremediation and is an invited speaker at many international forums. Currently, he chairs a major Task Force on Biological Agents in the Department of Biotechnology (DBT), Ministry of Science and Technology, Government of India, besides being member of the Nanobiotechnology Taskforce in DBT. His work has been published in over 170 research papers in reputed national and international journals and he is also a member of the editorial boards of many of these journals. He has guided 22 doctoral students and many masters' students to date and has been an Honorary Professor of Deakin University, Australia since March 2010.
Many awards and honours have come his way, such as the Young Scientist Award in 1999, and the Biotech Product and Process Development and Commercialization Award 2004 by the Ministry of Science and Technology, Government of India.
Dr Adholeya is a Ph.D from the Department of Microbiology, GB Pant University of Agriculture & Technology, Pantnagar and Jiwaji University, Gwalior, India and a Post-Doctoral Fellow at United States Department of Agriculture, Philadelphia, USA. He also worked as director, Product and Technology Development in Mycorrhizal Applications, Oregon, USA, between 2014 and 2017.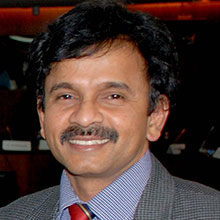 Mr T P Sankar Senior Fellow, Knowledge Resource Centre (KRC), TERI
T.P. Sankar has masters in information science and has expertise in the fields knowledge management, information science and project implementation. He has organized national workshops and international conferences; presented and published papers in international conference proceedings.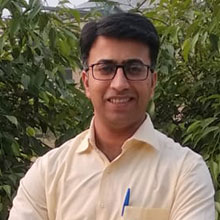 Dr. Ankit Kumar Associate Fellow, TERI
Dr. Ankit Kumar is presently working as Associate Fellow at The Energy and Resources Institute (TERI), India. My present job profile includes the commercial production of mycorrhizae and product development. My immediate past job responsibilities included in vitro production, maintenance and development of various cell lines of endomycorrhizae (Arbuscular Mycorhizae Fungi), development of new/improved cell lines/consortia for high yield, and overall supervision of the production process at the production facility. Prior to this, I was engaged in isolation, maintenance and screening of microorganisms (bacteria & fungi) from various ecological niches, screening of promising microbial strains in search for effective antimicrobial compounds, and formulations development for their applications.
Moderator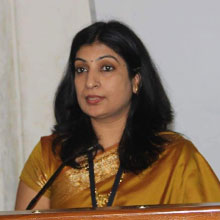 Ms Reeta Sharma Associate Fellow, Knowledge Resource Centre (KRC), TERI, New Delhi
Ms Reeta Sharma is working as Associate Fellow, Knowledge Resource Centre at TERI. She is one of the important members of TERI Mycorrhiza Network and has been actively involved in the planning, preparation and implementation of many Programmes in KRC. She was also the Associate Editor of Mycorrhiza News (a quarterly newsletter published by TERI).