Webinar on "Contribution of agro-forestry to achieve an additional carbon sink of 2.5 to 3 billion tonnes of CO2 equivalent through additional tree cover in India by 2030"
Ms Priya Sharma
Online
---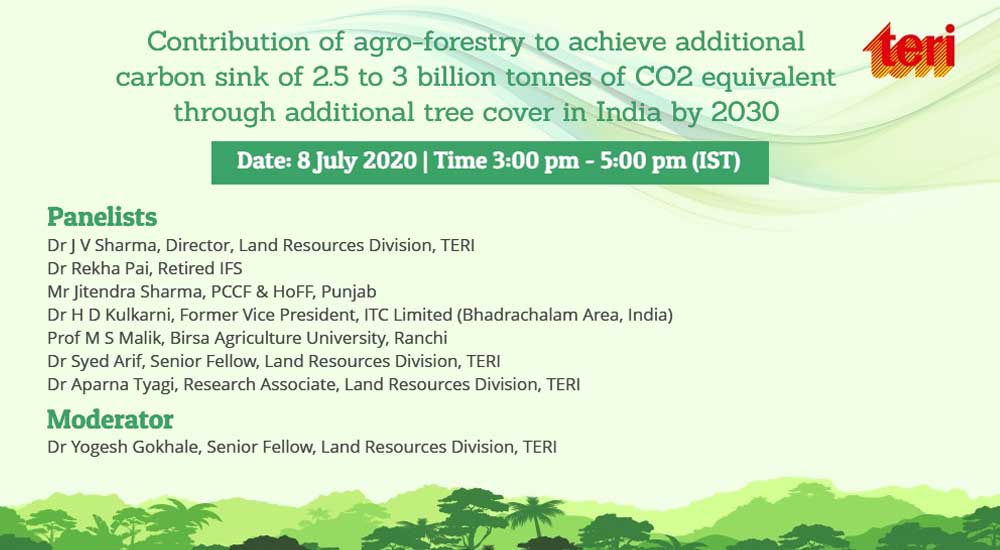 As per the Paris Climate Agreement India is committed to achieve the NDC targets by creating additional carbon sink of 2.5 to 3 billion tonnes of CO2 equivalent through additional forest and tree cover by 2030. Agro-forestry spearheaded by states such as Punjab, Haryana, Andhra Pradesh through systematic plantations of Poplar, Eucalyptus, etc. has played an important role in catering to more than 80% domestic timber demand for furniture. The defined harvesting cycle of various important agro-forestry tree species also provides a great opportunity to lock the sequestered carbon in form of furniture and re-use the land for sequestering additional carbon through new plantations. The agro-forestry plantations have also played an important role in stabilizing the forest and tree cover of the country by not only adding to area under tree cover but also by providing substitute to the timber harvested from forests and hence, conserving the same for ecological functions. Agro-forestry if managed in a climate smart manner then has a potential of achieving 2/3rd proportion of forestry sector NDC targets. Agro-forestry sector is facing several problems such as unregulated pricing regime, transit and felling regulations and lack of incentives for carbon sequestration. Agro-forestry sector needs a Minimum Support Price with inclusion of value of carbon sequestration.
The objective of this Webinar is to motivate industry, policymakers and farmers to promote agro-forestry to achieve livelihood sustenance and tackle climate change.
---
---
On 8th July 2020, 03:00 PM - 05:00 PM IST
Speakers
Dr Jitendra Vir Sharma Director, Land Resources, TERI
Dr. Sharma holds a doctorate degree in economic valuation of forest ecosystems. He has has nearly 34 years' experience in leading, coordinating and managing projects and activities in the forestry sector. Dr Sharma has coordinated and implemented donor-funded projects from both a governmental perspective (as an Indian Forest Officer) and as Director of the Forestry and Biodiversity Division at TERI. He also has extensive expertise in global forest policy and international negotiations and has been a negotiator on behalf of Government of India to the United Nations under the UNFF process. As Deputy Inspector General (DIG) Forest Policy and Forest International Cooperation, Ministry of Environment, Forests and Climate Change (MoEFCC), he was responsible for international cooperation including negotiations. Dr Sharma coordinated with FAO and Asia Pacific Forestry Commission on behalf of Government of India. As National Focal Point he organised the 21st session of the Asia Pacific Forestry Commission in 2006. Dr Sharma was the key organiser and co-chair for a country led initiative on the Payment for Ecosystem Services under United Nations Forum on Forests hosted by the Government of Germany, Berlin.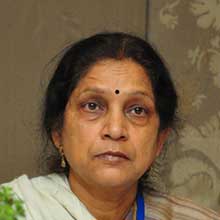 Dr Rekha Pai IFS (Retd.), Former PCCF (Van panchayat and Community participation), Uttarakhand Forest Department
Dr Pai is 1983 batch IFS officer of Uttarakhand cadre. She superannuated in Dec 2017 as Principal Chief Conservator of Forest (PCCF), Uttarakhand Forest Department. During her 34 years of long career, she has worked in various capacities at Central and State Government. At the Central Government, she worked in the Ministry of Environment, Forest & Climate Change (MoEF&CC ) for more than a decade dealing with various issues related to Forest Protection, a Sustainable Forest Management of Forest Policy, Community Participation, externally aided projects to name a few. In the State of Uttarakhand, she dealt with various issues related to Human Resource Development (HRD), Van Panchayat, Planning & Finance etc. As Chief Project Director, she dealt with World Bank aided Watershed Project. Dr Pai has represented the country at various international fora including United Nations Forum on Forestry (UNFF), World Forestry Congress (WFC), Asia-pacific Forestry Commission (APFC), and FAO etc.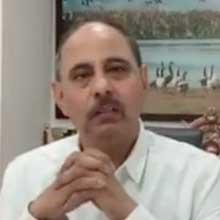 Mr Jitendra Sharma Principal Chief Conservator of Forests and Head of Forest Force, Punjab Forest Department
Mr. Jitendra Sharma have worked extensively for over thirty years in leadership positions at various levels (starting from District, Division, State and Government of India level) in the field of Environment, Forests & Biodiversity Development. He has served as the Chief Wildlife Warden of the State and Nodal Officer Forest Conservation Act (in State); worked as Additional Director General (Research) at Indian Council for Forest Research and Education, as the Chief Executive Officer, National Medicinal Plant Board and Joint Secretary, Ministry of AYUSH (in Government of India) handling regulatory matters, International collaboration, research & Development. He has played pivotal role in constitutions of first few Community Reserves in country under the Wildlife Protection Act, (1972) in Keshopur & Lalwan as well as Wildlife Sanctuaries at Nangal & Kathlaur/ Kaushalya in Punjab.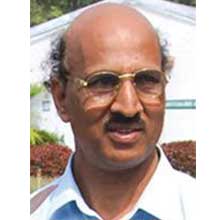 Dr H D Kulkarni Former Vice President, ITC Limited (Bhadrachalam Area, India)
Dr H D Kulkarni is known for successfully implementing the agro-forestry project of ITC with UNFCCC where the project is providing the carbon incentive to the farmers and the carbon credits developed from the same has made the company carbon positive. Post retirement from ITC, Dr Kulkarni provides consultancy to projects on agro-forestry in India and abroad.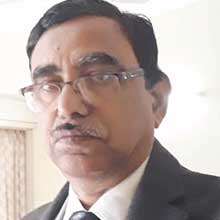 Prof M S Malik Birsa Agriculture University, Ranchi
Dr. M. S. Malik holds a Doctoral degree in Forestry from Tamil Nadu Agricultural University, Coimbatore. He possesses 32 years of teaching and research experience in the areas of agroforestry, poverty alleviation and participatory natural resource management. At present, he is working with Birsa Agriculture University as Professor and Chairman, Department of Silvicultur and Agroforesty. His overall research experience encompasses agroforestry, Forest management, community-based natural resource management and poverty alleviation. He has published several papers on related issues.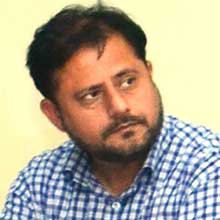 Dr Syed Arif Senior Fellow, Land Resources Division, TERI
Dr. Syed Arif Wali holds a Doctoral degree in Botany from AMU, Aligarh. He possesses 16 years of applied research experience in designing, implementation, impact assessment, monitoring and evaluation projects in the areas of forestry, poverty alleviation and participatory natural resource management. At present, he is working with TERI as Senior Fellow at the Land Resources Division that undertakes research in the climate change field.
His overall research experience encompasses Forest management, Climate change issues such as A/R- CDM, REDD +, community-based natural resource management and poverty alleviation through training, capacity building and income-generating activities. He has published several papers on related issues.
He has been extensively involved in Forest-based carbon Finance project (A/R CDM) in State of Uttar Pradesh as Principal Investigator (PI). The significant Contribution is that 10 Project Document Design (PDD) has already been registered by UNFCCC for issuance of CERs to the community.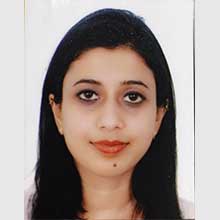 Dr Aparna Tyagi Research Associate, Land Resources Division, TERI
Dr Aparna Tyagi is M.Sc in Environment Management and PhD in assessing Implementation of Forest Rights Act, 2006. She has been involved in Developing concepts, proposals for undertaking various projects, implementation of projects related to land resources. She is also involved in various projects related to forest governance, Monitoring, Evaluation, Learning and Documentation (MEL&D) of Projects under Integrated Watershed Management Programme (IWMP) in Uttarakhand, Uttar Pradesh A/R CDM Project, Assessment of five pools of carbon stock in forest ecosystems etc.
Moderator
Dr Yogesh Gokhale Senior Fellow, Land Resources Division, TERI
Dr Yogesh Gokhale holds a doctoral degree in Botany from Mumbai University. He currently works as Senior Fellow with The Energy and Resources Institute (TERI), New Delhi. He has more than 15 years of experience of working on diverse aspects of natural resource management, monitoring, and evaluation of watershed projects and ecological assessments of various ecosystems in different parts of India.
He has extensively worked on people and forest interface issues regarding conservation of biological resources such as sacred groves in India for past several years. Some of his research topics include forest ecology, non-timber forest produce, medicinal plant conservation, community forestry, eco-development, and national and international biodiversity policy issues.
He completed his postdoctoral work at the Indian Institute of Science, Bangalore on biodiversity policy. Before joining TERI, he worked with the Ministry of Environment, Forest and Climate Change, Government of India, on the issues related to Convention on Biological Diversity.
At TERI, he is involved in a number of projects mainly related to natural resource management, carbon forestry, impact assessments, and biodiversity conservation. He has extensively published in national and international scientific journals, newspapers, and other media.