Webinar on Best practices to manage organic waste locally - Focusing on energy production through anaerobic digestion and fermentation
Ms Mehar Kaur
Online
---
Large amounts of Municipal Solid Waste (MSW) generated has become an increasing problem in all tourist destinations. To manage the waste generated effectively and decrease the amount of waste ending up in landfills, GIZ and TERI under the Indo-German project titled 'Development and Management of Waste NAMA (Nationally Appropriate Mitigation Action (NAMA) in India' has been collaborating with Directorate of Municipal Administration (DMA), the Goa Waste Management Corporation (GWMC) along with the Corporation of the City of Panaji (CCP) for better waste management practices in the coastal state.
As part of the project, TERI is conducting a series of seven webinars on better waste management practices to hone the skills and enhance capacities of urban local body officials from 14 municipal councils in Goa.
On November 15, 2019, at 2:30 pm to 4:00 pm
The third webinar on 'Best Practices to Manage Organic Waste Locally with a focus on Energy Production through Anaerobic Digestion and Fermentation' will introduce the participants to the local management and treatment of organic waste and its associated energy production.
Participants will learn:
Decentralized management of wet waste including best practices in India.
Viability of anaerobic digestion and fermentation technologies to manage organic waste.
Energy production through anaerobic digestion and fermentation.
The subsequent webinars will focus on the marketing of waste products, training on awareness generation campaigns, etc.
Speaker
Dr Dinesh Chander Pant Fellow at the Renewable Energy Technology, TERI
Mr Dinesh Chander Pant is a Fellow in the Renewable Energy Technologies Division of TERI, New Delhi, India. He received his Ph. D. degree in Environmental Science from TERI School of Advanced Studies, Vasant Kunj, New Delhi. His research interests include solid waste management and wastewater treatment technologies, with focus on resource recovery and recycling, urban environmental issues, and energy and environment linkages.
Mr. Pant has a patent to his credit on solid waste management technology process and design. He has published 18 research papers in national and international journals. Mr. Pant is actively involved in the technology development and dissemination. In the capacity of Project Investigator, Mr. Pant has handled more than 50 projects of varied nature independently. Mr. Pant is member of many technical evaluation committee of state level. He possesses the excellent evaluation skill and has evaluated many projects across India.
Moderator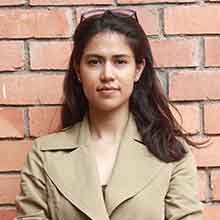 Mehar Kaur Research Associate and Area Convenor, The Centre for Waste Management, TERI
Mehar Kaur is a Research Associate and Area Convenor at TERI in the Centre for Waste Management Area. She has worked on multiple projects for municipalities including East Delhi, South Delhi, and North Delhi Municipal Corporations to audit their primary waste collection services and mechanized sweeping respectively and develop recommendations for improving the efficiency of East Delhi's primary waste collection and of North and South Delhi's mechanical road sweepers. She is currently working on developing and managing the waste NAMA in Varanasi, Uttar Pradesh to establish a baseline of current waste management practices and develop a pilot implementation project for improved waste management. She has prior experience of working with a waste collection firm, Eco-Wise Noida, India where she networked with various private and government stakeholders to improve their waste collection services.