Virtual Roadmap Workshop for Decarbonisation of Cement Sector in India
Ms Diksha Gairola, Mr Aditya Singh Raghwa
Online
'The Leadership Group for Industry Transition (LeadIT)' was launched by Sweden and India at the UN Climate Action Summit in New York in 2019. Its 35 members, 16 countries, and 19 companies come from all continents and work together to reach net-zero emissions in the industry. Stockholm Environment Institute hosts the Secretariat of LeadIT. The Secretariat has already obtained support from the Ministry of Environment, Forests and Climate Change, Government of India to host workshops in India to initiate the process for preparing the sectoral roadmap for the cement and steel sector. The Ministry has approved the cooperation of the Secretariat with TERI as a local partner.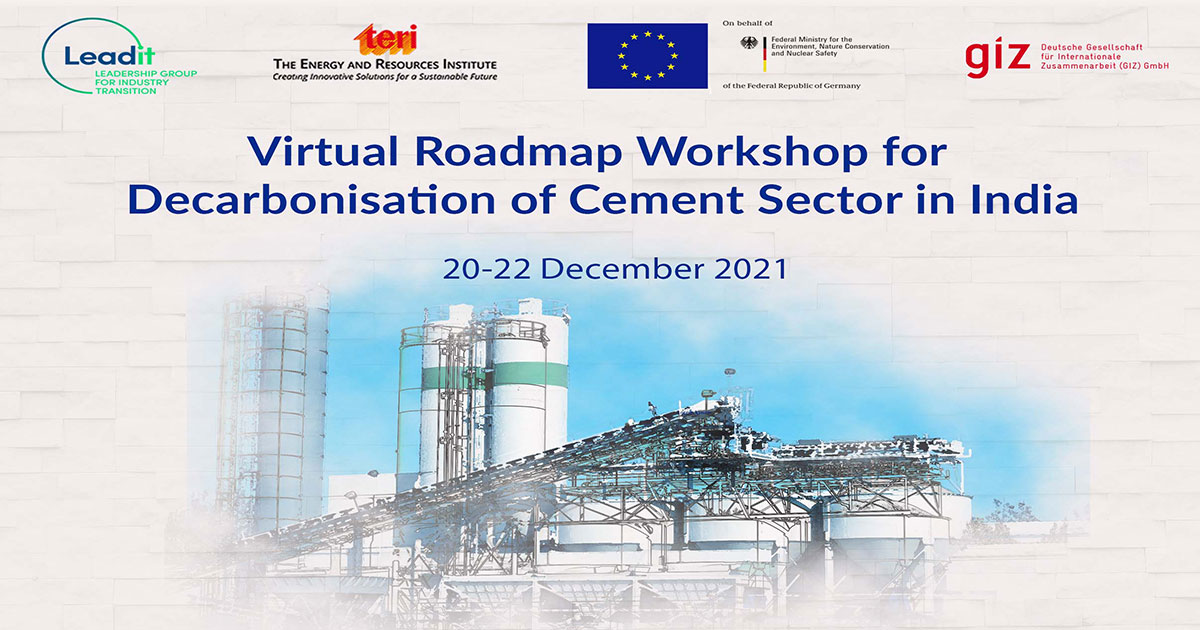 On 20th - 22nd December 2021
LeadIT has committed to aiding in road-mapping processes in India's cement sector by facilitating dialogues and offering technical and methodological guidance for developing roadmaps such as the "Roadmap Planner."
LeadIT Secretariat, TERI, and the Strategic Partnership for the Implementation of Paris Agreement (SPIPA) project are jointly hosting a road mapping process for target coherence with those targets and visions at a virtual workshop scheduled during 20-22 December 2021.
The cement sector is literally the building block of modern infrastructure and will remain so for the foreseeable future. Although material substitution will play a significant role in cutting emissions from this sector, massive amounts of cement will be needed to produce the buildings, infrastructure, and equipment required. However, the cement sector has a large carbon footprint. There are technological solutions within reach that would allow for close to zero-emissions production of cement. Industry transition roadmaps can serve as analytical tools for understanding, framing, and shaping complex transition processes. For other sectoral and national roadmaps, visit Industry Transition Tracker.
For additional details, write to Ms. Diksha Gairola at diksha.gairola@teri.res.in or Mr. Aditya Singh Raghwa at aditya.raghwa@teri.res.in.