TERI CBS Thought Leadership Webinar: The business case for energy transition in Indian Industries
Mr Aditya Singh Raghwa
Webinar
---
TERI Council for Business Sustainability (TERI CBS) is delighted to host the next webinar in the series of 'Thought Leadership Webinar' for Indian companies and businesses.
The Energy Transitions Commission (ETC) brings together a diverse group of leaders from across the energy landscape: energy producers, energy users, equipment suppliers, investors, non-profit organizations and academics from the developed and developing world. The aim of the Commission is to accelerate change towards low-carbon energy systems that enable robust economic development and limit the rise in global temperature to well below 2°C and as close as possible to 1.5°C.
ETC India aims to foster adoption of low-carbon pathways in India through intense and informed discussions between various stakeholders. ETC in India is led by TERI as the secretariat. In its first year of inception, ETC in India focussed on policy, research, and discourse on decarbonising the electricity sector. Whilst that work is still continuing, in the second year, ETC India will start to focus on decarbonising industrial sectors, with a particular focus on 'hard-to-abate' sectors, such as iron and steel, cement and petrochemicals.
The energy transition can be characterised according to three pillars of action: energy efficiency improvement, promotion of renewable energy and its integration into the national electricity grid, and transition in end-use sectors to low carbon energy sources. Within the 'hard-to-abate' sectors a particular challenge arises from the lower level of technological readiness, higher incremental costs of zero carbon technologies, and concerns about consumer costs and international competitiveness of energy intensive sectors.
On 28th August 2019, 2:30 PM - 3:30 PM
The upcoming TERI- CBS Webinar will delve into the challenges and opportunities of the Energy Transition and Focus on Industry Transition.
Focus issues
Do technologies already exist that are required to decarbonise the HTA sectors? What are the requirements across sectors to make such technologies commercially viable?
What are the roles of cross-cutting technologies like hydrogen in enabling energy transitions in the Indian industries?
Will this industry transition impact the costs for the producers of products? Will these be different for different sectors?
Speakers
Dr Ajay Mathur Co-Chair, Energy Transition Commission and Director General, TERI
Ajay Mathur is the Director General of The Energy and Resources Institute (TERI), New Delhi, and a member of the Indian Prime Minister's Council on Climate Change. He earlier headed the Indian Bureau of Energy Efficiency, and was responsible for mainstreaming energy efficiency through initiatives such as the Star Labeling programme for appliances, the Energy Conservation Building Code, and the Perform, Achieve & Trade programme for energy-intensive industries. He was a leading climate change negotiator, and was the Indian spokesperson at the Paris climate negotiations. He served as the interim Director of the Green Climate Fund during its foundational period.
At TERI, he has spearheaded the move to accelerate action towards a low-carbon and cleaner economy through the adoption of renewable energy in the Indian electricity sector, enhancing efficiency in buildings and industry, and promoting environmental quality through recycling of material wastes and biotechnology-based solutions.
He co-chairs the global Energy Transitions Commission; and is also co-chair of one of the climate initiatives of the One Planet Summit.
Dr Mathur received a Bachelor's degree in Chemical Engineering from the (then) University of Roorkee, and Masters and PhD degrees from the University of Illinois. He has also received the Distinguished Alumnus Awards from both his alma maters.
He was appointed a Chevalier de l'Ordre national du Merite by the President of France in recognition of his outstanding commitment to the preservation of the environment and coping with energy-related challenges.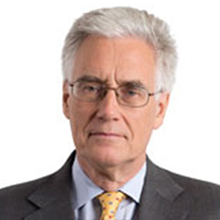 Lord Adair Turner Co-Chair, Energy Transition Commission Global
Lord Turner chairs the Energy Transitions Commission, a global coalition of major power and industrial companies, investors, environmental NGOs and experts working out achievable pathways to limit global warming to well below 2˚C by 2040 while stimulating economic development and social progress. He also chairs the Institute for New Economic Thinking, is the Chairman of Chubb Europe, a non executive director of Prudential plc., and a Trustee at the British Museum. In 2018 he joined the Advisory Board of Shanghai-based group Envision Energy.
From 2008-2013, Lord Turner chaired the UK's Financial Services Authority, and played a leading role in the redesign of global banking regulation. Roles in public policy include: Director General of the Confederation of British Industry (1995-2000), and has chaired the UK Low Pay Commission (2002-2006); the Pensions Commision (2003-2006); the Climate Change Committee (2008-2012) to advise the UK Government on tackling climate change.
He became a member of the House of Lords in 2006.
Business roles include McKinsey&Co (1982-1995); Merrill Lynch Europe (Vice-President 2000-2006) Standard Chartered plc (non-executive direcror, 2006-2008), among others.
He writes regularly for Project Syndicate, and has published "Between Debt and the Devil" (Princeton 2015).
Moderator
Mr Arupendra Nath Mullick Vice President - TERI Council for Business Sustainability (CBS)
Arupendra Nath Mullick, with his vast experience, leads inter-disciplinary research teams to undertake varied initiatives pertaining to sustainable development, corporate social responsibility, and climate change for Indian businesses. His role extends beyond project management and includes knowledge sharing, networking, and communications. As the Area Convenor of TERI Council for Business Sustainability, Mr Mullick develops sustainability roadmaps and steer CXO level engagements for Fortune 500 companies to articulate the business case of sustainability. He has trained mid-level corporate sector executives, Railway Officers, government officials, and CAG auditors on varied subjects. He has led development of a first-of-its kind sustainability dashboard for a NSE-listed chemical sector client to align sustainability goals with its business objectives and measure progress of sustainability performance. In addition, he has several research papers and presentations at various national and international fora to his credit.