State Consultative Roundtable Dialogue on PM KUSUM and the Water-Energy-Food Nexus
Ms Rashmi Murali
Online
The consultative dialogue will present the key takeaways from the 'Guidebook for State Policymakers on Maximizing the Social and Environmental Benefits from Solar Pump Schemes'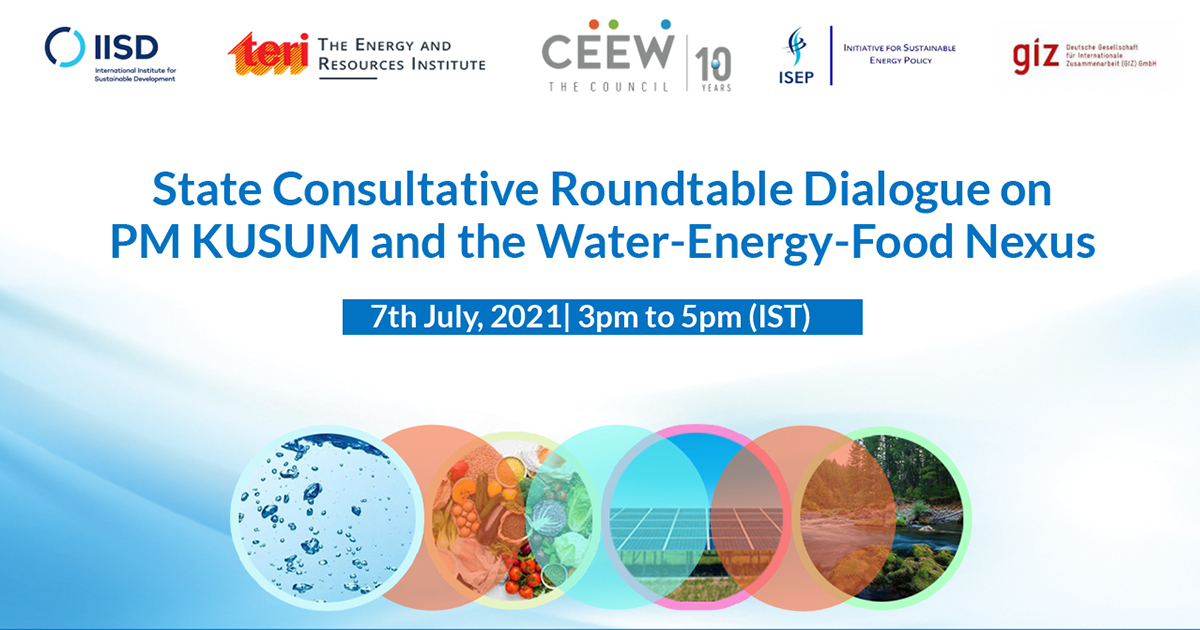 On 7th July 2021, 1500-1700 hrs
A virtual roundtable dialogue on the Water-Energy-Food Nexus, part of a GIZ-supported project, is being conducted in concurrence with the Ministry of New and Renewable Energy (MNRE), Government of India.
The consultative dialogue is being organised by a research consortium comprising IISD, TERI, CEEW and ISEP. The objective is to present the key takeaways from the 'Guidebook for State Policymakers on Maximizing the Social and Environmental Benefits from Solar Pump Schemes', which we have developed as part of the project, and to solicit inputs for further strengthening the implementation of solar irrigation schemes at the state and regional level.
The workshop will bring together state officials, experts and stakeholders to deliberate on issues covered in the guidebook, including coordination mechanisms between state agencies; convergence of micro-irrigation with solar pump schemes; innovative models for financing state's subsidy contributions; strategies for targeting small and marginal farmers; infrastructure support to regulate groundwater withdrawals; and monitoring and evaluation mechanisms.