स्वस्थ शरीर के लिए निशुल्क स्वास्थ्य शिविर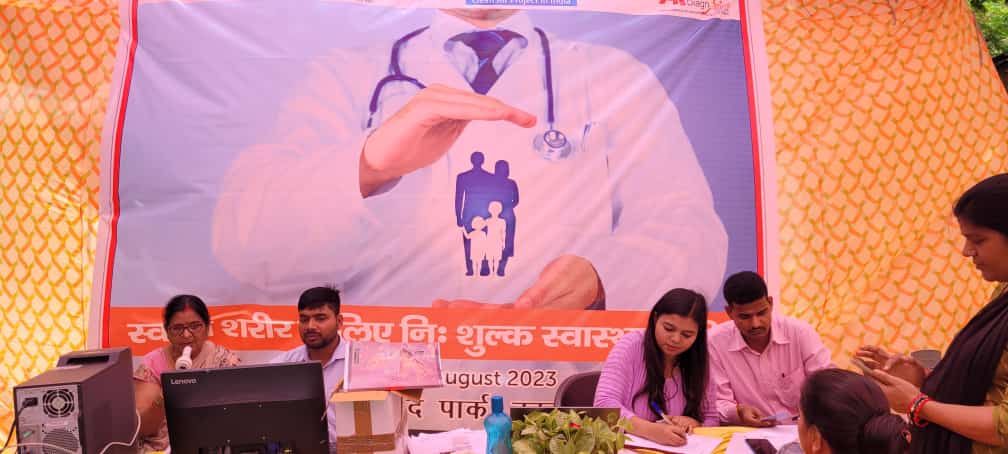 August 27, 2023 at Shahid Park, Naubasta, Kanpur
In response to the growing concerns surrounding air pollution in Kanpur and its adverse effect on public health, TERI has organised comprehensive health camp under the CAP India Project supported by SDC.
The health camp brought together healthcare professionals, environmental experts, and community members to address the multifaceted issues associated with air pollution. The event featured the following key components.
Aim of the camp- The camp aimed to educate and raise awareness among the community about the detrimental health impacts of air pollution while providing medical check ups and guidance to mitigate its effects. Apart from this the data from the camps can also help in policy making as well as improve the knowledge about the air pollution within the community. The Camp was held on 27/August/2023 at Shahid Park, Naubasta, Kanpur.
Health Screening – Certified Medical practitioners conducted health screening to assess the impact of air pollution on attendees. These screening included Pulmonary Function Test (PFT), Blood pressure (BP), Height and weight. All the certified reports have been given to all attendees.
Awareness Workshops- Experts delivered workshops explaining the sources, type, and health consequences of air pollution. There was total 72 people participated and also the gained insights into how air pollutants can exacerbate like asthma, allergies and other respiratory disorders.
Impact and future steps- The health camp generated a significant impact by fostering awareness and empowerment among the attendees. Participants gained a deeper understanding by the connection between air quality and health, and they were motivated to adopted lifestyle changes that can safeguard their well-being. The success of the camp has paved the way for upcoming health camps.
Conclusion- The health camp proved to be an essential platform for addressing the pressing issue of air pollution and its health implications. By bringing together experts and community members, the event fostered a sense of responsibility and collective action toward creating a healthier environment. As the awareness and momentum continue to grow, the camp's impact is likely to extend beyond its immediate scope, contributing to a cleaner and healthier future for all.