Workshop on Accelerating Decarbonisation for India's Cement Sector
Hybrid Mode | Desire Hall, Le Meridien Hotel, New Delhi
---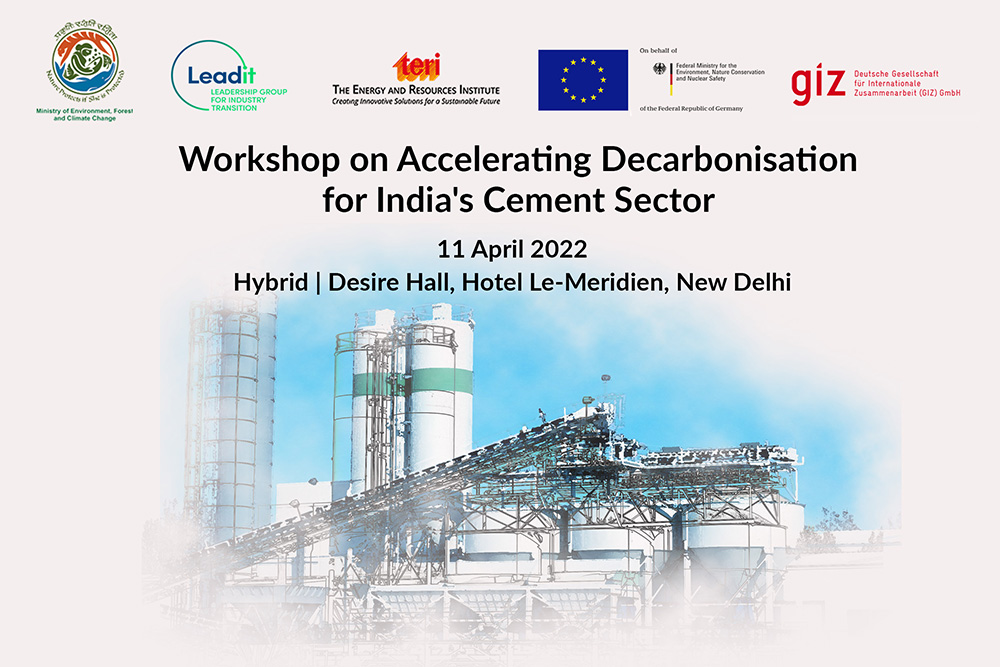 On 11th April 2022 | 09:30 hrs – 16:30 hrs IST
The Energy and Resources Institute (TERI) with the LeadIT Secretariat, Ministry of Environment, Forest and Climate Change (MoEFCC), and the Strategic Partnership for the Implementation of Paris Agreement (SPIPA) project are hosting a road mapping workshop in New Delhi, India to construct realistic decarbonisation pathways for hard-to-abate sectors. The workshops aim to bring together actors across the entire sectoral value chain including civil society, unions and government officials to discuss and deliberate on pathways that foster deeper decarbonization.
Roadmapping workshops offer an opportunity to set out the timing and sequencing of policy, investment, and innovation in ways that reduce the risk of industries being locked into higher emission trajectories due to the lifespan of assets. Industry transition roadmaps can also serve as analytical tools for understanding, framing, and shaping these complex transition processes.
LeadIT has committed to aiding in roadmapping processes in India in cement sector through facilitating dialogues and offering technical and methodological guidance for developing roadmaps, such as the "Roadmap Planner".
LeadIT Secretariat and TERI, supported by GIZ India, are jointly hosting this roadmapping process. TERI's work strengthens the understanding of potential pathways to reduce emissions from the heavy industry sectors. This includes analytical work and discussion with industry representatives in a number of key sectors, to inform practical roadmaps for decarbonisation.
The low carbon roadmaps for the hard to abate sectors are under development and aligned to the following objectives:
Conducting technical analysis to support India's contributions to the "Leadership Group for Industry Transition"
Conducting sectoral studies for hard-to-abate Industry sectors in consultation with Ministries and key stakeholders
Steel and cement sectors are essential in modern economies and societies. They are also major emitters and have long been treated as "hard to abate" industries. There are technological solutions within reach that would allow for close to zero-emissions production of steel and cement if the right policies and investments are in place – sequence of actions and public-private alignment are of great importance for a successful transition. Industry transition roadmaps can serve as analytical tools for understanding, framing, and shaping these complex transition processes. For sectoral and national roadmaps around the world, see the Industry Transition Tracker.
Day 1: 2nd Workshop on Decarbonization of the cement industry. (Monday, 11 April 2022, 09:30 hrs – 16:30 hrs IST)
Day 1 will focus on the decarbonisation of cement industry. The session will begin with a recap of our previous workshop which was held in December 2021 and present an overview of the state of sustainability of cement industries in India.
In the second part of the workshop, participants would discuss real-world cement industry transition experiences from public and private sectors. The deliberations will focus on decarbonization technology availability and costs in moderated discussions with all participants (industry – supply and demand side, technology providers, think tanks, research & academia). The day will close with a hands-on roadmap co-designing session.
Participation in the workshop is by invitation only. Pre-registration is necessary. For additional details, write to taruna.idnani@teri.res.in