Renewable Energy to Responsible Energy: A Call to Action
Dr Debajit Palit
Online
---
The interactive online event will mark the launch of a 'Call to Action' report of the Renewable Energy to Responsible Energy Initiative, of which TERI is a part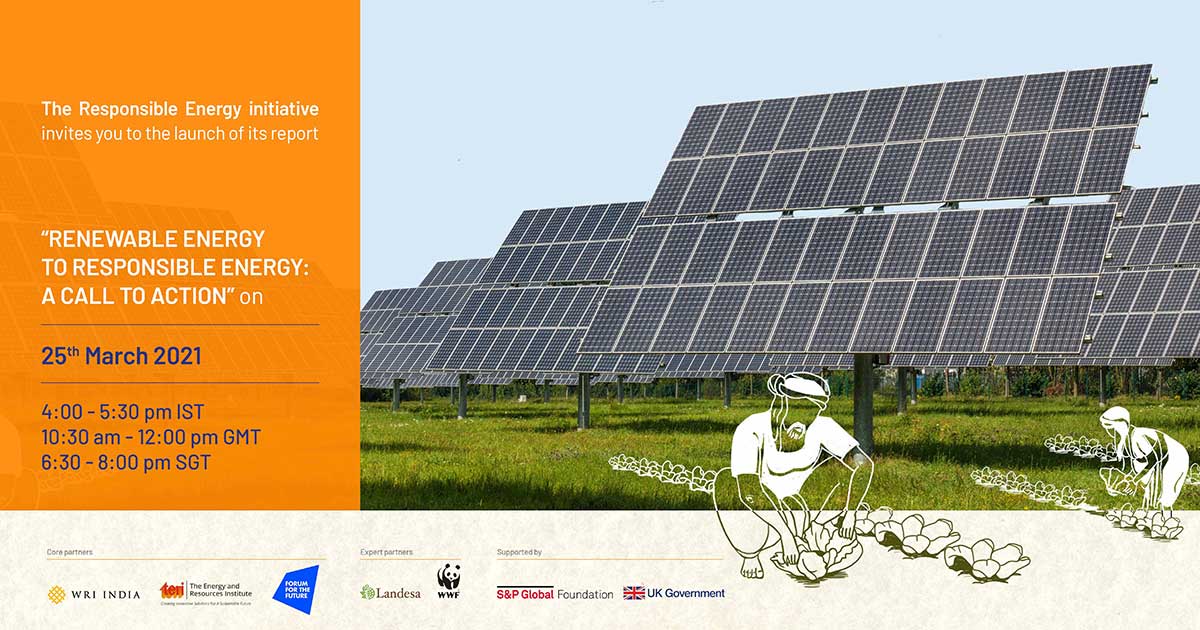 On 25th March 2021, 4:00 PM IST | 10:30 AM GMT | 6:30 PM SGT
The rapid rise of renewable energy (RE) is a keystone element of our transition to a low carbon economy in India and globally. Scaling RE has the potential to expand access to affordable, clean energy; create jobs and help economies to thrive; and reduce air pollution. As the RE sector continues to grow and evolve, it will need to be increasingly mindful of the need to ensure that adverse impacts on the environment, communities and human rights do not arise from its value chain and operations.
The RE actors have a remarkable opportunity - and a responsibility - to ensure that the imperative to reduce emissions from energy is met in a manner that is regenerative and just. Acting now avoids risking the sector's social license to operate and any slowdown in deployment that may result. It would accelerate the just and fair transition to low carbon energy in India, ensuring the achievement of the ambitious 450 GW target and beyond. Crucially, in turn, it would ensure that we avoid the most dangerous impacts of climate change.
How can the sector fully live up to its potential to drive positive social and environmental outcomes? And what is the role of investors, developers, manufacturers, large procurers and other actors in the RE system in collectively shaping a just and regenerative future for the sector?
On behalf of the Renewable Energy to Responsible Energy Initiative, Forum for the Future, WRI India, The Energy and Resources Institute (TERI), Landesa and WWF India are inviting you to join an interactive online event to mark the launch of its 'Call to Action' report.
We will share key findings from the report, which aims to provide an overview of the landscape for RE in India, and sets out a compelling case for greater action to ensure that renewable energy fully lives up to its potential to drive positive social and environmental outcomes. The launch will also bring together key pioneers from the sector for a panel discussion on the pertinent questions the report asks.
Find more and register here