The path to Net Zero for India: The Role of Public Private Partnership
The World Economic Forum, Davos
---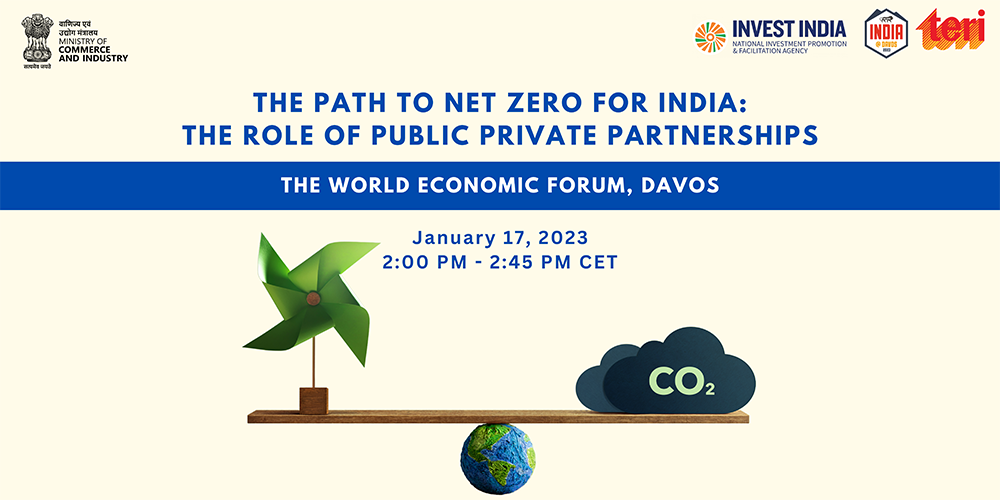 January 17, 2023 | 02:00 – 02:45 PM (CET)
The Energy and Resources Institute (TERI), in association with the Ministry of Commerce and Industry, and Invest India is organising a fireside chat during the Annual Meeting of the World Economic Forum from 2:00 - 2:45 PM (CET) on January 17, 2023, at Davos.
While the WEF 2023 revolves around the theme - "Cooperation in a Fragmented World", the fireside session aims to bring together leaders from global businesses and coalitions to explore innovative technologies and business models for accomplishing India's net-zero vision and help find solutions through public-private cooperation. Since India believes that international cooperation is necessary to support developing economies through finance and technology and win-win strategies, the fireside session's theme- "The Path to Net Zero and the role of Public Private Partnerships" is well aligned with the focus of India Sustainability Lounge organized by Department of Promotion for Industry and Internal Trade (DPIIT), Ministry of Commerce at the Annual Meeting of the WEF in Davos.
The world needs to move towards net zero at a faster pace if the disaster from global warming needs to be averted. India has been at the forefront of taking action for combating climate change while meeting its development and growth aspirations. India is faced with the formidable challenge of maintaining rapid and inclusive growth while ensuring the use of clean and sustainable forms of energy. When one juxtaposes this primary objective with India's commitments under the Paris Agreement, the challenges become evident. It is evident that the scale of transformation is very ambitious and would entail a path that has never before been followed by other countries.
The heavy industries, namely iron & steel, cement (and concrete), petrochemicals, aluminium, fertilisers, and bricks shall be providing the materials to support a modern economy. If India is to remain globally competitive and achieve sustainable growth, within the constraints of the environment, future industrial strategies should prioritise greater resource efficiency in the heavy industry sectors. Beyond energy efficiency, these sectors should also consider the adoption of new technologies to further reduce emissions in order to keep temperatures within the limits agreed under the Paris Agreement. Industry transition can be facilitated through partnership, technology diffusion and knowledge exchange between the private and public sectors.
Register here : https://www.investindia.gov.in/davos/sustainability/registration1
To Watch the video