Overcoming awareness and financing challenges in implementing solar irrigation schemes
Online
---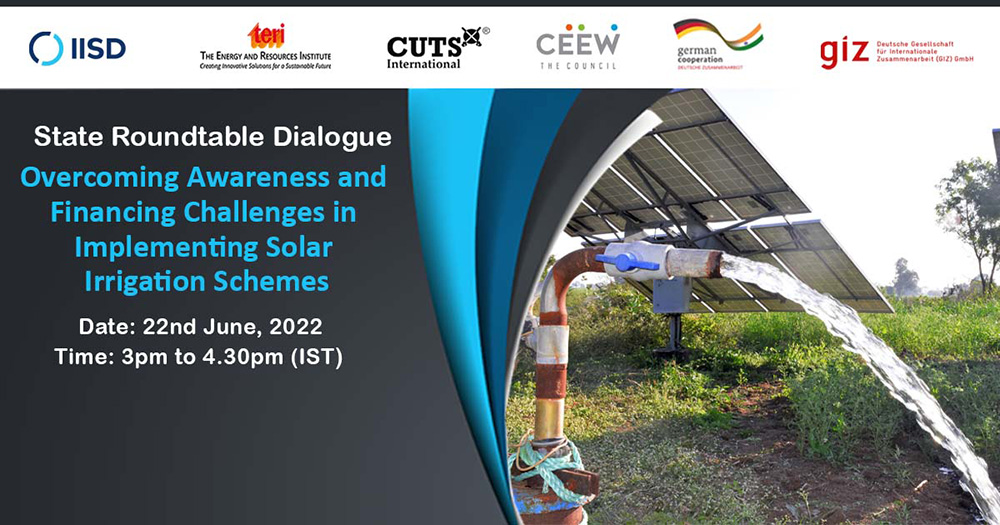 On 22th June 2022 | 3:00 - 4:30 PM
The Energy and Resources Institute (TERI), on behalf of a research consortium, is organising a virtual roundtable dialogue on 'Overcoming awareness and financing challenges in implementing solar irrigation schemes'. The dialogue is scheduled to be held on June 22, 2022 from 3 PM to 4.30 PM (IST), and is part of the PM-KUSUM Assistance Project, a GIZ-supported study, in cooperation with the Ministry of New and Renewable Energy (MNRE), Government of India.
The event aims is to share findings from a recently published guidebook on standalone and grid-connected solar pumps (PM-KUSUM component B and component C (individual pump solarization)) and provide a platform for experts to share their experiences in overcoming challenges related to finance and awareness. The roundtable will also solicit inputs from diverse stakeholders, including representatives of state government agencies, research organizations and financial institutions, on strategies to overcome key challenges and accelerate the sustainable deployment of solar pumps in India.
The project, steered by a research consortium of IISD, CUTS, CEEW and TERI, aims to provide technical assistance to state governments in the sustainable implementation of the PM-KUSUM scheme. In pursuit of this objective, the consortium published a guidebook for sustainably implementing component B and component C (individual-pump solarization) of the PM-KUSUM scheme, with practical recommendations for state-level policymakers. The recommendations are drawn from state experiences and pilot projects across the country.