Navyata: The Green School mega event
Ms Neha
Online
---
Navyata, the Green School Project mega event will be the stage for signing of the Memorandum of Understanding (MoU) for the initiation of phase IV of the project and more.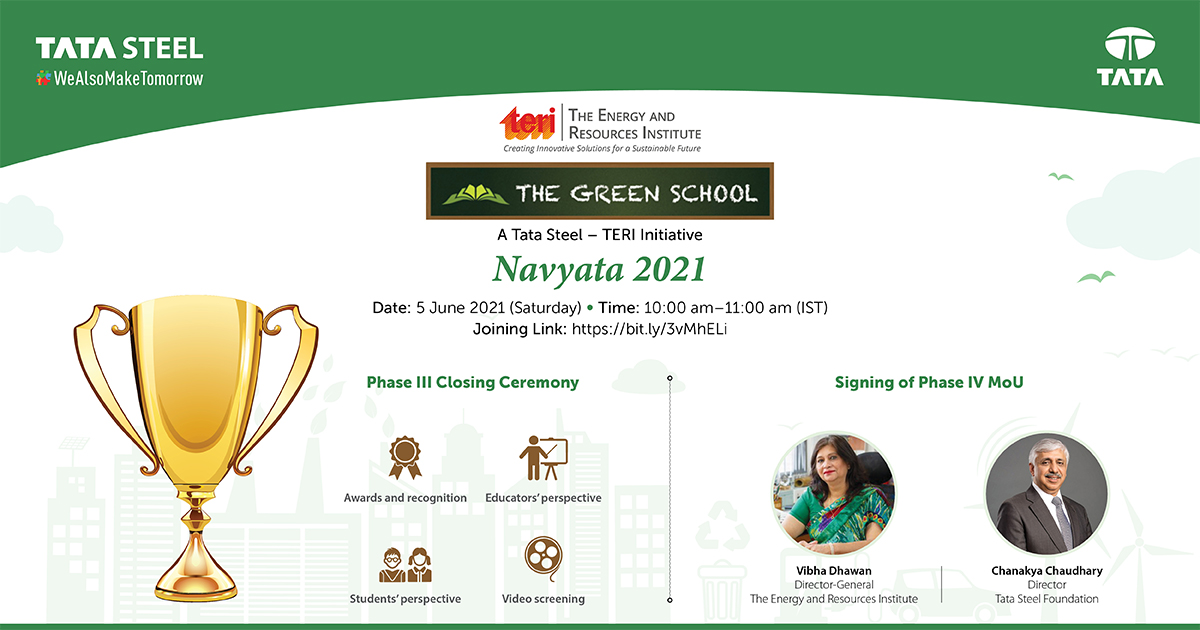 On 5th June 2021, 10:00 AM - 11:00 AM IST
The Green School Project, a TERI and TATA Steel initiative, is holding its mega event- Navyata on the World Environment Day 2021 from 10 AM – 11 AM. With Mr Chanakya Chaudhary, Director, TATA Steel Foundation and Dr Vibha Dhawan, Director General, TERI as the key speakers for Navyata, the event will be a stage to the:
In line with the theme of 'ecosystem restoration' for this year's World Environment Day, the webinar is woven around the restoration of health with a healthy atmospheric ecosystem. It aims to :
Prize distribution ceremony for Phase III,
MoU signing for Phase IV, and
Screening of project videos
The event will also see the participation of senior officials of TATA Steel along with principals, teachers and students of the various schools under the Green School Project.
The Green School project by TERI, in association with Tata Steel Limited, aims to create awareness and understanding about environmental issues in school campuses in the operational areas of Tata Steel. The project is meant to create awareness among students on climate change and the ways sustainable lifestyle can help mitigate the adverse impact of climate change. This is done by promoting environmental stewardship through both classroom and outdoor activities to improve students' critical, interdisciplinary and holistic thinking.