National Workshop on 'Making Liveable Cities: Challenges and Way Forward'
Ms Raina Singh
Juniper, India Habitat Centre, Lodhi Road, New Delhi
---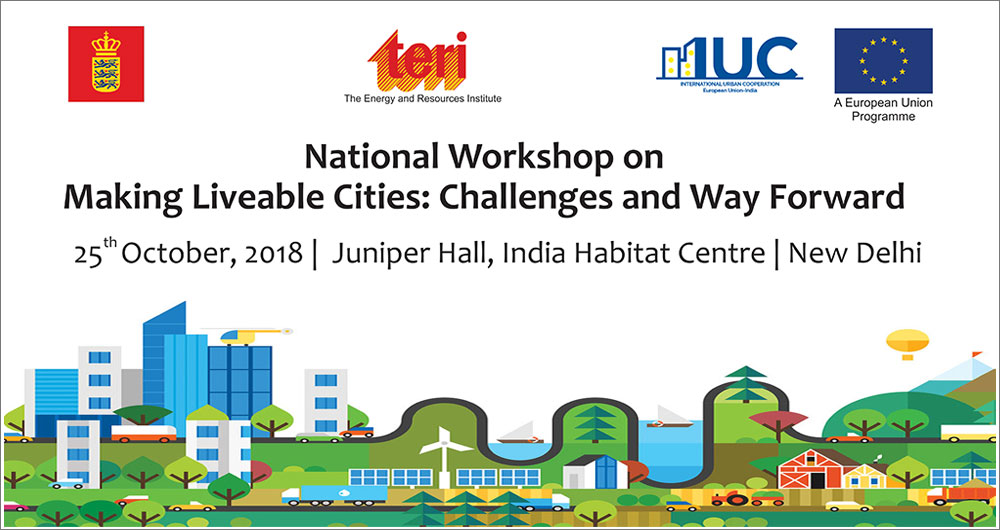 The Energy and Resources Institute (TERI) will be organising the National Workshop of the Regional Policy Dialogues on 'Making Liveable Cities: Challenges and Way Forward' on October 25th, 2018, at Juniper Hall, India Habitat Center, New Delhi.
In order to address and mainstream key urban sustainability issues, the series of Regional Policy Dialogues on 'Making Liveable Cities' was announced by TERI at the World Sustainable Development Summit in February, 2018. These Half-Day Policy Dialogues have been conducted together with the State Governments of Andhra Pradesh, Goa, Sikkim and Rajasthan with support from the Royal Embassy of Denmark in India and the networks of the International Urban Cooperation/India.
The National Workshop is a culmination and concluding event in the series of Regional Policy Dialogues organized by TERI across the four geographical regions of India, focusing on the themes of urban planning and governance, infrastructure development, environmental sustainability and strengthening partnerships for liveable cities.
The half-day events brought together multiple stakeholders ranging from Municipal Commissioners/Smart City SPV CEOs to civil society organizations to highlight key aspects for enhancing liveability in India and discuss smart urban solutions to achieve the New Urban Agenda (NUA) and the Sustainable Development Goals (SDGs).
One of the key outputs of the series is a National Policy Brief documenting the key outcomes and recommendations from the Regional Dialogues, which would be released at the National Workshop and shared with the Ministry of Housing and Urban Affairs and various states of the country.