National Consultative Roundtable Dialogue on Reporting and Monitoring of SDG 12
Ms Shailly Kedia
Online
---
The deliberations from the workshop will helped in strengthening the knowledge product on SDG 12 - Sustainable Consumption and Production.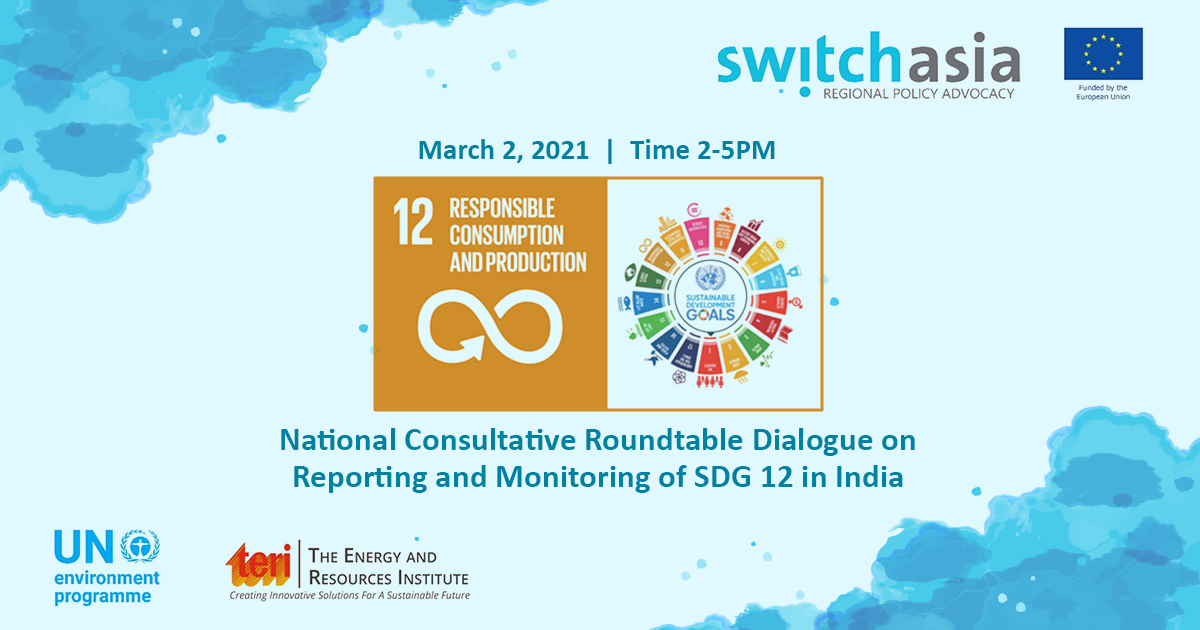 On 2nd March 2021, 02:00 PM to 05:00 PM IST
The Energy and Resources Institute (TERI) with United Nations Environment Programme (UNEP), through the European Union funded SWITCH-Asia RPAC, organised a consultative dialogue on monitoring and reporting of Sustainable Development Goal (SDG) 12 - Sustainable Consumption and Production (SCP) on 2nd March, 2021 from 2:00 to 5:00 PM (IST).
The event brought together experts and stakeholders including NITI Aayog, Ministry of Environment, Forest and Climate Change (MOEFCC), and Ministry of Statistics and Programme Implementation (MOSPI) along with representatives from various international agencies, government agencies/ departments, research institutes and non-governmental organizations to deliberate on issues covered under the eleven targets of SDG 12.
In addition, the objective of the dialogue was to also present the draft study report titled 'Supporting India on SDG 12 Monitoring and Reporting – An analysis of SDG NIF & Recommendations for its Monitoring and Reporting' for obtaining inputs for strengthening the national reporting process on SDG 12.
SCP is an integral part of the global agenda for achieving sustainability, being one of the 17 Sustainable Development Goals (SDGs) adopted by member states of the United Nations, including India. SCP under SDG 12 ensures responsible and sustainable consumption and production by encouraging policy measures and implementation for reducing wasteful use of resources by both producers and consumers.
Proceedings
Proceedings of the National Dialogue: Click here to access
Press Releases
Press Release on EU SWITCH-Asia website: Click here to go to webpage
Press Release on TERI website: Click here to go to webpage
For more information, please contact Ms Shailly Kedia, Email: shailly[dot]kedia@teri[dot]res[dot]in