Multistakeholder Dialogue: Engendering Climate Induced Migration: Perspectives from Asia
Ms Vasudha Singh
Online
---
The multistakeholder dialogue is directly informed by the voices and experiences of men and women affected by environmental and climate hazards in India, Bangladesh and Nepal.
---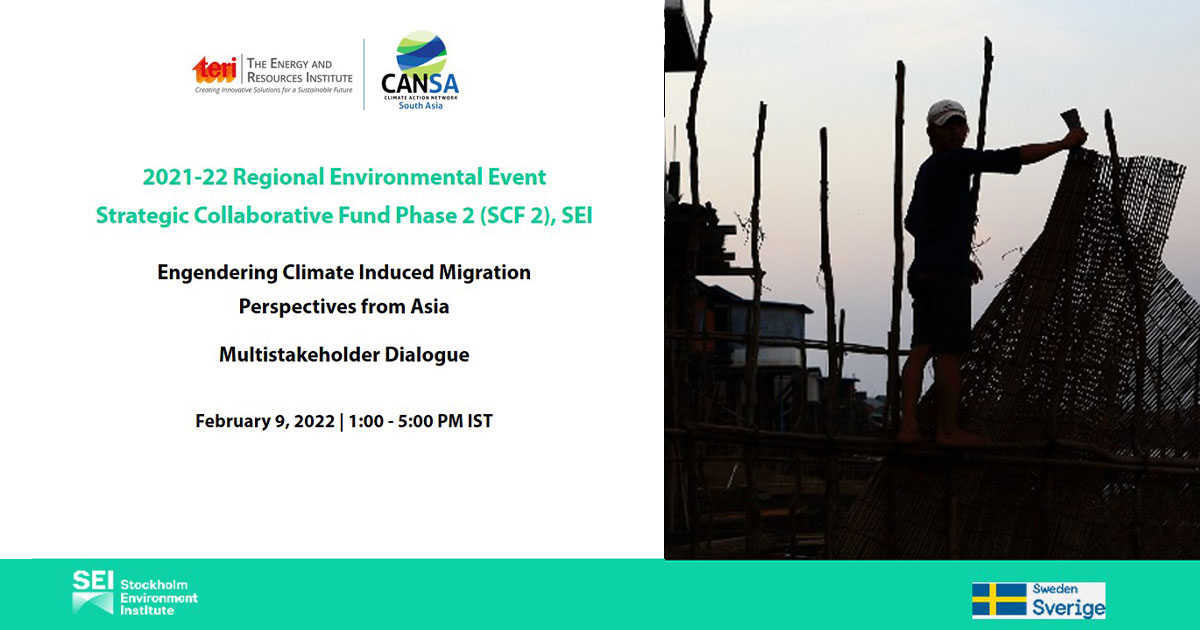 On 9 February, 2022 | 01:00 PM to 05:00 PM IST
The Energy and Resources Institute, New Delhi is a part of the Strategic Collaborative Fund Phase 2 (SCF2) with the Stockholm Environment Institute Asia in which a series of workshops are being conducted under the project titled "Engendering Climate Induced Migration: Perspectives from Asia".
SEI Asia launched the SCF2 programme in 2018 with support from the Swedish government with the aim of enhancing the 2030 Sustainable Development Agenda. Central to this project is fostering regional cooperation and policy dialogue for sustainable development and environmental sustainability through capacity building, knowledge sharing and increased collaboration.
TERI in close collaboration with CANSA (Climate Action Network South Asia) conducted a series of workshops and community consultations. The emerging evidence from the ground consultations will be presented at this multi-stakeholder dialogue to provide deeper insights into the migratory landscape in the South Asian region. Directly informed by the voices and experiences of women and men in communities affected by the increased frequency and intensity of environmental and climate hazards, sessions of the Dialogue will help a better understanding of the adaptive/maladaptive nature of migration, particularly the internal rural-urban and transboundary irregular migration, identify the gaps in the laws, policies, and frameworks pertaining to migration in the region and draw the pathway for better governance that strengthens and reinforces gender equality and substantive and procedural rights of people. The dialogue will aim at exploring actions for creating just and equitable systems and processes especially accounting for the marginalized social groups and groups who experience multiple, compounded forms of risks and vulnerabilities.