Microalgal diversity: Potential sources of materials and value-added products and their economy
Dr Shovon Mandal
Online
---
The interactive webinar informed participants about developments in algal species and their new, emerging potential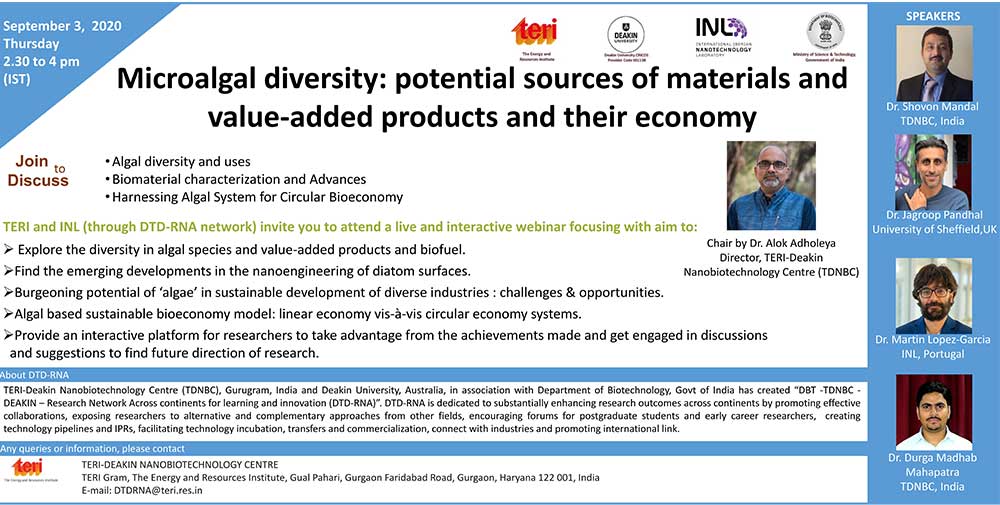 TERI Deakin Nanobiotechnology Centre (TDNBC) through its DTD-RNA (DBT-TERI-Deakin Research Network Across Continents for Learning and Innovation) platform in association with International Iberian Nanotechnology Laboratory (INL), Portugal have been successful in organizing this webinar with an aim to highlight emerging technologies in Algal research, challenges and opportunities for growth in near future. Dr Alok Adholeya (DTD-RNA Coordinator, TDNBC and chair of the webinar) released the first DTD-RNA Newsletter online that accentuated its intent under this august forum. He solicited all the participants to join the platform in developing International Centre for Translational Research for research training and education in biological synthesis of Nano materials. He emphasized on the importance of microalgal research and set the context for the webinar.
The speakers in the webinar include: Dr. Shovon Mandal (TDNBC), Dr. Jagroop Pandhal (University of Sheffield, UK), Dr. Martin Lopez (INL, Portugal) and Dr. Durga Madhab Mahapatra (TDNBC). Dr. Mandal presented the challenges and futuristic possibilities of algal biofuels with prominence on risk assessment of Genetically Modified (GM) alga in fields and use of consortia for biofuel production. Dr. Pandhal presented the essentials of designing consortia of algae and bacteria for industrial exploitation and elucidated the necessity of metaproteomics in unravelling microbial processes in industrial system and natural ecosystem. Dr. Lopez shed light on intricate diatom exoskeleton enumerating promising properties and its application in nanotechnology. Dr. Mahapatra discussed on circular bioeconomy and algal biofactories from a wastewater perspective.
106 participants from India, UK, Portugal, Italy, United Arab Emirates, Malaysia, and US joined the session. Students, researchers and professionals from both industry and academia took part in the event.
On 3rd September 2020, 2:30 PM - 4:00 PM IST
Chair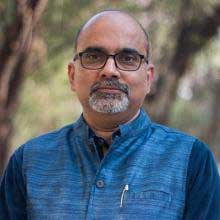 Dr Alok Adholeya Programme Director, Sustainable Agriculture, TERI, India
Dr Alok Adholeya leads the team on mycorrhizal research, micropropagation technology, Nanobiotechnology and Plant tissue culture and molecular biology. Dr Adholeya's career has been largely devoted to finding and developing ways to harness the power of microbes, particularly mycorrhizae, to increase the productivity of crop plants and to restore degraded and industrial overburden lands. Dr Adholeya has chaired numerous advisory committees on agriculture and bioremediation and is an invited speaker at many international forums. Currently, he chairs a major Task Force on Biological Agents in the Department of Biotechnology (DBT), Ministry of Science and Technology, Government of India, besides being member of the Nanobiotechnology Taskforce in DBT. His work has been published in over 170 research papers in reputed national and international journals and he is also a member of the editorial boards of many of these journals. He has guided 22 doctoral students and many masters' students to date and has been an Honorary Professor of Deakin University, Australia since March 2010. Many awards and honours have come his way, such as the Young Scientist Award in 1999, and the Biotech Product and Process Development and Commercialization Award 2004 by the Ministry of Science and Technology, Government of India. Dr Adholeya is a Ph.D from the Department of Microbiology, GB Pant University of Agriculture & Technology, Pantnagar and Jiwaji University, Gwalior, India and a Post-Doctoral Fellow at United States Department of Agriculture, Philadelphia, USA. He also worked as director, Product and Technology Development in Mycorrhizal Applications, Oregon, USA, between 2014 and 2017.
Speakers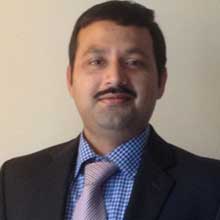 Dr Shovon Mandal Ramalingaswami Fellow, TERI-Deakin Nanobiotechnology Centre, TERI, India
Dr Mandal is an Algologist at TERI and has made substantial contributions to the field of algal biotechnology. He uses ecological engineering and evolutionary approach for sustainable algal biomass production. He is particularly interested in solving biological challenges of growing microalgae in field and uses biomass for making biofuel and other value-added products.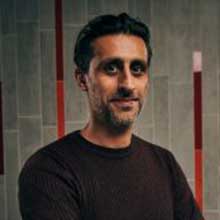 Dr Jagroop Pandhal Senior Lecturer in Biological Engineering, Department of Chemical and Biological Engineering, University of Sheffield, UK
Dr Pandhal is a biological engineer with a passion for exploiting the diverse functional capabilities of microbes to answer emerging societal challenges. His research is largely focused on metabolic engineering of microbial systems for making all sorts of products from high to medium/low value, including therapeutic proteins and polyols for bio-plastics.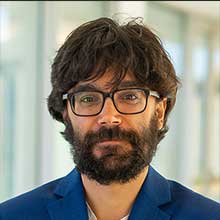 Dr Martin Lopez-Garcia Group Leader, Natural and artificial photonic structures and devices, International Iberian Nanotechnology Laboratory, Portugal
Dr. Martin Lopez is a Physicist and leads the "Natural and Artificial Photonic Structures and Devices" Laboratory in the Nanophotonics Department in INL. He investigates new ways to manipulate light at micro and nano-scale with integrated devices, often relaying on state of the art fabrication and characterization technologies. He is particularly interested in natural photonics like diatoms on the premise that by seeking inspiration in nature we can learn both design and fabrication methodologies for cost-effective photonic devices.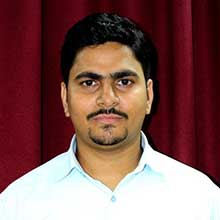 Dr Durga Madhab Mahapatra Associate Fellow, Centre for Excellence in Agrinanotechnology, TERI-Deakin Nanobiotechnology Centre, TERI, India
Dr Mahapatra is a Bioprocess Engineer at the TDNBC, TERI and has been working relentlessly in algal bioprocesses, especially on cultivation systems for rapid biomass production. He has developed algal scale-up strategies for productions of bio-valuables and N-rich fertilizers utilizing principles for bioprocess technologies. He is particularly interested in devising algal biorefineries from wastewater sources to address environmental challenges for sustainable production of food/feed, fuel and fertilizers.