Media Fellowship for Climate Change Reporting in the Himalayan Region
Mr Sumit Bansal
TERI, New Delhi
---
The Media Fellowship
The Energy and Resources Institute (TERI), supported by a grant from Internews' Earth Journalism Network, is providing a six-month media fellowship to digital and print journalists, radio broadcasters, documentary/short film makers, video bloggers, and anyone else, who has a demonstrated flair for mass communication and is from the Himalayan region. The objective of the fellowship is to build their capacity on climate change journalism and communication.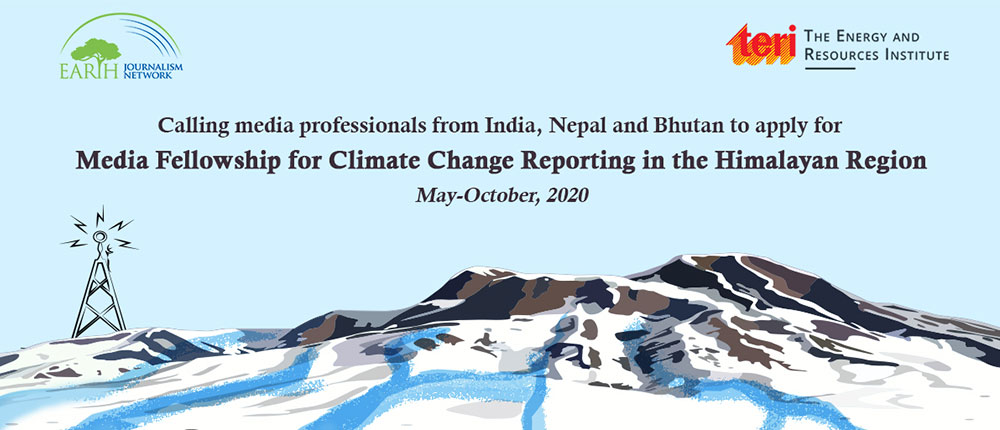 The programme will bring together well-known climate change and communication experts to train media professionals in the fundamental knowledge of climate science and help them correlate local conditions to the wider context of climate change. It will guide these professionals to create narratives on how local populations can find solutions and manage climate change more effectively. It will also orient journalists to use research to hold relevant agencies accountable, and challenge decisions that are not conducive to people and the environment.
The programme will be delivered online through a specially designed Learning Management System. The programme would include a one-week orientation workshop, followed by a series of online classes, including live interactions with climate experts and communication mentors. As a part of the learning assignments, the trainees would produce a series of stories which could be a radio programme, podcast, a short film or newspaper/magazine articles.
The training time frame is from May-October, 2020.
Background
The Intergovernmental Panel for Climate Change (IPCC) Special Report on Oceans and Cryosphere, released in September 2019, concluded that the Hindu Kush-Himalayan (HKH) Region, which covers the high mountain chains of Central, South and Inner Asia, are extremely susceptible to temperature increase. According to the report, most of the projections indicate overall wetter conditions in the future and increases in extreme precipitation events. This will lead to significant losses in glacier volume, from 36 to 64 per cent, depending on the warming scenario, and impact timing of water flows and water availability. This suggests that 'the rate of risk is extremely high in the present emission scenario.'
Given the impending risks and vulnerabilities that confront this extremely critical region, it is important that local populations are well informed on how they can prepare to manage climate change. Towards this objective, it is imperative that media professionals, particularly those living and reporting directly from ground zero, have a better understanding of climate science and are able to communicate to the public, the reality of climate change in the right context.
Eligibility
Any media professionals with minimum 3 years of work experience, working with a regional media organization, or independently, in the Himalayas
Preferably (not necessarily) located in the Himalayan region. Preference will be given to applicants representing ethnic minority groups, indigenous groups, people with disabilities as well as women and individuals under 30 years of age
Is a citizen of India, Nepal, or Bhutan
Engaged in reporting on Himalayan ecosystems
Proficient (spoken and written) in English or Hindi language
Selection
Applicants will be selected on the basis of the following:
Two by-lined samples of environmental reporting. Entries from new media- digital, radio and television will be preferred. However, high-quality entries from traditional print media may also be considered. Regional language entries should be submitted with a summary in English.
A letter of consent from your media organization to participate in the programme.
A Statement of Purpose (SoP), delivered through a two-minute video, explaining your motivation to apply for the fellowship.
Deliverables
*Selected candidates will be expected to attend a week-long orientation workshop in New Delhi or Nainital.
They will be expected to attend 3-4 hours per week of online classes spread over 20 weeks.
Their performance will be assessed on the bases of stories produced from their regions, under the mentorship of a senior journalist.
Stories produced under the programme will be disseminated by TERI through a multimedia platform, including a dedicated internet radio.
How to Apply
Interested journalists may fill up this form to send their submissions latest by April 8, 2020.
In case of any problem in submitting the form, reach out to Sumit Bansal at sumit.bansal@teri.res.in
*Travel and accommodation for the orientation workshop will be fully sponsored for all participants of the training.