Linkages of Eco-Development Committees (EDCs) with institutions of community participation and Panchayati Raj Institutions
Dr Yogesh Gokhale
Online
Participants at the webinar will deliberate on issues arising in governance of forest, biodiversity and wildlife in light of multiplicity of institutions and regulatory regimes at the local level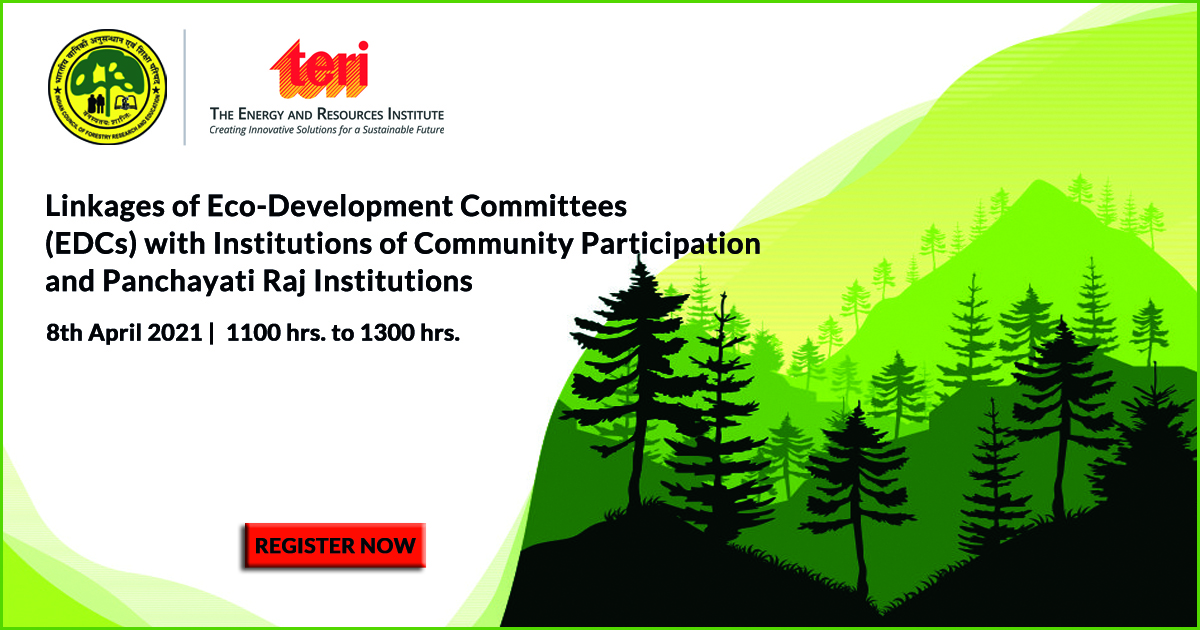 On 8th April 2021, 11:00 AM - 01:00 PM IST
The Energy and Resources Institute (TERI), with the Indian Council of Forestry Research and Education (ICFRE), is organising the fourth webinar in a series of five on 'Linkages of Eco-Development Committees (EDCs) with Institutions of Community Participation and Panchayati Raj Institutions'. The webinar will have the participation of stakeholders such as representatives of state forest departments, academic institutions, Joint Forest Management Committees (JFMCs), biodiversity management committees, state biodiversity boards, National Biodiversity Authority, Ministry of Panchayati Raj, NGOs, and more. The webinar will be held on 8th April 2021 from 11 AM - 1 PM.
EDCs have been formed on similar lines of JFMCs following a 1990 order by Ministry of Environment, Forest and Climate Change for the habitations around Protected Areas (PAs) in the country. The areas of operation for these committees are mainly restricted to protected areas, and forest and non-forest areas near them.
The primary objective of setting up of these committees is to protect wildlife and other biodiversity, and also undertake eco-development activities in the villages1. The main function of EDCs in and around Protected Areas (PAs) is to ensure conservation of biodiversity in national parks and sanctuaries. It accomplishes these functions with the help of village dwellers who prepare a micro plan under the guidance of state forest department. As such, EDCs also have overlapping and competing mandates with Panchayati Raj Institutions (PRIs) working in the same villages.
There is an opportunity of working with PRIs for the conservation and protection of wildlife. Similarly, under Wildlife (Protection) Act, 1972, Conservation Reserve and Community Reserve were formed as two new types of people centric categories of protected areas. The webinar aims to deliberate on the issues of governance of forest, biodiversity and wildlife due to the multiplicity of institutions and regulatory regimes at the local level.