Launch of Visakhapatnam Urban Living Lab
Nautica Hall, Hotel Novotel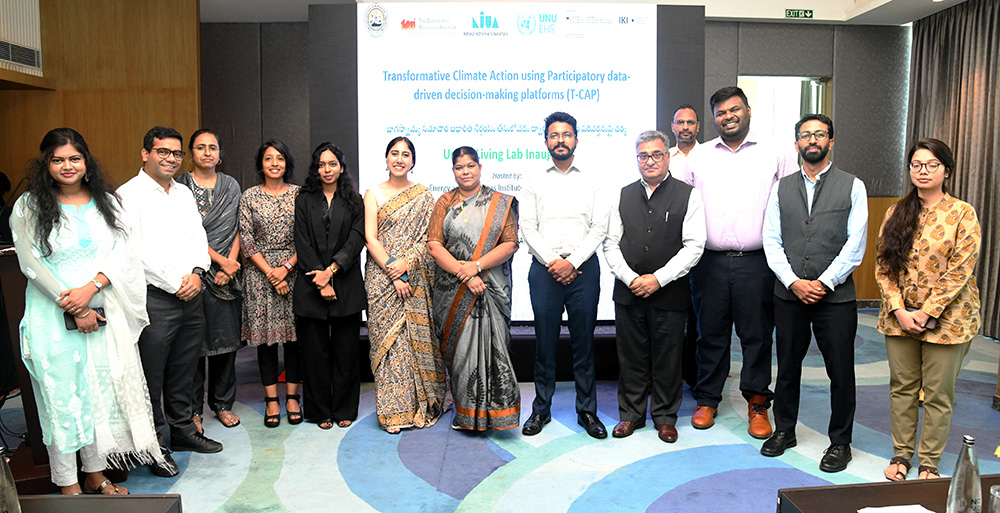 May 17, 2023; 10:00 AM – 1:00 PM; Nautica Hall, Hotel Novotel
The big data revolution has fundamentally changed how data is viewed, collected, and used. Individuals, organizations, and governments are increasingly relying on data for the insights it generates and the potential it holds to radically transform approaches to most urban problems, especially, that related to climate change.
The smart city, with its ubiquitous use of data-driven technologies, is being imagined to be a befitting response to the growing impacts of climate change. Several smart city projects globally, have explored and adopted to varying extents the use of data and its many forms. And though, there is clear recognition in the benefits of data and the technology for the regulation and governance of cities, it is also argued that the introduction of new technologies tend to heighten contemporary forms of inequalities. The exclusion of citizens, particularly marginalised communities such as the poor and the digitally illiterate from the benefits of data driven planning and decision making and the underrepresentation of the communities in city's data sets has exacerbated digital divide in the urban landscape.
Introducing concepts and approaches that mainstream collaboration, co-creation and interaction between government and citizens to bolster decision making, which is driven by data & technology, climate action and participation, becomes important. To facilitate this, The Energy and Resources Institute along with the United Nations University- Institute for Environment and Human Security (UNU-EHS), Bonn, Germany; and National Institute of Urban Affairs (NIUA) launched the Visakhapatnam Urban Living Lab on May 17, 2023 in Visakhapatnam, Andhra Pradesh, after conducting multiple phases of needs assessment as a part of the project Transformative Climate Action using participatory data driven decision making platforms (T-CAP).
The event was marked by the presence of Hon'ble mayor of Visakhapatnam, Smt. G. Hari Venkata Kumari and Hon'ble commissioner of Greater Visakhapatnam Municipal Corporation (GVMC), Shri. C.M Saikanth Varma, IAS, along with other distinguished stakeholders.
Through the concept of an Urban Living Lab (ULL), collaborations can be facilitated amongst a wide range of stakeholders, including citizens, affected groups, academia, businesses, non-profit organizations, and research institutions. By bringing together diverse perspectives, urban living labs can encourage a re-evaluation, re-assessment, and even a revision of urban planning practices. It can play a crucial role in promoting participatory data-driven governance for Urban Local Bodies (ULBs) and leverage systemic urban change by providing platform for problem-solving through experimentation, testing and scaling innovative solutions.
Introducing ULL in Visakhapatnam will help in promoting collaborative actions towards anticipated and existing climatic challenges by using real time data sets to enhance and connect various urban thematic for development and planning. Moreover, it will provide handholding support to capacitate the officials in utilizing appropriate and sustainable solutions towards climate action and to enhance public engagement for better decision making.
For more information on the project and our work, contact:
Ms. Shiren Pandita 
Reserach Associate and Area Convenor  
Transport and Urban Governance Division  
Sustainable Infrastructure Programme  
shiren.pandita@teri.res.in