Launch event for the Centre of Excellence on Water Reuse
Dr Nupur Bahadur
Online
---
Launch event for the country's first Centre of Excellence on Water Reuse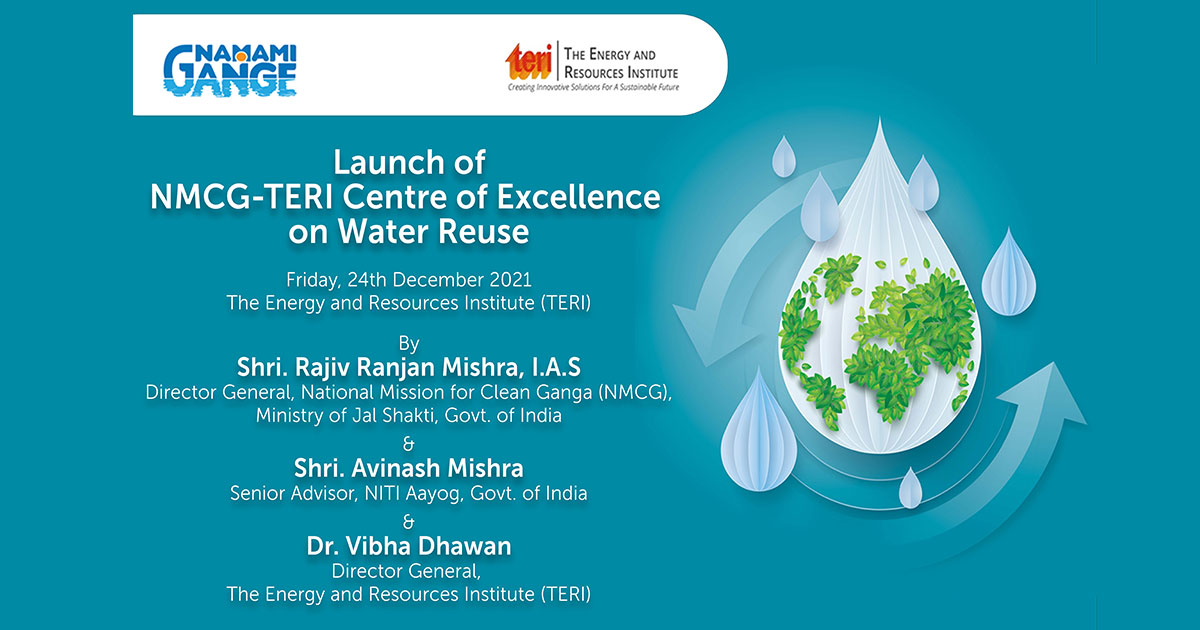 On 24th December 2021 | 10:30 AM - 11:30 AM (IST)
---
The Energy and Resources Institute (TERI), with support from National Mission for Clean Ganga (NMCG) is hosting the launch event for the country's first Centre of Excellence on Water Reuse on December 24, 2021 from 10:30-11:30 AM (IST).
Reuse of wastewater had been mandated in the cabinet note for setting up of institutional mechanism and financial model for undertaking Hybrid Annuity Model (HAM) projects under Namami Gange programme. In the recent past NMCG has undertaken some projects and initiatives on wastewater reuse. However, it has been observed that current treatment requires novel approaches and integration of advanced and promising technologies to augment capacities, achieve adequate treatment, and enhance water reuse, for which there is a need to foster research and development (R&D) and innovation culture.
TERI is a renowned R&D organization and a think tank of the country and has already developed novel and advanced wastewater treatment technologies to achieve better water quality and enhance water reuse. Such new technologies from R&D organizations need to be supported during thier initial phase of development and until commercialization.
It would be a quadripartite alliance of NMCG, TERI, Industry Partner(s) and Industry representative body like FICCI/ CII/ ASSOCHAM, focussed on R&D, technology development, field implementation and commercialization of successfully developed technologies from the Centre. It also aims at various stakeholder engagement and creating a knowledge base supporting the objectives of Ganga Knowledge Centre (GKC). Hence by providing a seed fund to cover the manpower and related costs, NMCG can get the benefit of a fully funded centre that can not only further the objectives of GKC, but also the knowledge developed with the support of other partners.
Technology driven wastewater treatment and reuse companies are required to fund the R&D, hand hold the upscale of technologies, commercialize and develop a water market. Such industry support is expected to go a long way in meeting the challenges and bottlenecks faced by technology providers and early technology adopters. Industry representative bodies and associations are required to present their views with the requirements in the subject area and provide industry perspective in developing water reuse policies from time to time.