India-Japan Hydrogen Seminar (Hybrid Mode Event)
Ms. Taruna Idnani
ITC Maurya, Diplomatic Enclave, Sardar Patel Marg
---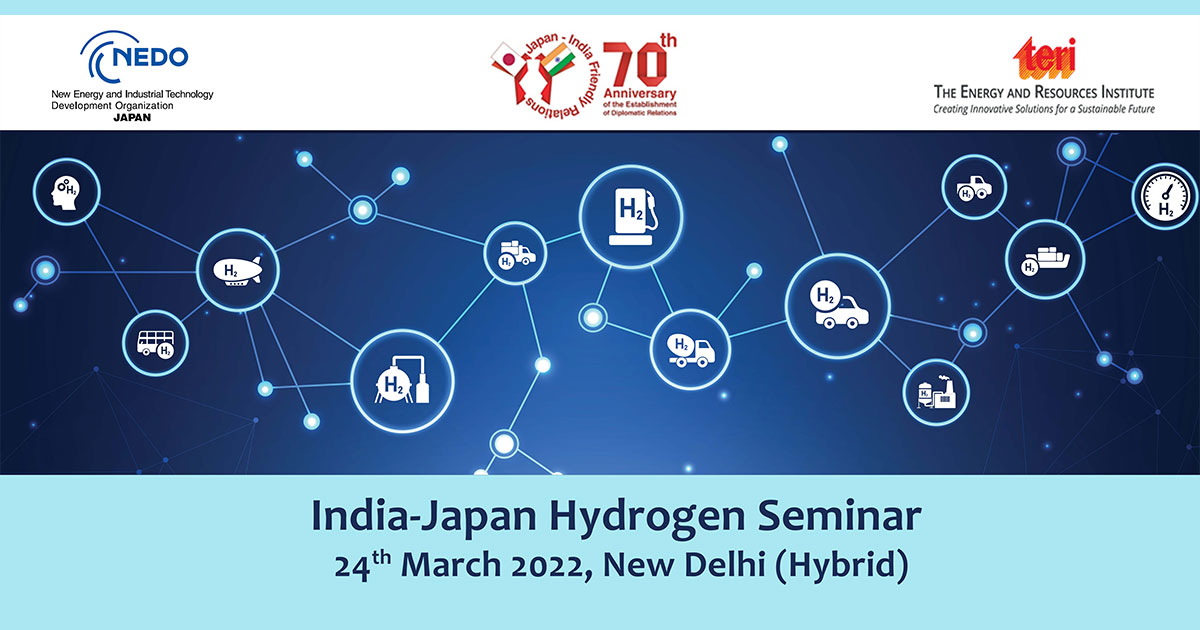 On 24th March 2022 | 10:00 AM - 12:30 PM IST
As the world focuses on addressing the challenges of climate change, industrial decarbonisation has been identified as a priority focus area across countries. Hydrogen has emerged as a key part of the solution and has since seen a significant rise in its role in the global decarbonisation agenda. Hydrogen can play a key role in accelerating India's efforts to achieve the goal of decarbonisation, reduce dependence on fossil fuel imports and improve energy security. Last year, the Government of India launched the National Hydrogen Mission, and recently announced the Green Hydrogen and Green Ammonia Policy.
Partnerships in hydrogen between India and Japan will be valuable, given Japan's expertise across all areas of the hydrogen value chain.
In order to promote public-private partnerships in the field of hydrogen energy, the Embassy of Japan, has designated the period from February to April 2022 as the "India-Japan Clean Hydrogen Month". This also marks the 70th Anniversary of the establishment of the diplomatic relations between Japan and India. The agenda is to attract further investment and to resolve various technical and economic issues obstructing the utilization of hydrogen encouraging innovation and creation of market dynamics in India.
In this context, TERI in collaboration with New Energy and Industrial Technology Development Organization (NEDO) India is organizing an Indo-Japan Hydrogen Seminar on 24th March 2022.
The session will address the enormous potential of hydrogen in India, which will attract Japanese industries with advanced hydrogen technologies. Japan's expertise would be beneficial across all areas of the hydrogen value chain and bringing together industry and Government stakeholders to build partnerships for co-innovation between India and Japan will reduce the risks of initial deployment.
This event is being conducted in hybrid mode.
In-person venue:
Kamal Mahal Hall,
ITC Maurya, Diplomatic Enclave, Sardar Patel Marg,
New Delhi – 110021