Hands on Training Modules (Offline)
Dr Pushplata Singh
TERI-Deakin Nanobiotechnology Centre (TDNBC), Gwal Pahari, Gurugram, Haryana
---
The in-person Instructor-Led Live Hands-on-Training will train students on Seed coating for Climate Smart Agriculture and Synthesis and Characterization of Nanomaterials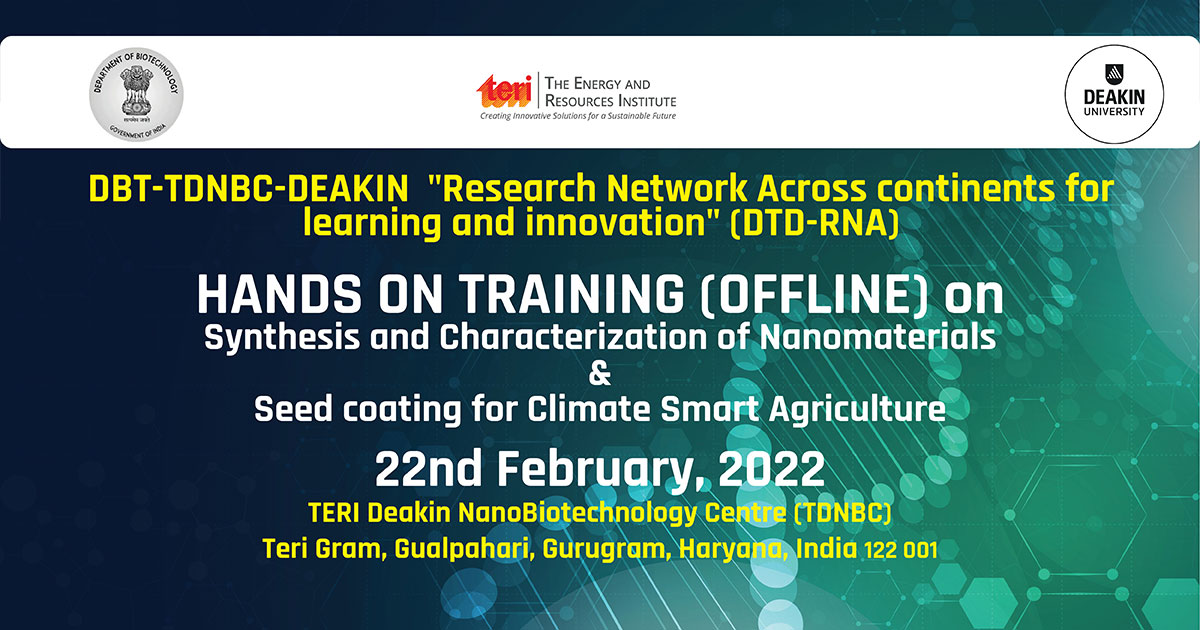 On 22 February, 2022 | 10:00 AM to 03:30 PM IST
The TERI-Deakin Nanobiotechnology Centre (TDNBC) in collaboration with the Department of Biotechnology, Government of India is hosting an in-person Instructor-Led Live Hands-on-Training to help students obtain information more systematically and practically on Seed coating for Climate Smart Agriculture and Synthesis and Characterization of Nanomaterials. The training sessions will be held on February 22, 2022 from 10:00 AM to 3:30 PM.
Each module is very carefully structured to ensure that it incorporates high quality in it. Our Training Modules are unique learning propositions to the participants and aim at equipping them with the evolving concepts, tools, practices, perspectives and approaches. They also strive to develop a sound knowledge base, collaborative analysis and ability to appreciate varied views of a vibrant peer group. The training pedagogies in different modules are aptly aligned to their specific needs and foster more effective comprehension through participative learning. The interdisciplinary faculty at TDNBC, offering these programs, is a perfect blend of knowledge, experience and training skills.
Nanotechnology constitutes one of the many critical aspects of the contemporary trends of science and advanced technologies globally. TERI Deakin NanoBiotechnology Centre (TDNBC) is one of the pioneer institutes working in this area.
Who should participate?
Young-researchers, Post Graduate Students, Graduate Students etc.
Training Modules -
Hands on Training for Synthesis and Characterization of Nanomaterials
By Dr Palash Kumar Manna, Dr Suneeti Singh and Ms Ayushi Priyam.
Seed Coating for Climate Smart Agriculture
By Dr Palash Kumar Manna and Dr Rita Choudhary.