Green Skill Development Training during Covid-19: Present Scenario, Opportunities & Impacts of Training
Ms Pallavi Singh
Online
---
The webinar aims to hold interactive discussions between participants of the Green Skill Development Programme and the industry and subject experts on the present market scenario/opportunities and technical aspects of solar energy.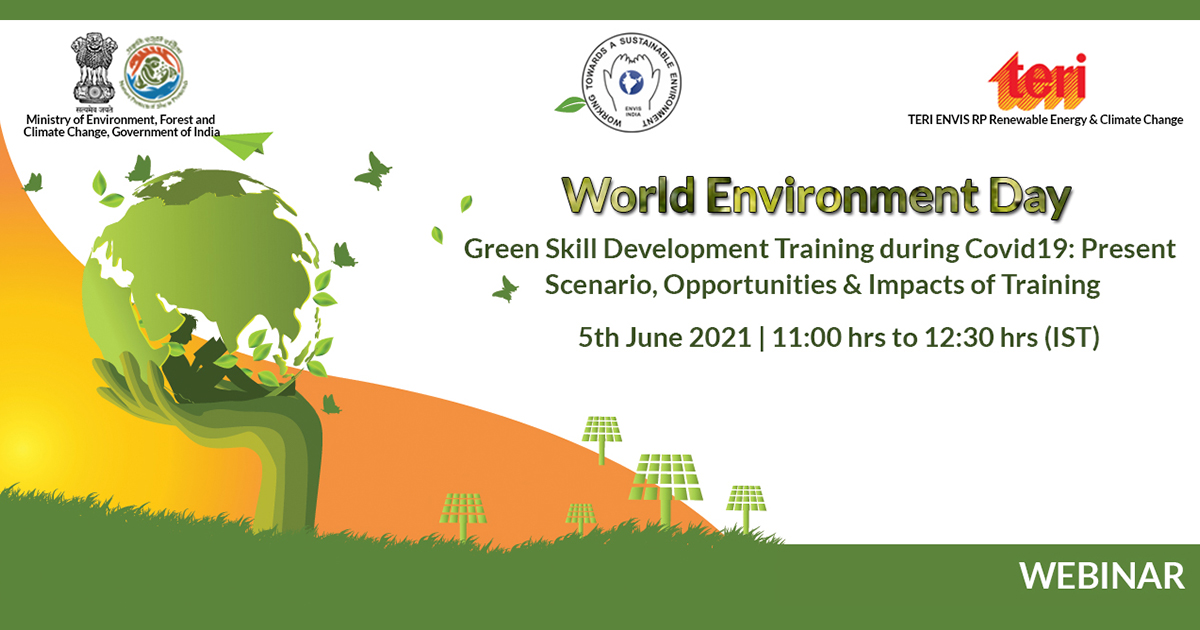 On 5th June 2021, 1100 hrs - 1230 hrs
The Energy and Resources Institute Environmental Information System Resource Partner (TERI ENVIS RP) is organizing an interaction between the Green Skill Development Programme (GSDP) participants, industry experts and subject experts, on World Environment Day (June 5) 2021. The webinar, titled 'Green Skill Development Training during Covid-19: Present Scenario, Opportunities & Impacts of Training' will be held from 1100 hrs to 1230 hrs. It aims to share the present market scenario/opportunities and technical aspect of the solar energy. Discussions will also take place around success stories/case studies of the trainees, problems faced by them, and more.
In any industrial environment, a skilled staff has proven to demonstrate higher efficiency, resilience and tolerance, holding higher demand. As more companies/industries automate systems, necessitating increased service orientation from the emerging workforce, the work culture, personality traits, and soft skills make it to the essential list of requirements. Hence, we need to build a workforce with the right skills and more collaboration with organisations to support skill-based hires.
Green energy industries are flourishing presently due to favourable government policies, as they contribute to reduce carbon footprint of industry towards power generation. Due to higher installation and maintenance of solar equipment, these industries are registering higher demand for skilled manpower. As part of MoEFCC's ENVIS programme, TERI ENVIS RP has already successfully conducted 14 six-week-long residential GSDP – for over 450 students on "Sustain and Enhance Technical Knowledge in Solar Energy Systems" in Bihar, Uttarakhand, Uttar Pradesh, West Bengal, and Jharkhand.
Through this initiative, unemployed youth including Class 10 and 12 dropouts, ITI diploma holders, and graduate students were trained in solar energy technologies and other entrepreneurship development issues for holistic development. The course involved both theory and practical training by subject experts with hands-on exposure to solar energy technologies and applications. The training has helped students secure jobs and start micro-entrepreneurship business for livelihood generation.
Click here to register