Global Climate Politics in an Era of Disruption: Insights from the US, EU and China
Ms Neha Pahuja
Online
---
The COVID-19 crisis presents a global disruption the likes of which have not been seen since perhaps the energy shocks of the 1970s. While governments have focused on the short-term challenges of economic stabilization and stimulus, long-term considerations like structural economic change, inequality and climate change also loom large.
---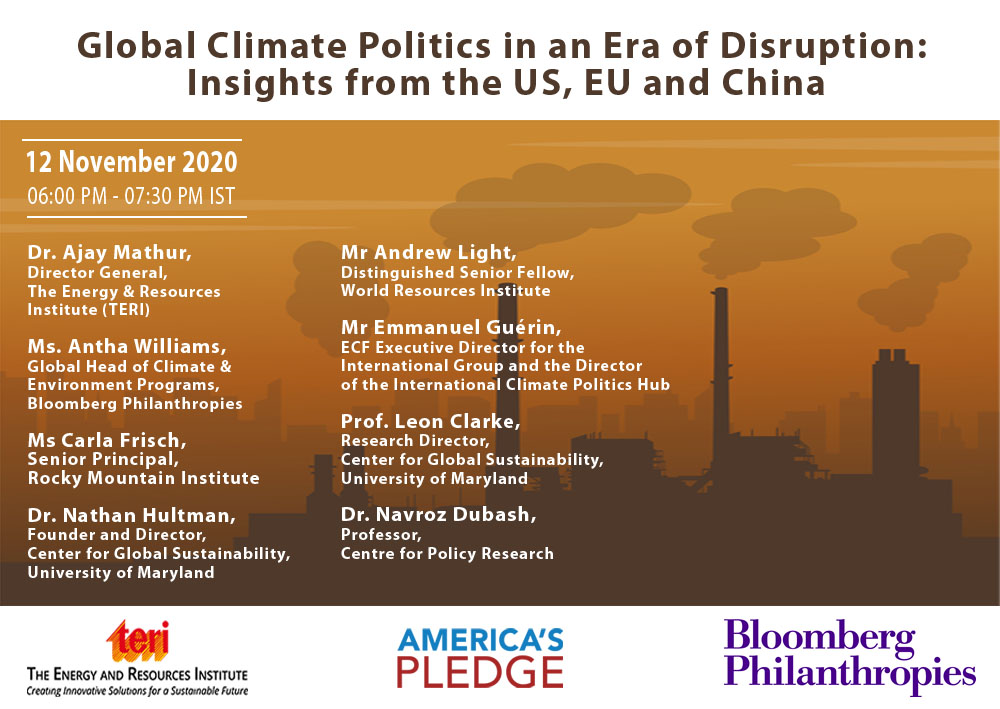 ---
On 12th November 2020, 06:00 PM - 07:30 PM IST
Recent announcements by China committing to net zero emissions by 2060, and political processes in the EU aiming at enhancing the EU's 2030 target and enshrining a net zero target by 2030, represent major breakthroughs. Several energy scenarios suggest that with the COVID-19 economic hit and accelerating technology innovation and policy action, the world could already have reached peak CO2 emissions. This is encouraging, but not enough.
In this context, the coming U.S. election will be closely watched. At the same time, U.S. states, cities and businesses are already reshaping U.S. energy and emissions pathways. America's Pledge finds that the pains of COVID-19 and economic downturn have exposed how much more resilient renewable energy is than fossil fuels in the United States. And furthermore, a Democratic win coupled with strong subnational action could position the United States to reduce emissions nearly 50% by 2030.
The objective of this event is to provide an update on global climate politics and sub-national climate action in the light of the results of the US elections, and recent developments in major emitters.