COP26 Charter of Actions: Virtual Stakeholder Roundtable on Sustainable Mobility
WSDS Secretariat
Online
Accelerating economic growth along with equitable recovery is fundamental to sustainable development and climate action. Under the presidency of United Kingdom in partnership with Italy, the 26th United Nations Climate Change Conference of the Parties (COP26), to be held from 1–12 November 2021 in Glasgow will aim at mobilising action on climate change mitigation, adaptation, and resilience, and aligning them with sustainable development goals.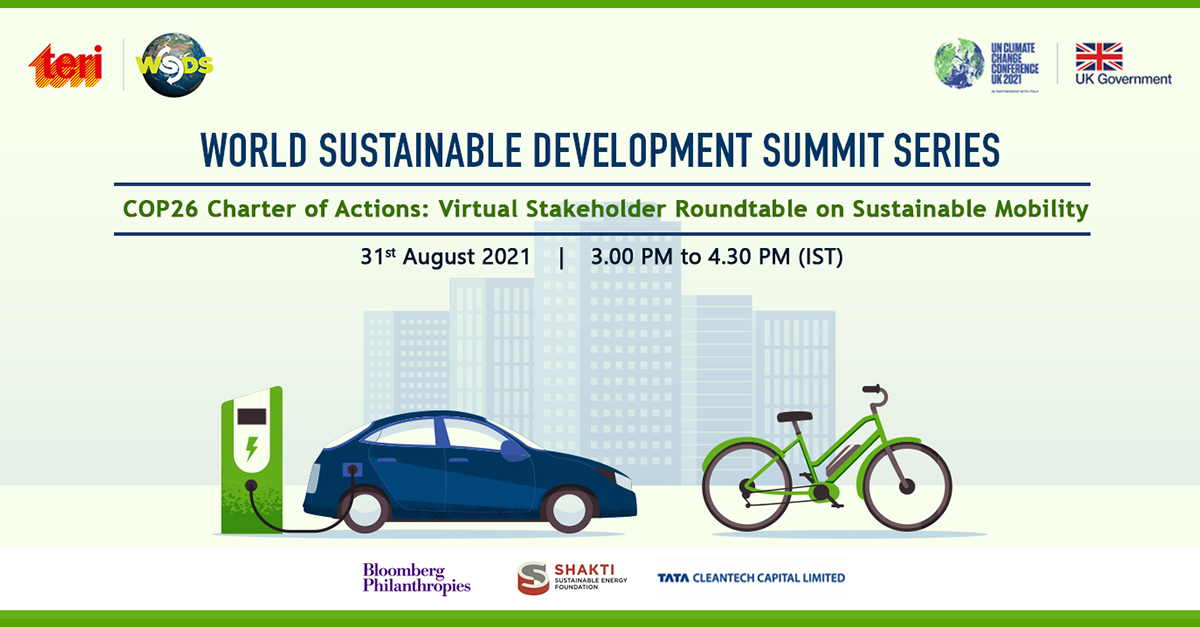 On 31st August 2021, 15.00 to 16.30 hrs IST
Keeping in view the importance of COP 26, The Energy and Resources Institute (TERI) is preparing the COP26 Charter of Actions that will be a document presenting the questions and solutions in respect of key sectors in India. This roundtable is being organized under the banner of TERI's flagship Track II initiative the 'World Sustainable Development Summit'. The Charter will recommend action in areas where there is a scope for raising ambition and offer sector specific solutions. It will also propose a framework for a global agenda on climate ambition and action. Five themes have been identified as key areas for raising ambition. These include energy, clean transport, nature-based solutions, adaptation & resilience, and green finance. The Charter activities are supported by the British High Commission, Bloomberg Philanthropies, Shakti Sustainable Energy Foundation and TATA Cleantech Capital.
We invite you to attend the virtual stakeholder roundtable event on Sustainable Mobility on August 31st (Tuesday) from 15.00 to 16.30 IST.
Driven by increasing economic growth and population expansion, transport activity in India has grown more than 7-fold since 1992. Going forward, passenger and freight activity is estimated to grow by three-fold and seven-fold, respectively by 2050. Without significant policy interventions, this would translate into transport emissions increasing faster than most other sectors. Thus, transport decarbonization is an important cog in India's ambitious climate change commitments and achieving net-zero emissions by mid-century. India's NDC clearly lays down the focus areas to reduce emissions from the transport sector. Though NDCs provide a good guide, it is necessary to formulate policies that focus on the targeted areas of decarbonisation in the transport sector. India has taken pioneering efforts in promoting electric mobility through Central and State level initiatives.
With the above background, a stakeholder roundtable will be organized with the following objectives.
(1) Engage with stakeholders and experts on clean transport to solicit feedback for the COP26 Charter of Actions.
(2) Solicit inputs from stakeholders and experts on aspects related to implications for the international community, equity, actions by 2030, and actions by 2050.