COP26 Charter of Actions: Virtual Stakeholder Roundtable on Green Finance
WSDS Secretariat
Online
---
Accelerating economic growth along with equitable recovery is fundamental to sustainable development and climate action. Under the presidency of United Kingdom in partnership with Italy, the 26th United Nations Climate Change Conference of the Parties (COP26), to be held from 1–12 November 2021 in Glasgow will aim at mobilising action on climate change mitigation, adaptation, and resilience, and aligning them with sustainable development goals.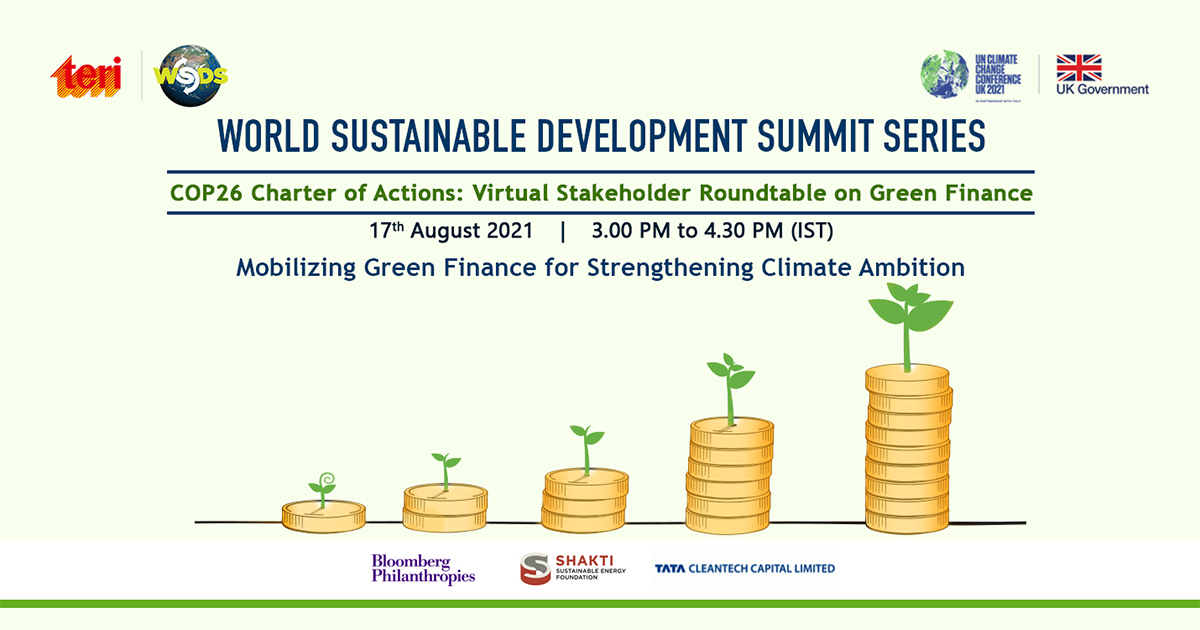 On 17 August 2021 | 15.00 hrs - 16.30 hrs
Keeping in view the importance of COP 26, The Energy and Resources Institute (TERI) is preparing the COP26 Charter of Actions that will be a document presenting the questions and solutions in respect of key sectors in India. This roundtable is being organized under the banner of TERI's flagship Track II initiative the 'World Sustainable Development Summit'. The Charter will recommend action in areas where there is a scope for raising ambition and offer sector specific solutions. It will also propose a framework for a global agenda on climate ambition and action. Five themes have been identified as key areas for raising ambition. These include energy, clean transport, nature-based solutions, adaptation & resilience, and green finance. The Charter activities are supported by the British High Commission, Bloomberg Philanthropies, Shakti Sustainable Energy Foundation and TATA Cleantech Capital.
We invite you to attend the virtual roundtable event titled "Mobilizing Green Finance for Strengthening Climate Ambition" on August 17th (Tuesday) from 15.00 to 16.30 IST. Please find attached the latest versions of the event concept note and agenda.
While over the years, progress was made on achieving the US$ 100 billion per year target, overall this goal was not met. There is a catalytic role that well-designed market and non-market mechanisms, along with financial instruments and voluntary initiatives, can play in facilitating this. But, with clarity on Article 6 of the Paris Agreement still being elusive, the various mechanisms being developed and launched are disassociated from each other, and the aim of international cooperation for enhanced climate ambition through these, and their ability to reach the full potential, is limited. At present, some critical interventions and support needed by the global South for transitioning to low carbon pathways, is not covered under the several prevailing definitions of climate finance. In India, these include support measures for improving operational efficiencies of high-emitting industries, building cross-sectoral climate resilience and green infrastructure for rural development, which have the potential to generate sizable amounts of robust carbon mitigation assets. With the Global Stocktake drawing close, especially in the wake of the pandemic recovery, addressing these gaps will take centre-stage.
With the above background, a stakeholder roundtable will be organized with the following objectives.
(1) Engage with stakeholders and experts on green finance to solicit feedback for the COP26 Charter of Actions.
(2) Solicit inputs from stakeholders and experts on aspects related to implications for the international community, equity, actions by 2030, and actions by 2050.