CEM IDDI SIDE-EVENT: Roundtable on Building Leadership and Accelerating Action on Steel Decarbonization in Asia: Experiences of India and the Republic of Korea
---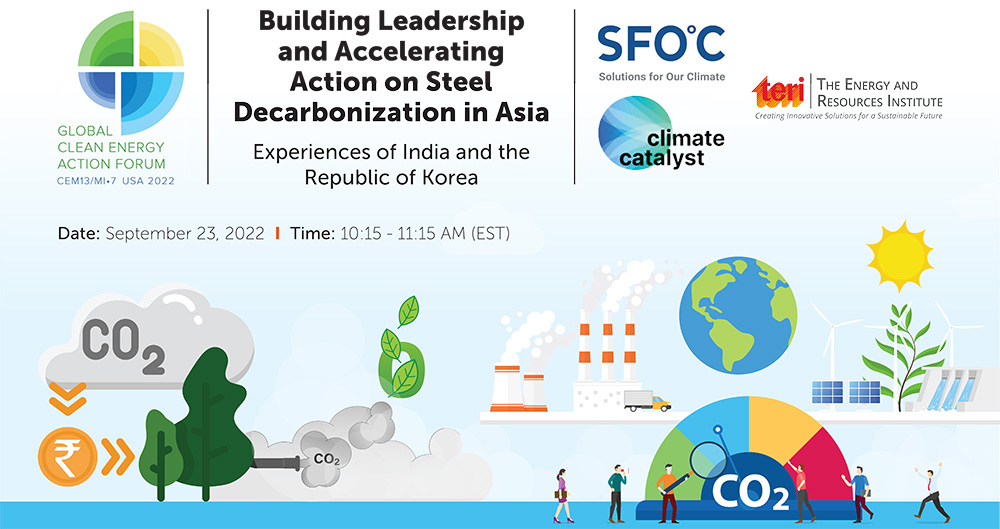 On 23rd September 2022
About CEM: This September in Pittsburgh, the U.S. will host the first ever Global Clean Energy Action Forum, a joint convening of the 13th Clean Energy Ministerial l and 7th Mission Innovation ministerial. Governments, international organizations, the private sector, academia, innovators, civil society, and early career researchers and policy makers will join together in a three-day event that features a high-level plenary, topical roundtables with energy and science ministers from 31 countries, CEOs and experts, side events, technology demonstrations, and other activities. The Global Clean Energy Action Forum comes at a pivotal time. We are on the cusp of the most important transition human society has ever seen, and we need to look back at 2022 as the year the world took giant steps to build a new energy economy that benefits all, improve energy security, tackle climate change, and reap the rewards of a clean energy market that will exceed $23 trillion by the end of this decade.
Event description: Climate Catalyst, TERI and SFOC will bring together leaders from industry and governments from Asia and major global economies to discuss strategies and policy pathways to accelerate steel decarbonization. Participants would include representatives from industry, government, and civil society. This event will build on an industry convening we are hosting with Solutions for Our Climate in the Republic of Korea in August 200 and TERI's ongoing work to analyze and articulate the roadmap to a net-zero steel sector in India.
The event will focus on opportunities and policy levers to catalyze steel decarbonization, including demand side levers such as procurement as well as supply-side levers such as technology co-creation and financing, keeping in mind just transition principles. The event will contribute to building a community of practitioners, specifically from Asian steel industry and encourage policy makers in these countries to put in place enabling mechanisms to accelerate steel sector decarbonization.
The outcomes correspond with the IDDI, the Hydrogen Initiative - CEM, and the Clean Hydrogen Mission - MI. The IDDI aims to stimulate demand for low carbon steel in partnership with national governments by setting targets for procurement. The side event builds momentum towards such commitments from two of the largest steel producers in Asia. The event also explores options for technologies such as low-carbon hydrogen, which can meet India and Korea's requirements.
The side event also brings together two Asian countries, which have been under-represented in international efforts on climate change, to demonstrate their potential for global leadership on steel sector decarbonization. Given that India shall host the CEM meeting in 2023, the outcomes of the roundtable shall flow well in the discourse of global energy transitions.