Accelerating Sustainable Training in the Armed Forces: A Simulator-Based Approach
Juniper Hall, India Habitat Centre, Lodhi Road, New Delhi-110003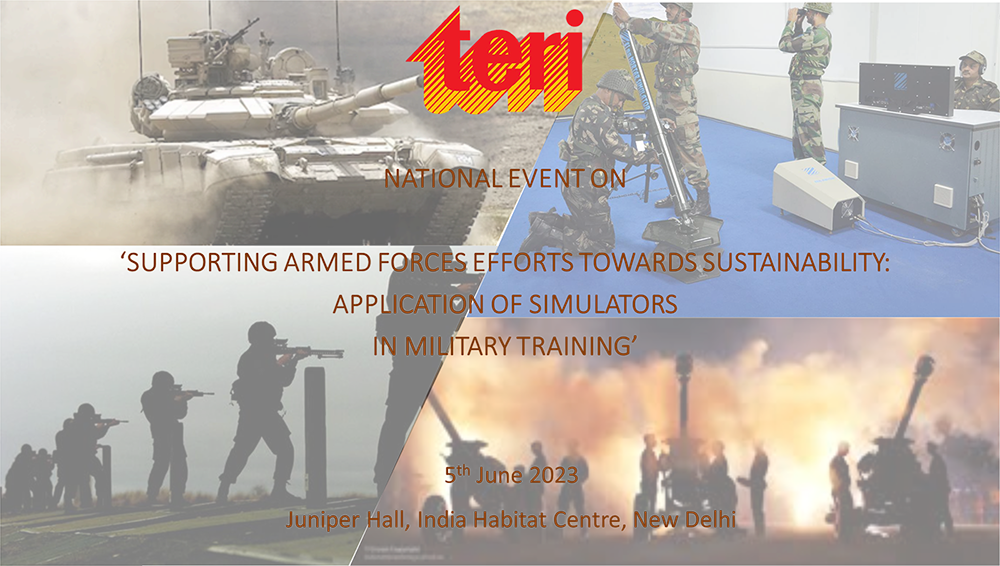 5 June 2023 | (10:30 AM - 01:00 PM IST)
The Energy and Resources Institute (TERI) in association with Zen Technologies is organising a report launch and panel discussion on 'Accelerating Sustainable Training in the Armed Forces: A Simulator-Based Approach' on World Environment Day- June 5, 2023, from 10:30 AM to 1:00 PM (IST) at Juniper Hall, India Habitat Centre, New Delhi.
The session would see high-level dignitaries from defence and experts from the domain of climate and environment deliberate and discuss the role of simulator-based technological interventions, and how they can help India's military sector reduce its GHG emissions without compromising on training efficiency.
Training Simulators and Sustainability
The report Climate Change and National Security: Preparing India for New Conflict Scenarios (The Indian National Interest Policy Brief, 2008), concluded that "India needs to develop military capabilities to address a range of new strategic scenarios including Climate Change". From infantry weapons to air defence systems and tanks to fighter jets, simulators play a critical role in reducing significant dependence on on-field training. This makes strong environmental sense as the transition to simulator-based training reduces the consumption of fossil fuels, use of ammunition, wear and tear of on-field equipment and the associated environmental impacts alongside its production and consumption value chain. Hence simulator usage can help the defence forces significantly progress towards greening their training practices.
They generate near-real responses to various situations at a fraction of the time training cost. Further, they help in compressing time and removing extraneous details, providing a better learning experience, in terms of skills, processes, and knowledge. Opportunities also exist in other areas including, energy-efficient defence equipment, transition to sustainable fuels, and use of renewable electricity sources.
Recognizing its relevance, India's defence ministry introduced the New Simulator Policy in 2021 for enhanced utilization of simulators by armed forces to impart safe and cost-effective training. The aim of the policy is to transform to simulation-based training across all military domains while focusing on indigenous design and development to achieve cost-effective, safe and smart training. While introducing the policy is a great effort on behalf of the government, it falls short of highlighting the environmental benefits that may be associated with a large-scale transition towards a simulator-based training method.
In order to understand how cohesively simulator-based training can help the defence forces reduce their carbon footprint, TERI has undertaken a detailed study to assess this relationship. Through this exercise it has assessed the environmental benefits and found that the technological intervention by simulators can help the Armed Forces reduce its overall carbon emissions without compromising on training efficiency, thus enabling defence personnel to undertake critical military interventions, wherever required. Given that global emissions for the defence sector will rise considerably over the next couple of years, we believe that the increased adoption of simulated training will help the military assist India towards achieving its climate commitments.