Accelerating the Growth of Responsible Renewable Energy
Juniper Hall, India Habitat Centre, Lodhi Road, New Delhi and online
---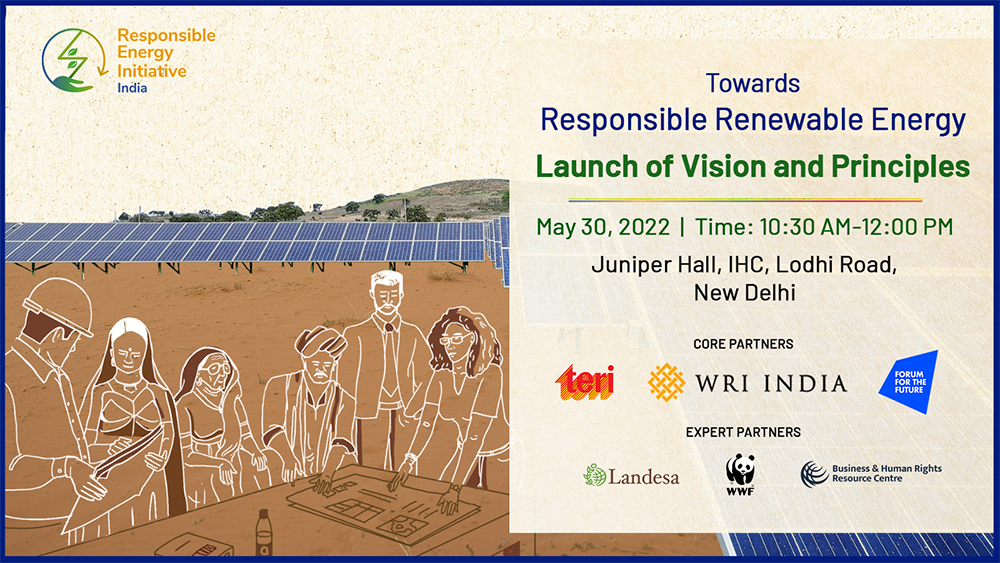 On 30th May 2022
The rapid rise of renewable energy (RE) is a keystone element of our transition to a low carbon economy in India and globally. Scaling RE has the potential to expand access to affordable, clean energy, enable thriving economies, and reduce air pollution. As the RE sector continues to grow, it will need to be increasingly mindful that adverse impacts on the environment, communities and human rights do not arise from its operations and value chain.
On behalf of the Responsible Energy Initiative, Forum for the Future, WRI India, The Energy and Resources Institute (TERI), Business & Human Rights Resource Centre, Landesa and WWF-India are inviting you to join a hybrid event on 30th May 2022 to launch our ambition on the value responsible renewable energy can create for everyone. RE actors have a remarkable opportunity – and a responsibility – to ensure that the imperative to scale renewables is met in a manner that is regenerative and just. Acting now mitigates the risks of the sector's social license to operate and/or any potential slowdown in deployment.
Join us as we share our collective vision for the growth of responsible renewable energy in India and the principles that we will strive to champion. Our ambitious vision and principles aim to rapidly reduce carbon emissions in a way that is ecologically safe, respectful of rights, and socially just. The event brings together experts including, CEOs and CSOs from pioneering RE companies, and investors in India who will explore "the opportunity for RE sector to set a new benchmark on responsibility and value creation" through a roundtable discussion. Dr Ajay Mathur, Director General, International Solar Alliance (confirmed), has agreed to grace the occasion as the chief guest.
Event type: Hybrid
Venue: Juniper Hall, India Habitat Centre, Lodhi Road, New Delhi and online
Register for the launch event here: https://bit.ly/3PmIVyh
We request you to save the date in your calendars. More details to follow.
About the Responsible Energy Initiative
The Responsible Energy Initiative is a multi-year programme working to ensure renewable energy in Asia achieves its full potential and creates value in a way that is ecologically safe, rights-respecting and socially just. The initiative is being run by Forum for the Future, TERI, WRI India with expert support from Landesa, Business and Human Rights Resource Centre and WWF in India. Find out more about the initiative and discover insights from our inquiry at