Tata Steel in association with TERI hosted a session at the UN Climate Change Conference in Madrid on building awareness in the community, especially the youth, and measures to be taken for imparting environmental values to the citizens of tomorrow.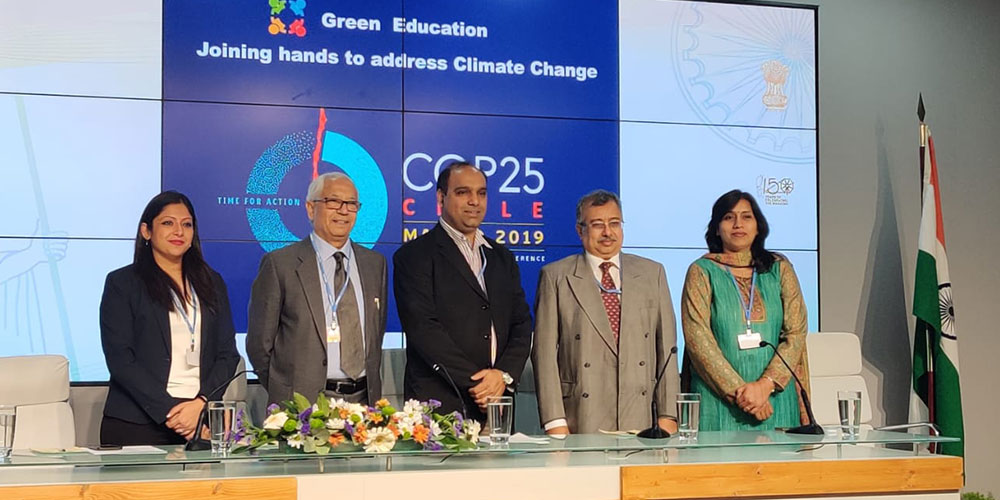 Madrid: A side event on Green Education: Joining Hands to Address Climate Change, hosted by Tata Steel in association with TERI, was held at the India Pavilion at the ongoing UN Climate Change Conference in Madrid on December 3, 3019.
In his keynote address at the event, CK Mishra, Secretary, Ministry of Environment, Forests and Climate Change, emphasized the role of non-government players and youth in spearheading the transition to a sustainable economy. He also said that climate change and the environment is everyone's business, and we all need to join hands to take initiatives to address it. "India is committed to responsible growth. Industry and businesses have to be integrally involved to achieve India's commitments towards climate change," said Mishra, adding, "We must have a focused curriculum on climate change. Individual efforts borne out of ignorance are of no help, and to find a solution, we must first become aware of the problem itself. This critical element of awareness is the key to shaping environmental policy."
Addressing the session on Combating Climate Change, Saurabh Bhardwaj, Fellow & Area Convener, Earth Science and Climate Change, TERI, apprised the audience on India's climate change vulnerability and shared his analysis on climate risk modelling. He emphasized on leveraging the power of youth in India to take impactful action in the sphere of environmental protection. "We are a young country with an average age of 29 by 2020. By investing in quality education, we can set the next generation on the right path to addressing the global problem of climate change," he said.
The first plenary session at the side event —Sustainability Insights: Corporate Learnings — had Anirban Ghosh, Chief Sustainability Officer, Mahindra Group and Aparajita Agarwal, Senior Manager, Regulatory Affairs, Tata Steel, as panellists. Ghosh highlighted the need to provide 'viable alternate options' to enable people to take action and shared the efforts made by the Mahindra Group along with students to take up the climate change challenge. On the other hand, Agarwal spoke about the sustainable practices adopted by Tata Steel to decrease emissions. She highlighted that 'sustainability and environment' are part of the Tata Steel's core value system and company's efforts to test new ground-breaking technologies to reduce emissions.
The platform at COP25 was used to showcase the Green School project, a joint initiative of Tata Steel and TERI, which promotes environmental stewardship to enhance critical and interdisciplinary thinking through formal and informal modes of teaching. The project is being implemented in 34 schools across operational areas of Tata Steel across Jharkhand and Odisha. Addressing the session on Beyond Textbooks, Creating Awareness about Climate Change, Neha, Fellow, TERI, focused on the importance of using informal methods of teaching to spread the message of a green future. "Out of classroom activities like street plays are more active, interesting and effective. These help in affecting behavioural change and raising awareness," said Neha. She also shared the project learnings, achievements and way forward on creating a template to replicate the project at the national and international level using green curriculum and distinct pedagogy. The attitudinal and behavioural changes brought about by the project were also presented.
The second plenary session on Building a Climate Conscious Community had distinguished panellists comprising Sanjay Vashist, Director, Climate Action Network South Asia, Prof Vinod Kumar Sharma, Consultant (Disaster Management), Dr Ashok Kumar, Director, Bureau of Energy Efficiency and Neha, TERI. While Vashist spoke on the principles of climate literacy and effective climate communication for people, Prof Sharma underscored the need to disseminate best practices and shared a case study wherein the knowledge of building ice stupas in Ladakh was utilized in Sikkim to prevent the eventuality of floods in the state. Dr Kumar, on the other hand, spoke on the need of partnerships for developing long term sustainable solutions, and Neha spoke on various initiatives taken up by TERI in building a climate-conscious community.
A handbook developed as a part of the Green School project, enlisting the gaps in the school curricula was shared with the Ministry of Environment, Forest and Climate Change to consider for implementation at the national level. A short movie on the 'Green School' project was also screened at the end of the event.