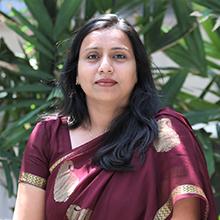 Dr Neha
Senior Fellow and Area Convenor, Strategic Communication for Sustainability
Neha is a Senior Fellow at the Environment Education and Awareness (EEA) division at The Energy and Resources Institute (TERI). She is an Education for Sustainable Development (ESD) practitioner with over 18 years of experience and holds her Master's degree in Environment Management.
In her almost two-decade long career, she has successfully led and executed over 100 projects on environmental education, awareness and outreach activities spanning across ESD allied areas such as water resources, energy efficiency and conservation, wastewater and its management, climate change and more. Her efforts have been directed towards diverse stakeholders including students, school communities, colleges, youth, corporate, multilaterals, government, urban and peri-urban communities and communities in remote locations.
Neha is also actively involved in curating, conceptualizing, designing, and developing various environmental education programmes through formal and non-formal teaching methods. In addition, she has also pioneered development of both digital and board games for students across age groups to further environmental awareness.
While at TERI, she has represented the organisation at the Regional Centre of Expertise (RCE), Delhi, for the promotion of ESD by the United Nations University, Tokyo, Japan, and her project, 'The Green School – A Tata Steel and TERI Initiative' was also selected by The Ministry of Environment, Forest and Climate Change, GoI, two years in a row to be presented at India Pavilion during Conference of Parties (COP) 24 and 25 to the United Nations Climate Change Conference.
An author of multiple books and manuals, her latest publication, 'Save the Rain', was declared as a National Bestseller and was awarded in the category of Children Books by The Federation of Indian Publishers.
Email: nehag@teri.res.in