The prototype tool has been developed by researchers at TERI, NCSU, AIIMS, Safdarjung Hospital and Vardhman Mahavir College, Statconsulta with support from DST.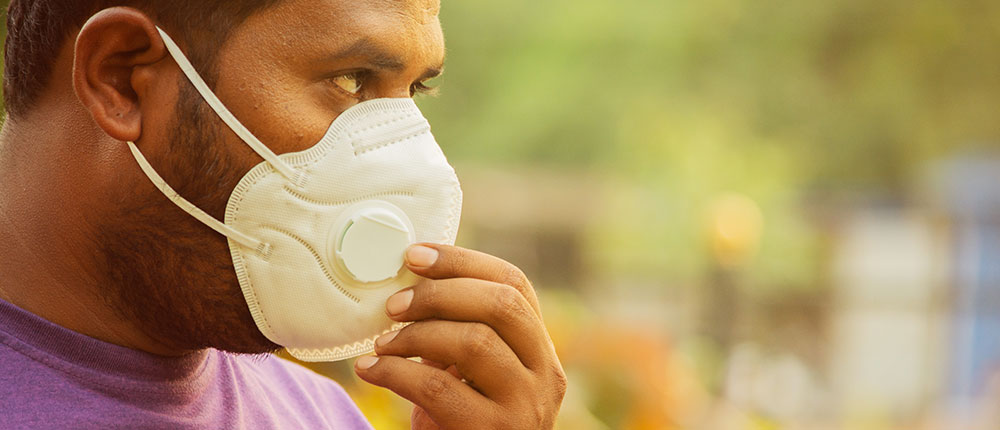 The researchers at TERI, NCSU, AIIMS, Safdarjung Hospital and Vardhman Mahavir College, and DST, have developed a prototype tool to understand the relationship between clinic visits for respiratory illness with an increase in PM2.5 concentration.
The data was sourced from Government departments to assess this association. The data included daily visits at Mohalla Clinics, daily air pollution concentrations and meteorology parameters for Delhi.
The prototype tool allows researchers to explore these relationships 'first hand'. Using this prototype tool, several different scenarios of air pollution concentrations can be examined to assess health impacts. Users can delve deeper into the model and modify the model in many ways. It allows the user to choose parameters to be included in the model, evaluate a simple linear (direct) relation, or run a more complex GAM model. Furthermore, to accommodate human response and behaviour, the App allows the user to alter the model to explore a lagged relationship of health effect with exposure.
The prototype tool also shows cases various graphs, and model selection criteria such as adjusted R square, and GCV. These criteria are essential for evaluating each model or comparing models.
Our analyses suggest a rise in air pollution (PM2.5) results in an increase in respiratory illness in the community. Increase in PM2.5 concentrations may result in impacts ranging from discomfort to individuals, workday loss or school day loss; it may lead to the rise in medical costs for individuals and the government. Thus emerges the need to track health effects to prompt strategic action.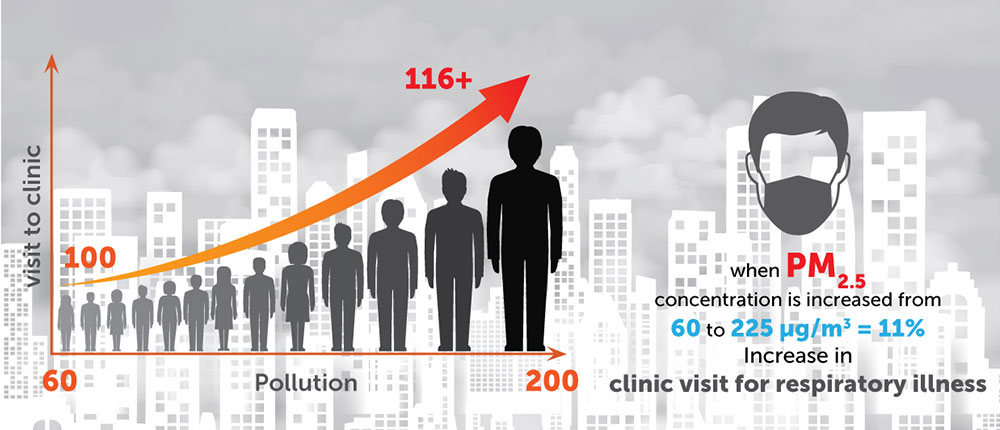 ---
Possible actions to reduce harm to health based on the observed effects of air pollution.
For the health care facilities
Institutionalization of regular tracking of air-pollution linked health admissions to monitor trends in the burden of disease
Develop action plans for high air pollution days
For high air pollution days
Maintain sufficient inventory of medicines for respiratory illnesses, diabetes, heart disease
Develop and communicate health advisory to hospital personal
Encourage the use of air purifiers and N-95 masks among sensitive patients
---
For educational institutes
Include an assessment of lung function as part of annual school health check-ups
Identify students at higher risk of adverse effects from air pollution
Initiate awareness campaign to reduce air pollution
For high air pollution days
Identify measures to support sensitive students
Provide options for indoor sports
Advise students to follow prescription medication(s)
Provide space/ room with an air purifier and N 95 masks
---
For individuals
Maintain a physically active lifestyle
Eliminate exposure to air pollution such as open burning of fuel for cooking or heating; burning of waste, chose non- motorized commute
For high air pollution days
Include frequent intake of warm fluids and wash face and hands frequently
Restrict outdoor activities
Follow prescription medication(s) reconfirm dosage with your doctor
If sensitive to air pollution, stay in areas with an air purifier and wear N 95 masks
---
However, the data here is Delhi based. Should you want to estimate similar health effects for your city, write to us, we may be able to help you.
We welcome your suggestions and inputs. Feedback Form