Important to address socio, psychological and cultural barriers to ensure reuse of treated waste water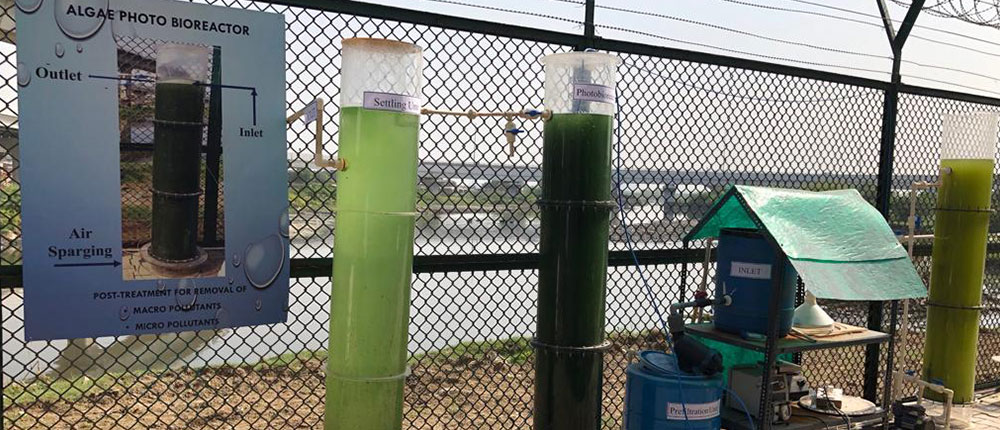 India is home to 18% of the world's population; however, it has only 4% of the world's water resources, whereas its water demand is expected to double by 2030. The treatment and reuse of treated wastewater can allow for this water demand to be met across categories of use, thereby reducing the demand and consumption of fresh water. Some of the ways in which treated wastewater can be reused are irrigation, washing vehicles, watering plants, and industrial cooling, among others.
LOcal Treatment of Urban Sewage Streams for Health Reuse (LOTUSHR) is a five-year collaborative project on wastewater treatment and reuse between Indian and Dutch scientists, which was inaugurated on 9th May 2017. Along with The Energy and Resources Institute (TERI), India and VU Amsterdam, Netherlands; Wageningen Environmental Research, IPStar BV, and the University of Applied Science Saxion, among others, are also part of this project.
The aim of the LoTUSHR project is to develop novel scientific methods for:
Risk assessments and the reduction of health risks associated with water reuse
Pre and post treatments of urban wastewater at the local level
The recovery of macro and micro nutrients (trace elements, nitrogen, and phosphate) and of energy (biogas and biocrude)
The removal of heavy metals, pathogens, and emerging pollutants
This project is unique in that it focuses on developing treatment and reuse strategies that are socially and culturally acceptable to its stakeholders.
The pilot site for this project is the Barapullah drain in New Delhi. It is a key trunk drain in Delhi, which is a 12.5 km-long storm water drain responsible for about 30% of pollution in the river Yamuna. The drain gets its name from a bridge built by the Mughal Emperor Jahangir over the Nizamuddin Darya (stream) in the 17th century. A map from 1807 shows the drain in blue, indicating perennial flow, according to the Indian National Trust for Art and Cultural Heritage.
However, today it is a different story. The drain discharges around 1,25,000 kilolitre of wastewater daily into the Yamuna. Domestic sewage is the main source of this wastewater, along with small industries. Most of this comes from unauthorized areas such as slums that are not connected to a sewage network. A population of about 3.4 million is associated with the Barapullah drainage basin, many of whom contribute to this wastewater generation but this large population is also a key stakeholder which is to be targeted for potential reuse of this treated wastewater. It is therefore essential to understand the cultural context, and key social, psychological and cultural barriers that need to be addressed for effective reuse of treated wastewater from Barapullah drain.
Developing socially acceptable and economic viable reuse options
The availability of treated wastewater does not guarantee increased use, as social and psychological barriers may prevent its reuse. Some of these barriers include attitudes such as emotional disgust 'yuck factor' associated with using treated wastewater, health concerns, low awareness of treatment of wastewater, and low level of trust in implementation agencies. Globally, little is known of how people in different cultural contexts make their decisions regarding reuse of treated wastewater. Technically sound reuse schemes around the world have failed because communities and other stakeholders have been reluctant to use the treated wastewater.
A part of the LoTUS project, a subproject of which TERI is a part, seeks to understand social, economic, and institutional barriers to the reuse of treated wastewater and identify socially acceptable and economically viable options for stakeholders including individuals, communities, businesses, and government agencies which are targeted consumers of this treated wastewater.
The key activities that will be undertaken to meet these objectives include:
Mapping and identification of key institutions and stakeholders along the wastewater treatment and reuse value chain; their roles and responsibilities; and the manner in which they interact with each other;
Developing a baseline of current perceptions towards wastewater treatment and reuse among various socio-economic groups in New Delhi;
Developing a baseline of current ways in which people among various socio-economic groups in the project city reuse wastewater;
Identifying key barriers (social, economic, and legal) to the healthy reuse of treated wastewater and opportunities to overcome these barriers; and
Evaluating socially acceptable and economically viable options to engage individuals, local communities (for e.g. farmers), businesses, government agencies, and institutions in wastewater treatment and reuse. This will entail a cost-benefit analysis of different reuse options, entrepreneurship development along these reuse options, and interventions to raise awareness on the issue.
As part of this activity, TERI, along with Wageningen Environmental Research and VU Amsterdam, conducted a perception survey among households in New Delhi. The key findings of this survey, will be presented in the next blog.