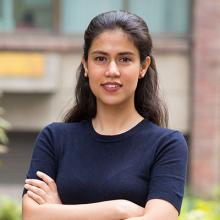 Ms Mehar Kaur
Area Convener, Centre for Waste Management
Ms. Mehar Kaur has experience in the field of environmental health research, waste management, and spatial analysis in Boston, USA and New Delhi. Mehar Kaur is a Research Associate and Area Convenor at TERI in the Centre for Waste Management. She has an M.Sc degree in Environmental Health The Department of Civil and Environmental Engineering, Tufts University, USA and a BA in Biology and Economics Scripps College, Claremont Colleges Consortium, USA. Ms. Kaur is a certified in SEED BDS+ Advisor that is a Training-of-Trainers on business development services for eco-inclusive enterprise (BDS+).
At TERI, Ms. Kaur has conducted primary surveys for urban local bodies in New Delhi to audit their primary solid waste collection and mechanized road sweeping services and developed recommendations for improving the efficiency of their primary waste collection and mechanical road sweepers (MRS vehicles). She is currently working on developing and managing the Waste NAMA, which includes establishing a baseline of current solid waste management practices and developing a pilot implementation project for improved waste management. She has organized capacity building workshops and presented her work to help participants integrate climate health mitigating solutions in their respective fields. She has created a database on urban health effects for the Sustainable Health Urban Environments (SHUE) project. As the Co-PI for the LOTUShr project, she is determining the social reuse potential of treated wastewater amongst various stakeholders. She has contributed to preparing IEC materials for awareness generation, encouraging the reuse of treated wastewater. She has conducted social impact assessments (SIA) for the 3Wayste (waste to energy) plant to be set up in Bangalore.
She has prior experience of working with a waste collection firm, Eco-Wise Noida, India where she engaged with various private and government stakeholders to improve their waste collection services.