As climate change worsens heavy downpours and water logging in ill-planned urban areas, India needs city-specific policy and scientific interventions such as early warning systems to reduce the losses and damages caused by urban floods.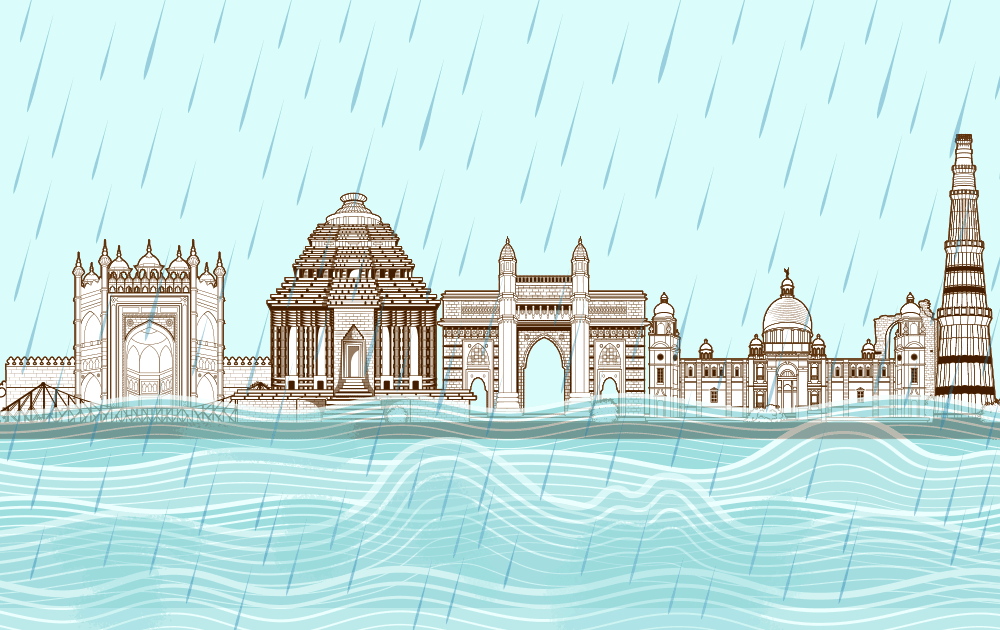 Urban flooding and waterlogging have become a regular phenomenon during monsoons across cities, globally. With extreme rainfall events in urban areas, surpassing each previous highest rainfall records, the future appears to be quite grim. The 5th of August witnessed the highest rainfall for that month in the last three years in Mumbai, recording 268 mm within 24 hours. The next day, Colaba alone recorded 331.8 mm rainfall within 24 hours, the highest since 1974. Jaipur also experienced about 100 mm rainfall in about 6 hours on the 14th of August, out of which 81 mm was recorded within 3 hours. About 500 mm of recorded rainfall in the city of Vadodara within 24 hours in July last year led to extreme flooding and waterlogging.
In the onset of climate change, such extreme rainfall events are expected to increase further in both intensity and frequency. The year 2019 has witnessed a steep increase in the number of extreme rainfall events in the country, i.e., 74% more than 2018, as well as the highest recorded rainfall in the last 25 years. Such high-intensity rainfall, within shorter time spans, has the potential to significantly exacerbate the issue of urban flooding and waterlogging in urban areas if appropriate and timely measures are not undertaken.
Bursting at the seams
Floods constitute almost 55% of all climate-related disasters in India, in the last 17 years. Experts have opined that flooding has become an issue that requires urgent policy response from the perspective of both, climate change and disaster management, as they play havoc with the urban settlements and aggravate the human and social crisis. Its roots lie not only in increasing climate variability, but also human and social mismanagement of urban infrastructure. This can be attributed to the fact that urban planning and regulation could not keep pace with the growth of cities in India, leading to inadequate drainage infrastructure, improper and unplanned disposal of solid wastes, the encroachment of existing wetlands, etc. that have contributed to the issue significantly.
Millions of people are affected across cities and hundreds have lost their lives. Despite efforts taken by the concerned authorities, the problem still persists with damages and losses increasing every year. Drowning and electrocution are major threats to lives in waterlogged areas. Urban floods also cause the collapse of infrastructure in many places thereby contributing to the death toll. Most cities also have uncovered manholes and drains that are dangerous especially during periods of waterlogging. Last year the death toll in India due to urban floods varied region-wise, with major cities such as Delhi, Mumbai, Bangalore, Gujarat recording at least two deaths or more. Apart from the damages caused by flooding and waterlogging, some regions even witness landslides, road cracks and land erosion that also leads to loss of lives and property.
As the changes in the climate are being monitored globally, with regard to the Indian monsoon, it was observed that extreme rainfall events have shown an increasing trend from 1905 to 2005, with the rates increasing post-1950. Extreme rainfall events are defined by the India Meteorological Department (IMD) as those that record more than or equal to 244.5 mm rainfall in 24 hours. Extreme and high-intensity rainfall within shorter durations is replacing the earlier pattern of rainfall being spread over the months of the monsoon season. Many regions are witnessing delayed monsoons and deficit rainfall followed by incessant record-breaking rains, within shorter time spans. In 2019, Delhi witnessed the driest monsoon with the month of June recording only 11.6 mm rainfall, the second lowest in a decade. The same year Delhi witnessed incessant rainfall in December, which recorded the highest December rainfall in 50 years. With the advent of climate change such events will increase in both, frequency and intensity, leading to disasters across regions. This reiterates an urgent need for not just the management of such disasters but also the preparedness to handle them.
Climate action in India is subordinate to developmental priorities and usually gains momentum post a climatic disaster. However, in order to ensure that developmental advances are retained and not lost to the ravages of disasters, disaster preparedness becomes a crucial factor. The advances in science and technology would be futile if mortality rates, losses and damages cannot be reduced. While existing policies of disaster management cover aspects of post-disaster response work, there is a felt need for exploring disaster preparedness at the ground level. Given the need to reduce risk within the existing policy limitations, mapping vulnerabilities at the local level and developing forecasting systems is crucial.
Pooling our resources
Early warning systems for disasters were developed in India as part of disaster preparedness in order to limit the losses and damages from disasters. While disaster management ensures post-disaster relief and rescue works, preparedness for disasters will help the concerned authorities anticipate the scale and intensity of the disaster in order to be better prepared to handle the same. Early warning systems have shown significant results in other countries as loss of lives and damage to property and infrastructure were reduced drastically, by warning citizens and the concerned authorities in advance. With advanced technology that can accurately predict rainfall patterns, flood early warning systems can be a major boon for cities battling with issues of urban floods and waterlogging. Such systems are already being developed and are undergoing trials in different cities of the country. Flood early warning systems, viz., CFLOWS (Chennai Flood Warning System) developed by the National Centre for Coastal Research of the Ministry of Earth Sciences, IFLOWS (Integrated Flood Warning System) a joint initiative between the Ministry of Earth Sciences and Brihanmumbai Municipal Corporation, and FFEWS (Flood Forecasting and Early Warning System) developed by the Kolkata Municipal Corporation with support from the Asian Development Bank are being tested in the Indian cities of Chennai, Mumbai, and Kolkata respectively.
TERI has recently launched the Flood Early Warning System (FEWS) for Guwahati in collaboration with the National Disaster Management Authority (NDMA), a first of its kind in the North Eastern region of the country that is annually ravaged by floods. The model works on the weather forecast and rainfall prediction data of the India Meteorological Department (IMD) and identifies the flood hotspots of the city. It also has an inbuilt system of alerting the concerned authorities when threshold limits of the hotspots are crossed.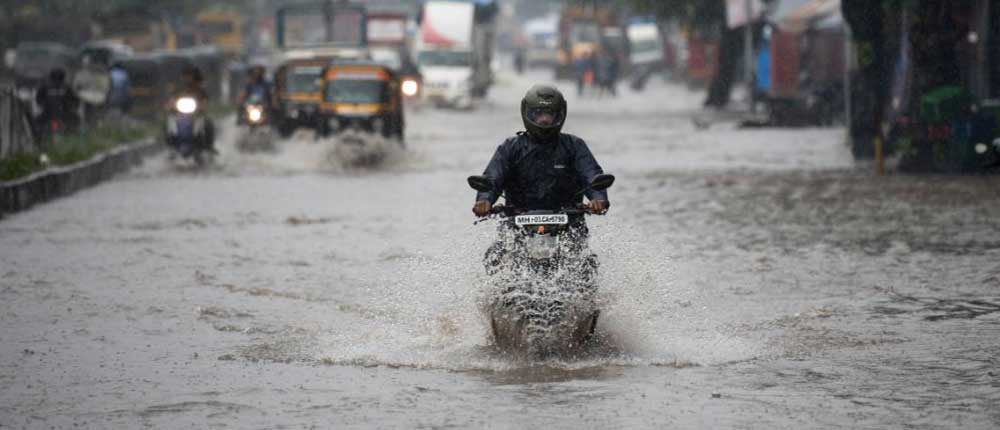 How to prevent waterlogging in Indian cities
The flood early warning systems are enabled to capture the spatial distribution of rainfall in a city and are designed in a manner that can predict the intensity of flooding in specific localities. As such, the system holds huge potential to reduce loss of lives, damage to property and infrastructure and help in ensuring the general well-being of residents that are ravaged by flooding and waterlogging in urban areas especially during the monsoon months. As rainfall predictions of the IMD have also improved quite significantly over the years, with high degrees of accuracy, the flood early warning system at the city level can be a boon for citizens.
The availability of local level data of rainfall, topography, flooding instances, drainage systems, etc. are important factors in disaster preparedness for urban floods as it determines the response by public authorities to a large extent. An important aspect of early warning systems is also the dissemination of information at the policy and community levels. The government of India has come up with a Remote Sensing Data policy (RSDP) through which all remote sensing satellite data of India, from both, Indian and foreign satellites can be acquired and disseminated by the National Remote Sensing Centre of the Indian Space Research Organisation (ISRO). IMD also collects meteorological data for the country that is shared with relevant authorities of disaster management at the local level. The preparedness for disasters by the local authorities can be significantly enhanced by increasing the lead time of the warnings, so that measures are undertaken to ensure the least possible impact.
The international climate discourse has also seen a shift in focus from national to sub-national actors to take climate action forward. Cities have become a major focus area for building resilience and reducing vulnerabilities to climate change impacts and disasters. With India's urban areas expanding rapidly, this is an opportune time to address climate-related issues at the city level and devise strategies for improved adaptation and resilience.